If you are walking or running in wet and muddy areas, a waterproof running shoe may actually be just for you. Depending on the trail, you may need a trail running shoe with a tread for uneven and hazardous surface areas.
Waterproofing can lead to a shoe that does not breathe and builds up sweat easily in general; that is why we have chosen the Asics Waterproof shoe range as they use Gore-Tex, which is one of your best waterproof linings that also breathes easily.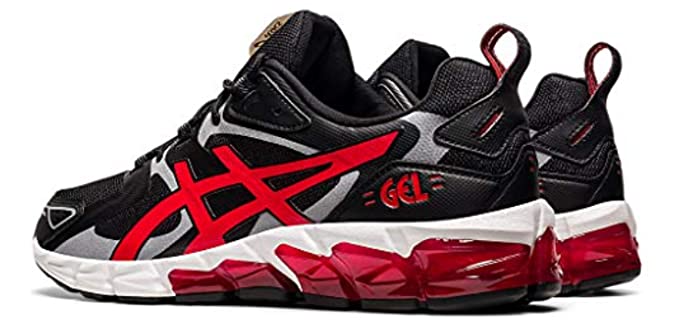 ---
Why Do You Need a Waterproof Shoe for Running or Walking?
Whether you are running or walking on a road or trail, wet shoes can be very uncomfortable and cause much irritation, chafing, and blisters, not to mention frostbite when the weather gets cold. Besides, this wetness can cause damage to your shoes.
If there is any chance that you will be walking or running in a wet environment, even just in the rain season, I would recommend that you always have a pair of waterproof shoes at hand, even if only for these occasions.
Let us Look at some of the Pros of wearing Waterproof shoes;
Warmth – A waterproof shoe always offers some level of insulation that keeps your feet warm in cold and wet conditions and protected against cold and wet liquids.
Waterproofing – A waterproof shoe will stay completely dry in wet conditions, and you will not need to worry about soggy socks, chafing, blisters, and cold feet.
Windproof – Most waterproof shoes are also windproof, thus protecting your feet against cold wind and weather situations.
Mud and Debris Proof – Waterproof shoes likewise protect your feet from mud and debris entering as well as dust and grit, thus keeping your feet and socks clean and safe on any terrain.
Breathable – In the case of the Gore-Tex waterproof membrane, you have the added benefit of breathability. This type of waterproofing lining allows vapor out yet does not allow any external liquids to enter the shoes, thus keeping your feet cool and dry.
---
The Asics Waterproof System
The Asics GTX waterproof shoe range consists of running, and walking shoes perfect for outdoor terrain, and all have the popular and highly breathable GORE-TEX waterproof membrane as a lining.
The GTX range from Asics is ideal for wet and muddy terrain and even snow and uneven ground. Asics likewise have various outdoor clothing such as jackets and running bottoms lined with Gore-Tex to keep you dry and comfortable in wet weather.
Why Does Asics Use Gore-Tex
Gore-Tex is one of the most innovative and highest performing waterproof, windproof, breathable, and weather-protecting technologies on the market today. Gore-Tex provides durable and highly breathable protection; this is because the membrane is impervious to rain, snow, and sleet, while still allowing sweat and vapor to pass through from within.
There are many benefits to Gore-Tex in your running or walking shoes;
Waterproof – Gore-Tex has the highest performance levels in keeping water, sleet, and snow out of your shoes and keeping your feet completely dry from the outside.
Breathable – One of Gore-Tex's other incredible functions that almost no other waterproofing technology holds is breathability. The membrane allows perspiration and vapor to escape quickly from the inside, thus keeping your feet more dry and cool and preventing sweat buildup and overheating.
Insulation – Gore-Tex can protect you against external cold weather conditions, so in colder weather, your feet will be snug and warm.
Windproof – Gore-Tex is also windproof, which in turn aids in insulating your feet against cold and unwanted winds.
Lightweight – If anything, a Gore-Tex membrane is very lightweight, and so, in turn, you will have very light and waterproof shoes that will never weigh you down.
Durable – All in all, Gore_tex is also one of the most durable waterproof technologies that you will find.
---
Features of a Good Leather Walking Shoe
Uppers – Breathable, flexible and lightweight textile and synthetic materails or overlays with a Gore-Tex breathable and completelt waterproof lining. Seam free design for less friction.
Support – Impcat Guidanvce system, heel clutch for stability and arch support.
Comfort – Gel Cushioning, an Ortholite or ComforDry sockliner that provides cushioning as well as keeps your feet free from moisture.
Outsole – High abrasion resistant Rubber with a lug or trail specific tread.
---
Reviews: The Best Asics Waterproof Shoes
Some of the best available models in Asics Waterproof Shoes;
We hope you love the Asics shoes we recommend!
So that you know, We may collect a share of sales or other compensation from the links on this page.
---
1
The Gel Cumulus is a Gore-Tex lined waterproof and highly breathable athletic shoe with FluidRide technology and energy-returning cushioning.
Textile and synthetic uppers with a highly breathable and completely waterproof Gore-Tex lining.
Seamless interior for less friction and a comfortable cushioned insole.
FluidRide technology for a bounce-back and energy return.
Guidance line vertical grooves and an AHAR high abrasion-resistant outsole.
---
2
A Gel cushioned and highly durable athletic waterproof shoe from Asics, the Gel Kahana 8 is the latest in its range, with a Gore-Tex lining to protect you from water seeping in and moisture build-up from the inside.
Textile and synthetic uppers lined with a Gore-tex membrane to keep you dry from the inside and outside.
Rearfoot Gel cushioning to attenuate shock.
A DuoMax support system with a dual-density midsole, For better support and stability.
The midsole constructed from lightweight SPEVA material is very durable.
A trail-specific abrasion-resistant rubber outsole.
---
3
Asics Waterproof Atletic Shoes
A favorite athletic shoe from Asics is the Gel Cumulus range; this version features a breathable and waterproof Gore-Tex lining as part of the GTX Asics Waterproof shoe range.
Soft and flexible textile uppers with a waterproof and breathable Gore-Tex lining.
There are reinforced forefoot overlays and a SPEVA 45 insole with reduced seams and an improved heel lining.
A removable ComforDry, moisture-wicking, and antibacterial sockliner.
Impact guidance system features to enhance your natural gait efficiency.
A Fluidride Midsole, for a bounce back and cushioning.
---
4
Asics Waterproof Trail Running Shoes
The FujiTrabuco is the latest in this range from Asics, a highly durable and fully waterproof, lightweight running shoe for outdoor trails.
Fabric and synthetic upper design with a breathable and waterproof Gore-Tex Lining.
Inside is a ComforDry moisture-wicking sockliner that also provides cushioning.
An Internal heel clutch enhances support and stability when running.
There is an Anti-Gravel, tongue, which keeps debris and dirt out of your shoes.
It is Rearfoot and Forefoot gel cushioning for ultimate shock absorbency.
A Trail Specific Rubber outsole.
---
5
Asics Running Waterproof Shoes
The Asics Gel Range Sonoma GTX is a waterproof running shoe with Gel comfort technology and an Ortholite sock liner for additional support.
Durable fabric uppers with synthetic overlays and A Gore-Tex waterproof membrane keep your feet dry and is very breathable.
The Amplifoam midsole, for cushioning and shock absorption, adapts to your running style.
It has Rearfoot Gel technology for heel cushioning and protection.
Inside is a cushioned and comfortable Ortholite Sockliner that also manages moisture.
A trail-specific tread high abrasion resistant AHAR rubber outsole.
---
6
The shoe is an outdoor Trail Running shoe that ensures ample waterproof protection.
There is a SPEVA and Flytefoam midsole that absorbs shock effectively.
The Ortholite Sockliner in the shoe ensures dry comfort and cushioning.
There is a durable rubber outsole that ensures an excellent grip.
---
7
The Gel excite has breathable and water-resistant uppers.
An Amplifoam cushioned ad n shock-absorbing midsole attenuates shock during impact.
Inside the shoe is a waterproof and cushioned ortholite sockliner for your comfort.
A durable rubber outsole provides a good grip and shock absorbency.
---
8
Asics Waterproof Trail Shoe
The Frequent Trail from Asics is a durable and waterproof Trail walking and running shoe.
The Asics Frequent Trail has a weave mesh upper that is lightweight and breathable.
The shoe has a traditional lace-up closure and a heel tab for easy on and off.
The tongue and collar of the shoe are padded for your comfort.
The rubber outsole is designed for trails specifically.
---
Index Table: Top Rated Asics Waterproof Shoes
---
---