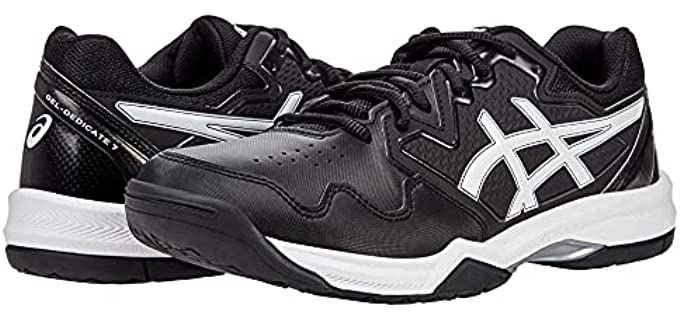 The expected release date for the Asics Dedicate 8 is on November 12, 2023.
The Asics Dedicate 8 will have the following main updates:
The Asics Gel Dedicate will be an improved version of the Dedicate 7 for recreational and beginner tennis players.
It will offer excellent stability and an amazing grip on the court.
The Tennis shoe will be much more lightweight and breathable with a comfortable fit and more supportive uppers.
The toe box will have increased toe room.
Overall, it will still be an affordable entry-level tennis shoe that will be of exceptional quality.
---
Latest Version of the Asics Dedicate
*
---
Price
The MSRP (Manufacturer's Suggested Retail Price) for the Asics Dedicate 8 will be $80.00.
The new Asics Dedicate 8 will be an affordable and high-quality court shoe.
You may find some better price options when searching through different retailers.
Arch Support and Pronation Control
The Tennis shoe will offer good stability, especially for lateral movements.
It will be a sport-specific shoe for neutral pronation and overpronation.
The shoe will offer lightweight cushioning.
Terrain
The Tennis shoe will ideally be suited for hard courts.
I would not recommend the new model for grass courts or soft courts.
Use
The Asics Gel dedicate 8 will be a beginner and recreational tennis shoe for hard courts.
It will be an affordable option for tennis and pickleball.
Durability
For general use, the new model will be durable.
However, it will not be suitable for professional tennis and competitions.
Fit and Sizing
The toe box will have more ample room, and the fit will be more relaxed.
The tennis shoe will be available in full and half size options.
Weight
The model for men will weigh 2338 grams.
The model for women will weigh 270 grams.
Heel Height
The heel height will be 30 mm.
The heel will offer good impact absorption.
Forefoot Height
The Forefoot height is estimated at around 20 mm.
It will be more stable.
Heel-to-Toe Drop
There will be a 10 mm heel-to-toe drop.
The heel-to-toe drop will be suitable for court shoes.
---
Components of the Asics Dedicate 8
Outsole
The Outsole will be a durable rubber.
The tread will have grip and traction designed especially for hard courts.
Midsole
The new Asics Gel Dedicate 8 will have excellent cushioning in the midsole with Gel technology for shock absorbency in the heel and forefoot.
There will be a Trusstic guidance system that will wrap the outsole for improved stability/
Upper
The Uppers will consist of durable and breathable synthetic materials.
There will be durable genuine leather overlays for reinforcements.
More color options will be available in the new model.
The new model will have a more roomy toe box fit.
---
*
---
---
---