Icy floors can pose a serious slip and fall risk that is extremely hazardous and can lead to severe injuries.
Having a pair of slip-resistant shoes with a tread and outsole designed specifically for wet and slippery surfaces can make a huge difference and protect you against these hazards.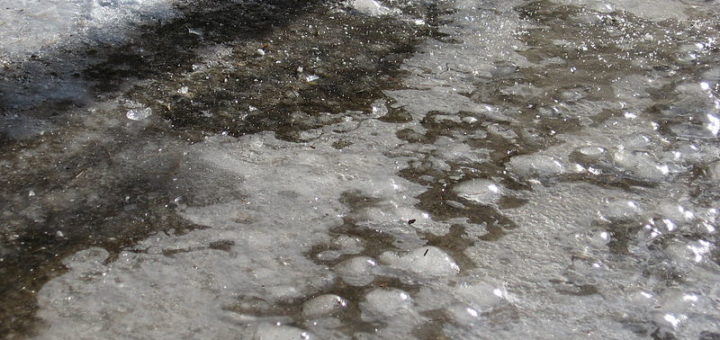 ---
Slippery and Icy Surfaces
When you spill water or any form of liquid on a tiled, plastic, or even concrete floor surface, it immediately becomes extremely slippery and dangerous. Even a smooth, hard floor can be quite slippery if you wear shoes that offer no-slip resistance.
Besides these hazardous surfaces, an icy floor surface, no matter if it is concrete, pavement, or tile, is most likely the most dangerous and slippery surface you can walk on or try to walk on, for that matter.
However, if the need arises and you have to walk or stand on an icy surface, you will need to take much caution and most definitely have specialized shoes, as you are almost certain to slip and fall quite hard.
Here are a few steps you can take to help you walk on an icy surface;

Salt The Area – You have most likely read a few times that sprinkling salt on an ice surface can help to make it less slippery. This works because the salt actually melts the ice and creates a more liquid, safer, yet still slippery area for you to walk or stand on.
Keep Your Balance – If you have to walk on a slippery surface and iced surface, make sure to try and keep perfect balance with every step that you take. The slippery icy surface will challenge your balance, almost like ice skating for the first time, so you will need to make sure you balance before taking the next step.
Slow and Easy – Slow and easy movement and walking on any iced or even just slippery surface is key. Move slowly and take every step securely. Never be in a rush when the floors are slippery; this is the fastest and hardest you will fall!!!.
Hold on For Dear Life – If there is something you can hold on to when walking on the ice, by all means, use it! This will help you keep your balance, and if you do fall, it can break the fall a bit.
---
What to Look for in a Shoe for Icy Surfaces
Outsole – The first and most important characteristic for a shoe for icy pavements and iced or snow surfaces is to look for an ice and snow traction outsole. A Vibram Rubber outsole for starts offers the best grip and durability but will need additional features for grips, such as a molded lug tread, arctic grip technology, or gaiter hooks. Carbide Tip Studs on the outsole also increases traction on icy surfaces. An aero-track Vulcanized rubber outsole is likewise something you could look for with superior durability and high traction.
Insulation – Insulation in cold weather conditions can help to keep your feet from freezing and keep them comfortable. Most likely, if you are walking on ice or iced pavements, it will be cold to very cold. There are many different types and varieties of insulation. You can opt for Thinuskate insulation from about 200grams and up if it is colder. Fleece or sheep wool-lined shoes will also provide excellent warmth and insulation.
Stability and Support – Because icy surfaces are so slippery in general, they can play havoc on your balance, even when you have a proper grip on your shoes. Stability features such as a contoured footbed and motion control or a heel cup are not only great for comfort and support but will likewise help you keep your balance on slippery floors and pavements.
Durability – Durability in any shoes that need a good grip on wet and icy surfaces is a must. Good quality materials that will function properly are ideal, and quality robust construction is a must.
Waterproofing – Any good snow or ice boot and sho will be waterproof. Ice melts and can cause wetness, which can cause irritation, infection, and even frostbite in cold conditions. Therefore good waterproofing is necessary for a shoe to be used on wet or icy surfaces. Your most breathable and best waterproofing option is, of course, Gore-Tex as it is breathable, durable, and completely waterproof; however, other waterproofing materials are similarly good, such as rubber and waterproof leathers.
---
Features of a Good Shoe for Walking on Ice
Waterproofing – A waterproof membrane – your best option is Gore-Tex.
Outsole – A Rubber Outsole with a Tread for ice and icy pavements, such as a Vibram Arctic Grip Outsole or Molded Lug pattern. Stability Chassis or features and a Contagrip outsole. Molded Heel and Gaiter Hook for deeper snow. BUgrip outsole with Carbide Tip Studs.
Insulation – Insulation against the cold, such as THinsulate or a fleece lining..
Breathability – Breathable design to prevent sweating.
Closure and Fit – Secure fit, lace-up, or Velcro straps.
Cushioning – Undrefoot cushioning for comfort and a shock absorbing midsole.
---
Reviews: The Best Shoes for Walking on Ice and Icy Pavements
Below are some of the best shoes with excellent slip-resistant properties and characteristics for walking on icy surfaces.
---
1
Shoes for Walking on Ice and Icy Pavements
The Keen Targhee is an outdoor hiking boot that offers exceptional grip on icy surfaces and pavements.
The Upper is 100% waterproof Nubuck Leather and has an ankle boot design.
There is an external support shank for support and balance and a contoured heel.
There are torsional stability support and a shock-absorbing midsole for stability on all surfaces.
The outsole has a high-Traction grip[ on wet and icy surfaces.
---
2
Extreme Cold Snow Boots for Walking on Ice
The Sorel Cheyanne and Joan are winter snow boots for extreme cold and snow or icy conditions that will provide you with an excellent grip on icy surfaces and insulation and waterproofing against the cold and wet conditions.
The uppers are 100% leather with a waterproof membrane.
The boots have 200 grams of insulation for warmth and a microfleece interior lining,
There is a removable EVA footbed for cushioning and a microfleece top cover.
The outsole is durable rubber with a lug design.
---
3
Rubber Boots for Walking on Icy Pavements
The Muckboot Arctic Ice Sport Boot is the perfect Tall Rubber Boot for working in wet and icy conditions. You need all the comfort and protection characteristics and features for an icy, cold, and wet working environment in a durable work boot.
Flexible and waterproof 3 mm neoprene uppers.
An EVA contoured and cushioned molded midsole and thermal foam underfoot footbed.
Insulated and completely waterproof.
Features a slip-resistant rugged molded lug rubber outsole.
---
4
Stylish Boots for Walking on Icy Pavements
From Columbia, we have two stylish boots for those cold winters, with Arctic Omni-Grip outsoles, ideal for walking on slippery and icy surfaces.
Leather and textile uppers with waterproof seam-sealed construction.
There are 200 grams of insulation for warmth and a comfortable Techlite midsole for cushioning.
A slip-resistant Omni-Grip non-marking rubber outsole.
It also features advanced waterproofing technology and thermo heat-reflective heat technology inside that radiates heat towards your feet.
---
5
Shoes for Walking on Ice and Icy Pavements
Something for less extreme cold conditions, the Merrell Ice Pack Walking shoes are ideal for those thin films of wet ice on your pavements and slippery and wet floors and surfaces.
Available in 2 color options with leather and textile uppers.
200 grams of M select insulation for lightweight warmth and comfort and a cushioned insole.
An Arctic Grip Vibram rubber outsole for superb slip resistance.
Synthetic leather uppers and a shock-absorbing molded EVA midsole.
Kinetic Ft Base and a removable and contoured supportive insole.
M-Select ICE outsole for high traction on icy and wet surfaces.
---
6
Shoes for ice Pavements and Ice Walking
The Merrell Jungle Moc is an excellent choice in slip-resistant lightweight shoes for walking on icy surfaces.
The slip-on light design is easy to slip on and off.
There are leather uppers and a comfortable cushioned insole.
Elastic gore allows for easy on and off, and there is a fully waterproof lining.
The rubber sole has a lug and slip-resistant design for wet and icy surfaces.
---
7
Ice and Icy Pavement Walking Shoe
The Saucony Peregrine Ice is explicitly designed to walk and run on icy surfaces.
The Upper is a soft and comfortable synthetic and mesh material for breathability.
Inside are a Powerfoam midsole and an Everun topsole to keep your feet dry and cushioned.
The uppers are also water-resistant and reinforced for durability.
The Vibram Advanced Rubber Outsole has an Arctic Grip design and technology for grip on Icy surfaces and frozen pavements.
---
8
Shoe for Icy Pavement and Ice Walking
The Danner Mountain grip 600 provides warmth and excellent slip resistance in a walking boot.
The uppers are 100% pure full-grain leather, and they have Danner Dry protection for waterproofing.
There is a Danner SPE Midsole for maximum rebound and shock absorbency.
The TPU heel frame offers excellent support and stability.
The Vibram Nisqually Arctic Grip outsole is ideal for wet and icy surfaces.
---
Index Table: Top Rated Shoes for Walking on Ice and Icy Pavements
---
---