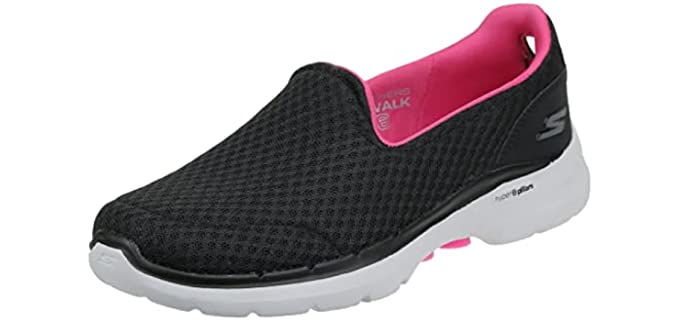 The expected release date for the Skechers Go Walk 7 is on August 23, 2023.
The Skechers Go Walk 7 will have the following main updates:

The Skechers go walk with its no-fuss slip-on design will have some great new features with the latest 7 models.
The aperture in the heel section will have an enhanced design for a quick fit design.
The Soft woven mesh uppers will be ultra-lightweight and breathable.
You can look forward to the high-energy return foam pads and Comfort p[illar technology on the sole, in strategically placed areas.
The Cushioning will still feature Ultra Go cushioning and an Air Cooled Goga Mat insole to keep your feet cool and comfortable.
There will be some superb new models and designs with regards to colors available.
Previous model of the Go Walk:
The Skechers Go Walk 6 release date was on January 5, 2021.
---
Latest Version of the Skechers Go Walk Shoe
*
---
Video
---
Price
The MSRP (Manufacturer's Suggested Retail Price) for the Skechers Go Walk 7 will be $95.
The price will be quite affordable, and you can look for specials from different retailers as needed.
Arch Support and Pronation Control
The Skechers Go Walk 7 will offer neutral support and comfort with plenty of reliable cushioning.
It will be ideal for neutral arch types as well as higher arch types.
Terrain
The slip-on shoe model will be a casual wear shoe for indoor and outdoor surfaces.
However, it will not be suitable for outdoor trails.
Use
The stunning new model will be a great slip-on and off shoe model for daily use.
They will be perfect for casual wear and daily wear.
The new model will also be suitable as a lightweight walking shoe.
Durability
The New Skechers GO Walk 7 will be quite durable.
There will be slight improvements to make it last longer and able to withstand more wear and tear.
Fit and Sizing
The fit will n be slightly snug. However, very comfortable.
The new model will be designed to slip on and off your feet with a secure fit easily.
There will be wider width options available.
Weight
The men's model will weigh 205 grams, while the women's model will be around 157 grams in weight.
These new slip-on models will be extremely lightweight.
---
Elevation of the Skechers Go Walk 7
Heel Height
There will be a 38 mm heel height.
The heel will offer excellent cushioning and stability.
Forefoot Height
There will be a forefoot height of 34 mm.
The forefoot will have more of a platform-style.
Heel-to-Toe Drop
The heel-to-toe drop will only be 4mm.
The sole of the new model will be more solid and flat as a casual and fashionable slip-on shoe.
---
Components of the Skechers Go Walk 7
Outsole
The outsole of the new Skechers Go Walk 7 will be a durable rubber with a Dual-Density design.
There will be comfort pillar technology in the sole that provides shock absorbency and stability.
Midsole
The Midsole will feature Ultra Go energizing technology cushioning.
There will be an Air Cooled Goga Mat insole for comfort and cooling.
The Ortholite sock liner will provide long-term cushioning and manage moisture.
Upper
The Skechers Go Walk 7 will have very breathable and flexible uppers.
The uppers will be an improved athletic mesh.
There will be some new color ranges available from which you can choose as needed.
---
Skechers® Go Walk 4 vs. Go Walk 3
---
*
---
---
---