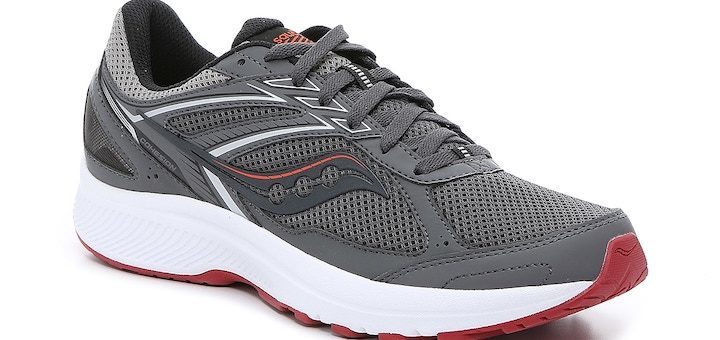 The Saucony Cohesion 16 release date will be on May 16, 2023.
The Saucony Cohesion 16 will have the following features & updates:
The Upper will be a much more flexible and breathable mesh with fewer synthetic overlays for better comfort and a more streamlined fit.
Saucony will also launch new colors and designs.
The VersaFoam technology is still used in the midsole, along with a newer moisture-wicking lining.
There will be a more snug heel fit and wider toe room when it comes to the fit.
The tongue and collar will still be padded for your comfort and a more secure fit generally.
Furthermore, Grid Technology features remain with the same durable rubber outsole.
Previous models of the Cohesion:
The Saucony Cohesion 15 release date was on May 10, 2022.
The Saucony Cohesion 14 release date was on March 8, 2021.
---
Latest Version of the Saucony Cohesion
*
---
Video
---
Price
The MSRP (Manufacturer's Suggested Retail Price) for the Saucony Cohesion 16 will be around $75.
As this will be a more basic, entry-level shoe, it is quite affordable.
As a running or jogging shoe, this will be quite a good option if you are on a budget.
Arch Support and Pronation Control
The Saucony Cohesion 16 will still provide excellent neutral arch support.
The heavy cushioned design will be ideal for high and medium arch types.
Terrain
The Saucony Cohesion 16 will be designed for full running and jogging specifically.
This said, it would be ideal for running on roads and flat, hard surfaces.
I would not recommend the shoe for outdoor terrains and trail running.
Use
The Saucony Cohesion is a running and jogging shoe, and the new 16 models will be similar.
You can also use the new model for walking.
However, it will also be slightly heavy and cushioned, thus not ideal as a training shoe.
They will be the perfect running and jogging shoes for persons with a medium to high arch type and neutral pronators.
Durability
As far as durability goes, the Saucony Cohesion 16 is quite durable if used in the right setting.
I would not recommend getting this new model into very wet situations or using it for outdoor trails.
The sole will be a durable rubber, and the mesh uppers will also be quite durable and flexible.
Fit and Sizing
The Saucony Cohesion 16 offers a comfortable medium fit.
It will be available in standard sizes only.
The padded collar and tongue design will all work together for a snug and comfortable fit.
Weight
The Women's model will be a weight of 207 grams.
The men's model will weigh around 252 grams.
This is a medium weight that is ideal for running and walking.
---
Elevation of the Saucony Cohesion 16
Heel Height
There will be a heel height of around 29mm.
This will be a standard heel height for walking and running shoes.
Forefoot Height
The Forefoot height is around 17mm.
The forefoot height accommodates the 12mm heel-to-toe drop.
Heel-to-Toe Drop
The 12mm heel-to-toe drop in the Saucony Cohesion 16 will be quite standard for running and jogging.
This is also an ideal heel-to-toe drop for a high-arch support shoe.
---
Components of the Saucony Cohesion 16
Outsole
The outsole of the Saucony Cohesion will be the same durable and trusted rubber they always use.
There will be more lug patterns for better grip.
They will enhance flexibility grooves to make the sole more flexible and lightweight.
Midsole
You can still look forward to the advanced Versafoam cushioning system used in the Saucony Cohesion 16.
This foam technology is proven and trusted to effectively reduce pressure and provide a smooth and even running or walking sensation,
They will also add a moisture-wicking lining and cushioned insole for your comfort.
Upper
The Upper will be constructed to give a much more flexible and snug fit this time around.
The engineered mesh will still be used, with fewer synthetic overlays, for more freedom of movement.
The tongue and collar remain padded for a snug and comfortable fit.
---
*
---
---
---