Not all beaches or even rivers are ideal for walking barefoot or just your general water shoes or aqua socks.
Rocky beaches and river areas with slippery rocks and sharp edges and objects can cause much damage to your feet, not to mention a great slip and fall risk if you do not have the proper footwear.
The best water shoes for rocky beaches protect your feet against sharp objects and consist of water-friendly materials that will dry quickly.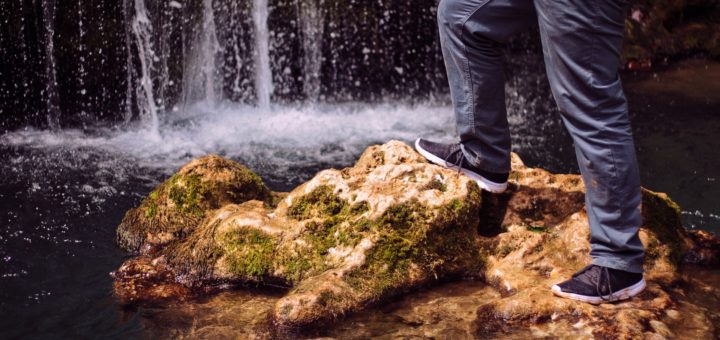 ---
Why Water Shoes for Rocky Beaches
Many water shoe designs are ideal for wet conditions such as the beach and offer excellent grip and protection solutions specifically for rocks and slippery surfaces.
You can use your water shoes for fishing, kayaking, canoeing, boating, snorkeling, scuba diving, tubing, hiking, and walking in rocky pools at the beach or rivers.
Because Watershoes offer good slip resistance, are water-friendly, and s so flexible, they are ideal for almost all outdoor sports and activities which involve water and slippery surfaces.
---
Why Do You Need Good Water Shoes for Rocky Beaches
A Good Pair of High Grip water Shoes are ideal for wearing on the Rocks at a beach to protect you against slips and falls and keep your feet comfortable in wet conditions;
Protection – Water Shoes protect your feet against the constant wetness that can cause infection and discomfort; they also protect your feet against abrasion from rocks and sand on the beach. The thicker rubber outsole of the water shoe also protects your feet from sharp rocks and shells that may cause punctures or cuts.
Keep it Dry – Keeping your feet dry and fresh is ideal for comfortable and healthy when regularly in these wet conditions.
Comfort – Most water shoes come with a comfortable cushioning footbed or insole o protect your feet from harsh impacts and a comfortable friction-free fit.
Slip Resistance – Slip resistance in a water Shoe for Rocky beaches is the absolute MAIN purpose and importance of this shoe, like slips and falls on sharp rocks can be severe and even fatal. Along with slip resistance, excellent traction can help you be more stable and move much easier on slippery rocks and wet conditions.
Lightweight – Non-water shoes can become extremely heavy and weigh you down easily, which is very uncomfortable to wear, mainly in water.
Trendy – Most of the time, people enjoy taking pictures of their adventures or share them with others. Today, most water shoes come in many trendy designs and colors to choose from so that you can still make a fashion statement.
---
Features of a Good Water Shoe for Rocky Beaches
Slip Resistant – A lug or patterened tread rubber outsole that is flexible and offer excellent grip and stability on wet and slippery rocks and surfaces.
Breathable – Mesh or breathable uppers and sole with ventilation and drainage holes.
Durable – Durable quality materails and csntrcution that will last with tough wear in wet conditions.
Comfort – Solyte midsole or cushioning for underfoot comfort and a snug glove like fit.
Quick Drying – Quick drying and lightweight materails such as mesh and neoperen in the uppers.
---
Reviews: The Best Water Shoe for Rocky Beaches
Below are some superb choices un watershoes ideal for rocky beaches;
---
1
Water Shoes for Rocky Beaches
The DreamCity water shoe is a lightweight and durable sneaker-style water shoe with an excellent grip on slippery rocks.
Soft and flexible fabric uppers that are breathable and lightweight.
A Solyte comfort midsole for a lightweight bounce back and durability.
The durable rubber water grip outsole offers exceptional traction on wet and slippery rocks.
A ComforDry sock liner, ensures optimal cushioning and creates a cool and dry environment for your feet.
Available in some color options to choose from.
---
2
Quick Drying Water Shoes for Rocky Beaches
A Quick Drying Water Shoe from Aleader, a top brand in water and outdoor sports shoes.
Breathable and quick-drying mesh uppers.
A Solyte comfort and durable cushioned midsole for ample shock absorbency.
Water Drain and Cushion outsole offer excellent traction on wet and slippery rocks and surfaces.
A ComforDry comfort-cushioned sock liner for a better and drier in-shoe environment.
---
3
Aqua Socks for Rocky Beaches
For that Barefoot feeling and optimal control on wet and slippery rocks, I have chosen the Moerdeng Quickdry range.
Available in plenty of colors and patterns for men and women.
Features an anti-Slip outsole made from durable rubber.
There are Quick drying drainage holes on the bottom of the shoes.
It is a lightweight and very flexible design with stretched fabrics and a thin and flexible sole for that barefoot feeling.
Stable enough for stepping on slippery and sharp rocks and stones.
---
4
Water Shoes for Rocky Beaches
Another superb pair of Minimalist barefoot feel water ises are the WHITIN Minimalist shoes with high-r high grip rubber outsoles.
Many color options for men and women.
A durable and high grip rubber outsole.
Ther is a breathable and draining air mesh insert panel.
The Bungee elastic closure system ensures an easy and secure fit.
The heel pulls away tab ensures fast and easy entry.
Excellent water flow management and dispersion features.
Water is easily streamlined away from the sole.,
---
5
Wet Suit Boots for Rocky Beaches in Cold Weather
The Neo Sport premium is a neoprene wet suit boot that offers some insulation and full protection in cold conditions.
Choose between an insulator thickness of 3mm, 5mmm, or 7mm.
It is made from synthetic Neoprene double glued and sewn for durability.
There is a heavy-duty zipper at the side for easy on and off.
The outsole is made from rubber with a rugged high traction tread.
The zipper has a WEB, water entry barriers design to prevent water entry.
Available in men's and women's sizes in a black color option.
---
6
Water and Hiking Shoes for Rocky Beaches
The RAX Quick-Dry water sneaker is also an excellent option for Rocky beaches.
Amphibious Function, meaning it can be used as an outdoor hiking shoe, water shoe, kayaking or canoeing shoe, and even a fishing shoe.
Quick-dry materials and holes in the sole for drainage and ventilation.
There are a rubber Anti-Skid and grip outsole.
The toe of the shoe is also wrapped in rubber for summer trekking.
TPU and Microfiber construction that is durable and breathable.
---
7
Water Shoes for Rocky Beaches
From Adidas, a highly trusted brand in sports and athletic shoes, we have the Terrex, one of their best models in Water Shoes.
Textile design uppers with Climacool open mesh for breathability.
Climacool ventilation and drainage midsole sidewalls and a closed outsole.
A TRAXION outsole for stability and grip.
Available in a few neutral color options to choose from.
---
8
Water Shoes for Rocky Beaches
The All Out Blaze is a water shoe and hiking shoe for wet terrains.
It has Waxy waterproof leather and textile uppers.
The outsole offers excellent grip in wet conditions.
There is a removable contoured insole for comfort.
---
9
Water Shoes for Rocky Beaches
The Vibram water shoe offers an excellent grip on rocks.
It is a five-finger design with a Vibram rubber outsole.
The uppers are quick-drying textile and synthetic.
There is an EVA insole with silicone treatment for grip.
---
10
Water Shoes for Rocky Beaches
The Aleader slip-on shoes are ideal for water and rocky beaches.
The uppers are a meh design that is quick-drying and drains easily.
There is an EVA cushioned sole.
The rubber outsole provides a good grip on rocks.
---
Index Table: Top Rated Water Shoes for Rocky Beaches
---
---