Splashing through many puddles, getting wet, crossing creeks and rivers are all part of the fun when Hiking, particularly in the summertime.
Yet when wet terrain makes up the most of your hiking trips, I would strongly advise investing in a good pair of Water Shoes for Hiking.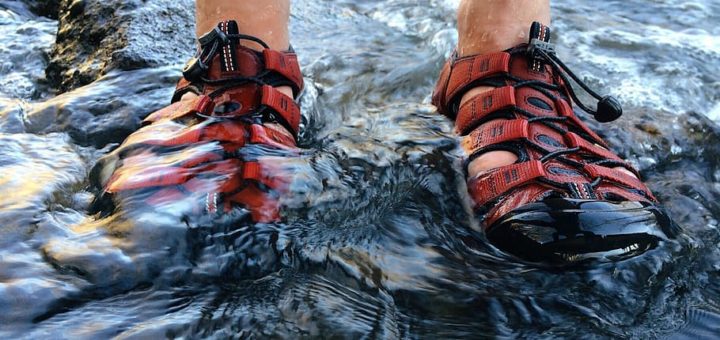 ---
Why Invest in Water Shoes For Hiking
As I have mentioned before, if you will be Hiking through many puddles, creeks, and wet terrain regularly, the right Water shoe designed for hiking will be much more advantageous than a general hiking shoe.
There is nothing worse than squelching through pools and wet terrains with water inside your shoes and wet socks, and athletes' foot is not much fun either, not to mention blisters and chafing.
That is why when it comes to WET HIKING, you should treat your feet to a pair of lightweight and breathable water shoes that are durable enough to keep the pace.
The Water Shoe is the Amphibian of the footwork, designed to perform inside and outside of water, though keep in mind they may dry fast and drain water, but they are NOT waterproof.
---
When Would You Need Water Shoes for Hiking
There's are a few Sports and outdoor recreational activities that require a good pair of Water Shoes for Hiking;
Wet Hiking – When you hike through many wet bodies such as rivers, creeks, or just in very wet marshes and rainy areas, a good water shoe for hiking can quickly become your best friend.
Canooeing and Kayaking – These two activities require a right water shoe in general, but a right Hiking water shoe may be even better for the times you are off the canoe-kayak on harsh outdoor terrains.
Camping – A lightweight Hiking Water Shoe is your best friend for camping as it will dry quickly and is very water-friendly for all terrains.
Exploring Rocky Beaches and Snorkeling – The Perfect shoe for snorkeling and exploring the beach is, of course, also the Water Shoe for Hiking.
---
Features of a Good Water Shoe for Hiking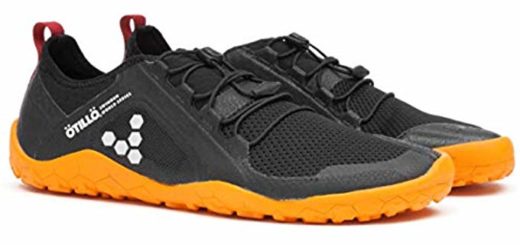 Good slip-resistant Vibram Rubber or Rubber outsole with a lug and trail-specific tread for optimal grip on wet and slippery surfaces.
Mesh or breathable uppers also either repel water or drain water properly.
Cushioned insole and midsole for shock absorbency.
Lightweight and flexible sole.
Lightweight and glove-like uppers fit.
It has a very durable design to last with tough outdoor use.
The protective underfoot shank or rubber reinforcement for sharp edges and puncture risks.
---
Reviews: The Best Water Shoes for Hiking
Below are some excellent choices in Water shoes which are also perfect for Hiking:
We hope you love the water shoes we recommend!
So that you know, We may collect a share of sales or other compensation from the links on this page.
---
1
The Keen Whisper and Clearwater are both sandals designed for hiking that are water-friendly and quick drying.
The uppers are made from synthetic and textile materials that are Hydrophobic mesh-lined, meaning that they repel water and dry very quickly.
The midsole has a 4mm drop and is cushioned for optimal support and shock absorbency.
The insole is treated with Aegis antimicrobial treatment to prevent bacteria and odors from developing.
The arch is contoured for better arch and midfoot support.
This sandal boasts a sporty style with a protective closed-toe and is available in a few neutral color selections to choose from for you.
The durable rubber outsole has a lug pattern and offers excellent traction on wet surfaces.
There is a lace-up bungee system for a secure fit and a PU midsole.
This shoe is also machine washable.
---
2
The Aleader Water Shoe is a breathable and lightweight slip-on water shoe with a durable outsole, ideal for hiking.
The upper consists of a very lightweight and porous mesh that easily allows water to drain and dries very fast.
There is a Solyte midsole for lightweight cushioning and shock absorbency, which is also very durable.
Inside is a ComfortDry sock liner that provides premium cushioning and a healthy, cool, dry in-shoe environment.
The Water grip technology outsole offers exceptional grip and traction in wet and slippery conditions.
Both the men's and women's models are available in a few color selections to easily choose from.
---
3
Minimalist Hiking Water Shoes
From ViboBare, a top shoe brand for outdoor and minimalist shoe types, we have the very minimalist water shoe, the Primus, ideal for Hiking and trail walking.
The uppers are lightweight and breathable, offering a glove-like minimalist fit that is more secure.
These shoes are super lightweight at under 300grams in weight.
Some color selections are available for your perusal.
There is a supportive and slightly cushioned midsole.
The high grip rubber outsole offers excellent grip on slippery and wet surfaces and superb underfoot protection.
Very durable construction and quick-drying, with a flexible and lightweight sole.
---
4
The Clorts Wet Traction Hiking and water shoe is another superb addition to our list and top favorite hiking and water shoe amongst many.
The uppers consist of breathable and lightweight mesh and PU materials that offer a comfortable fit with the adjustable elastic laces that allow for ease and off.
Inside, a lightweight cloud cushioned insole is for your comfort and a supportive and shock-absorbing EVA midsole.
The durable outsole is flexible with screened drainage ports and high traction on slippery and wet surfaces.
Some color selections are available for you to choose from as needed.
---
5
The Chaco Outcross Evo 1 is a durable and comfortable Hiking shoe that can also be used as a water shoe because of its water-friendly features.
The textile uppers consist of combined mesh and jacquard polyester webbing with synthetic leather and mesh insets and a mesh-lined collar along with a speed lacing lock gore system for a secure fit.
The adjustable webbing heel lock is integrated into the lacing system with a semi-collapsable heel constructed from polyester jacquard webbing and tunnel tables.
There is a durable loveseat polyurethane footbed with barefoot construction and an ethylene-vinyl acetate layer, as well as a Nylon support shank for underfoot protection and stability.
The Non-marking tread outsole is made from recycled rubber and has siped center lugs for better-wet surface grip and 35 mm lugs for trail traction.
Available in some color selection for your perusal.
---
6
The Merrell Blaze Sieve and Aero Sport are exceptional Hiking and water Shoes that will offer the best grip and slip resistance on even the most slippery surfaces.
Smooth and comfortable textile uppers with a Moni-Fit lace-up system for a precise glove-like and Barefoot design fit.
The Bellows's tongue is designed to keep debris out of your shoes, and the Molded TPU Heel counter ensures much better stability on uneven terrain.
Inside is a breathable mesh lining to keep your feet dry and cool, as well as a slightly padded insole.
The Vibram TC5+ rubber outsole with lug tread is designed for the best slip-resistance on all outdoor terrains.
---
7
The Keen Venice H2 is the ideal Hiking shoe for wet environments.
A closed sandal style e shoe that is perfect for Hiking through wet bodies.
Textile uppers are breathable and quick drying.
There is an ESS shank for stability and a Metatomical EVA footbed for comfort.
You can rely on the durable rubber outsole for slip resistance and high traction.
---
8
The Teva Omnium is another superb brand and model in Water Hiking shoes that will not let you down.
The uppers consist of synthetic and mesh materials.
There is a Molded EVA footbed for comfort and an EVA foam midsole for shock absorbency.
The Omnium has textile and synthetic uppers that breathe well and are water-friendly and a high traction lug rubber outsole.
You can get the Omnium in a few neutral color selections.
---
9
Minimalist Hiking and Water Shoe
The Trail Glove range from Merrell is another excellent addition to our list of Water Hiking shoes.
The Trail Glove features quick-drying and water-friendly textile and synthetic uppers.
There are a comfortable Metataomical EVA footbed and a durable and high grip Vibram rubber outsole.
What is more, is that this shoe is also quite lightweight and offers excellent stability on uneven surfaces.
---
Index Table: Top Rated Water Shoes for Hiking
---
---