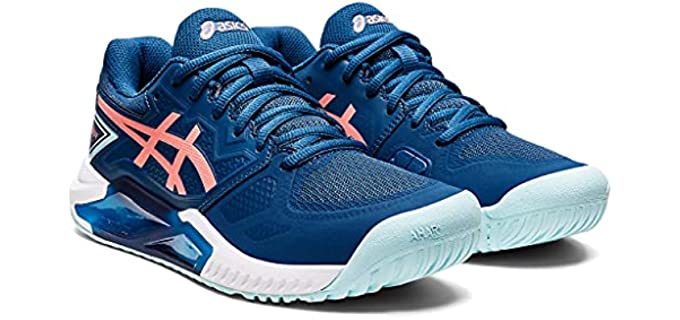 The expected release date for the Asics Gel Challenger 14 is on October 18, 2023.
The new Asics Gel Challenger 14 will be a more solid all-around court shoe that will be amazing for all types of players.
It will offer improved softer cushioning and excellent breathability features,
The shoe will generally be much more lightweight and durable.
The outsole will have some improved traction and shock absorbency features.
The fit will be improved and more adaptable.
---
Latest Version of the Asics Gel Challenger
*
---
Price
The MSRP (Manufacturer's Suggested Retail Price) for the Asics Gel Challenger 14 will be $160.00.
With some substantial improvements, the price will still be quite average.
Arch Support and Pronation Control
As tennis shoes, the new model will offer stability.
It will also have softer cushioning and be suitable for neutral and low arch types.
The shoe will have a firmer and more stable sole for good lateral stability on the court.
Terrain
The new model will be suitable for all courts.
You will be able to use it on both hard and soft courts, however, not grass courts.
Use
The Asics Gel Challenger 14 will be the perfect all-around tennis shoe.
It will be suitable for practice, as well as for competitive playing, for advanced players and beginners.
Durability
With some improvements, the new model will be durable.
You can also expect a more durable and longer-lasting sole.
Fit and Sizing
The Fit will be slightly more generous with extra toe room.
However, there will be a snug heel fit.
More width options may likewise be available.
Weight
The weight of the men's model will be around 370 grams, while the weight of the women's model will be around 305 grams.
The weight will be slightly decreased with some more lightweight features.
Heel Height
There will be a heel height of around 31 mm.
The heel will offer improved Gel cushioning for shock absorbency.
Forefoot Height
The Forefoot will be around 21 mm.
The forefoot will offer good support.
Heel-to-Toe Drop
There will be a 10 mm heel-to-toe drop.
The heel-to-toe drop will be suitable for the stability of all court shoes.
---
Components of the Asics Gel Challenger 14
Outsole
The Outsole will be highly abrasion resistant. Rubber design that will be more durable.
There will be a longer length sole that offers PGGuard toe protection for durability.
Midsole
The shoe will feature soft and comfortable Ortholite cushioning and the sock liner, with an EVA foam Midsole.
There will be an improved heel and forefoot gel cushioning for a heel and forefoot strike.
Upper
The Uppers will consist of durable synthetic leather with mesh insets for durability.
The fit will be improved, and there will be much more breathability.
Some more color ranges may also be available in the Asics Gel Challenger 14 model.
---
*
---
---
---