If you suffer from Pain and Inflammation in the Ball of your foot area, you may have a condition called Metatarsalgia.
Among other methods, wearing the right footwear can make a huge difference and help with this condition.
This article looks specifically at the Mephisto shoes for metatarsalgia as a top brand for this condition.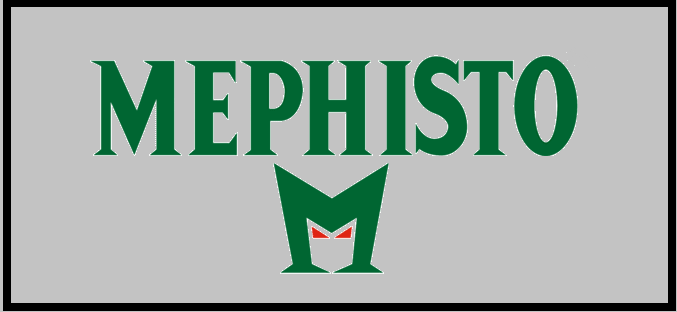 ---
---
Metatarsalgia and How it Affects Your Feet
Your metatarsal bones are five long bones that run between your feet tarsal bones. There are joints where these bones connect to your toes in the ball of your foot area.
In turn, these are the metatarsal Joints, and when they become inflamed, damaged, or injured for any reason, you may suffer from what we call metatarsalgia.
Metatarsalgia can be caused by many reasons, such as high impacts on sports and activities, placing strain on the balls of your feet, improper footwear, injuries, and other medical conditions such as arthritis.
However, you can heal this painful condition and find comfort and relief by wearing proper footwear or a supportive and cushioned insole.
---
Choosing Shoes for Metatarsalgia
When it comes to choosing the best shoes for Metatarsalgia, the right shoes will make a difference, and they can help with the healing process and relieve much of the painful symptoms.
One shoe type to avoid when you have metatarsalgia is narrow-toe shoes and high heels. Completely flat soles are also not advised, as they offer no impact resistance or support.
This article focuses mainly on the Mephisto shoe brand and its features for this condition. However, let us first look at some shoe characteristics that help with Metatarsalgia;

Good Arch Support – Good arch support in a shoe helps to spread your weight and impact evenly so that one area of your foot does not absorb the impact and holds all the weight. However, the arch support needs to be specific to your arch shape, whether high, low, or neutral arch type. Arch support also helps with proper alignment and benefits for a healthy stride.
Cushioning – Cushioning in the insole is needed for comfort, and the midsole for shock absorbency. Cushioning should be full length or concentrated at the ball of the foot area, as you want minimum strain and impact.
Wide Forefoot – Because your forefoot area may swell from the condition, and you need space to spread your toes for relief, you will need a shoe with a roomy toe box or a wider width fit. Most shoe models from the Mephisto range do offer wide-width options.
Types – Mephisto is a shoe brand that offers many shoe types: loafers, flats, sandals, sneakers, work shoes, and wedge-sole shoes.
---
Related Articles of Shoes Good for Metatarsalgia
---
Features of a Good Mephisto Shoe for Metatarsalgia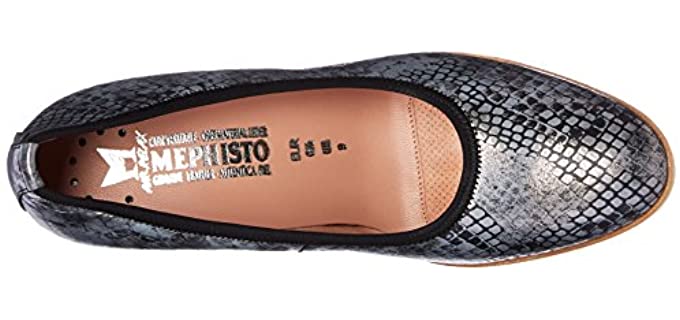 Materials – Mephisto shoes can consist of genuine leather, synthetic materials, textiles, Canvas, and rubber or synthetic materials for the sole. They use Soft Air Technology for cushioning in the midsole and a Shock Absorber to reduce shock with impact on your feet.
Fit – Most Mephisto shoes have an adjustable fit, especially the sandal models; however, you can select from wider foot options. They are generally comfortable fit shoes with a roomy toe box area.
Types – You can choose from various shoe styles, such as sandals, sneakers, loafers, flats, wedges, and boots in the Mephisto shoe brand.
Options – Relying on the actual shoe model, most Mephisto shoes are available in more color options, sizes, and widths from which you can choose as needed.
---
Reviews: The Best Mephisto Shoes for Metatarsalgia
Here are our Top favorite Mephisto shoe models that are all ideal for Metatarsalgia;
---
1
Sneakers for Metatarsalgia
We have the Mephisto Ludo and ladies' Oxford sneakers.
They have leather uppers and a durable rubber outsole.
There is Air-Soft technology cushioning and a removable insole for comfort.
The Midsole also features Soft-Air Technology for shock absorbency.
You can get the sneakers in a few available colors.
---
2
As a sandal option, we chose the Shark sandals for men and the Agave sandals for women.
Both sandals offer an adjustable fit with hook and loop straps.
They have an Air Relax and a Soft-Air midsole and cushioning footbed.
The Harks model also features additional heel cushioning.
---
3
These are perforated shoe designs from Mephisto that offer excellent ventilation.
We have the Elsie flat pump for ladies and the sneaker slip-on design for men.
Both shoes have Soft-Air technology cushioning and more flexible and supportive midsoles.
There is a durable rubber outsole for slip resistance.
They are also available in more color selections.
---
4
The Helen for ladies and the Zonder for men are two more comfortable slide-on sandals.
The sandal has leather uppers and is a slide-on design.
The footbed has a contoured form for support and Soft-Air Technology cushioning.
You can also choose from a few available color options in both sandals.
---
5
From Mephisto, we also have some lovely dress shoe ranges.
I have chosen the Paldi dress Pump for the ladies and the Noah Goodyear Dress Oxford shoe for the gents.
Both offer more color options, but there are only black and brown colors for the gents.
They have leather and suede leather uppers with a rubber outsole.
The dress pump has a mid-heel design and is also available in a printed option.
There is Air-Jet cushioning technology and Soft-Air cushioning.
The Cushioning is ideal for Metatarsalgoa pain relief, and the fit is perfect for more room in the toe area.
---
6
Dress Shoe for Metatarsalgia
Two more dress shoe options from Mephisto are the Speranza Dress Pumps and the Twain Loafers for men.
They are both leather shoes with a rubber outsole.
It is comfortable cushioning and supported with Soft-Air technology.
The Dress pump has a low but sophisticated heel, which will not cause pain or discomfort for your metatarsalgia condition.
Both shoes are likewise available in more color selections to choose your favorite.
---
Index Table: Top Rated Mephisto Shoes for Metatarsalgia
---
---