Diabetes is a complex condition that affects many people today. Diabetes requires self-care and can significantly impact a person's quality of life, life expectancy, and in particular, their feet as it can cause nerve damage and reduced blood flow to the lower leg era.
While there is still no cure for diabetes, you can still enjoy a healthy and fun-filled life by learning how to manage the condition effectively, and one strategy is to wear properly designed socks for people with diabetes.
So, to help you make a choice, we have researched and listed some of the best available socks for people with diabetes.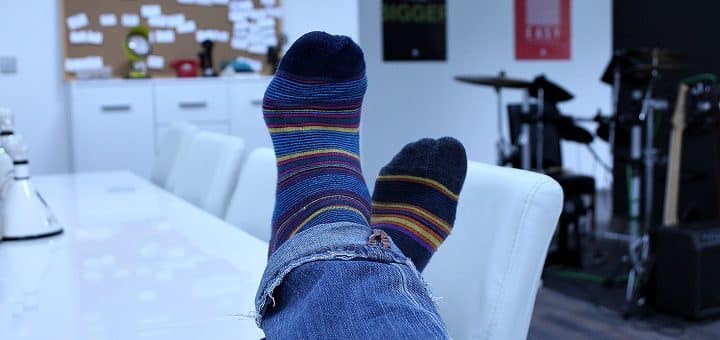 ---
How Does Diabetes Affect Your Feet and Legs
What is Diabetes – Diabetes occurs when the amount of glucose in your blood becomes too high, and your body cannot use it effectively. This happens when your pancreas does not produce adequate insulin to help your body's cells to absorb the glucose; the insulin that your body produces may also not work correctly, causing the same effect.
The Process of Damaging your Feet – Nerves from your brain and spinal cord are responsible for sending messages to your feet and legs; when your blood sugar levels are too high, the nerve cells become damaged, and after a while can no longer carry these messages to your legs and feet as they should. This, in turn, can cause you to lose feeling in your legs and feet, making it difficult to sense pressure or pain; it can also cause tingling and pain or aching in your legs and feet. This condition is known as peripheral neuropathy and you can use special neuropathy socks to eliminate the symptoms.
Peripheral Leg Neuropathy – Damaged nerves can cause your muscles to lose shape and become unable to hold your bones and joints together, particularly in the feet, causing foot deformities that place pressure on parts of the foot not meant for walking.
Losing feeling in your feet can cause you to suffer serious foot injuries and result in wounds on your feet that won't heal.
---
The Purpose of Diabetes Socks
People with diabetes have a high risk of foot injuries and infection due to their circulatory and nervous systems damaged by high blood sugar levels.
Nerve damage or neuropathy decreases sensation in the feet, especially on the bottom part of the feet. As a result, a person can be unaware of an injury or step on a sharp object without noticing. In addition, circulatory problems can make it much harder for an injury to heal and result in the amputation of a body part.
People with diabetes who do not have any foot conditions or deformities can wear the most comfortable socks that are not too tight, constricting, lumpy, or have uncomfortable seams.
Socks that can cause friction and blisters or are too densely padded should also be avoided.
Most diabetic socks are made from Acrylic fibers that also have the best moisture-wicking abilities.
For people who have diabetes and peripheral arterial disease, a compression sock may be more suitable
---
Features of a Good Diabetic Sock
Here are a few features that characterize a diabetic sock;

Seamless Design – The sock is seamless as seams can rub against your skin and cause blisters or ulcers.
Moisture Management – Moisture Wicking capabilities to keep your feet dry and infection-free.Breathability keeping your feet dry and well ventilated.
Insulation – Warmth is important because diabetes causes your blood vessels to restrict decreasing circulation to the feet fabrics that keep your feet warm improves blood circulation.
Roomy Toe Box – A square toe box reduces moisture build-up between your toes and prevents squeezing together of the toes.
Fit – A custom or fitted sock that conforms to the shape of your feet to prevent the loose fabric from rubbing against the skin.
Cushioning – Padding to cushion the foot and prevent injuries.
---
Reviews of the Best Diabetic Socks
We have researched and reviewed some of the best socks to relieve the symptoms of diabetes; Our list consists of a different range of prices you can buy from:
---
1
Diabetic and Circulatory Socks
Dr. Scholls Non-Binding Diabetic sock will keep your feet dry and free from infection and provide a soft and comfortable fit with the non-irritating seam.
A non-binding odor-resistant sock that provides all-day comfort and keeps your feet dry.
The non-irritating seam will prevent chafing and feel soft and comfortable on your feet.
The sock is machine washable and will retain its shape.
It is manufactured from 92% Polyester, 7% Nylon and 1% Spandex.
This sock will also improve circulation.
Available in sizes 7-12 and 12-16 in white, black, and khaki colors.
---
2
Larger Fit Diabetic Socks
The Extra Wide Medical Diabetic socks offer you a non-constricting stretchable fit that will retain its shape and protect your feet against infections with Microban antibacterial protection.
Designed specifically for those with swollen feet or ankles and Edema sufferers.
Non-constricting and stretches up to 25 inches while still retaining shape for a perfect fit.
These socks fit over cats and Unna boots, which make them even more versatile.
Built-in Microban antibacterial products provide continuous protection against microorganisms to prevent infection and odor.
It is manufactured from 93% cotton and 7% nylon for lightweight breathability.
Available in sizes 11 up to 16.
---
3
The Physicians Choice Over the Calf is a Diabetic sock providing comfort and relief to all those who have Diabetes, Edema, and other Circulatory issues.
Mid-weight socks with a loose-fitting top with a cross stretch of more than 11 inches for a comfortable and personalized fit.
The foot is Terry cushioned for added comfort and support.
The smooth toe technology ensures less irritation and feature vents help to manage moisture.
It is trusted all over the world to provide comfort for Diabetics.
Available in sizes 9-11.
---
4
Compression Socks for Diabetics
TruForm offers Diabetic compression socks for those who suffer from circulatory issues and swollen feet or ankles as a result of Diabetes.
Manufactured from Acrylic, Nylon, and Spandex materials for flexible and soft comfort.
The shock-absorbing, fully cushioned foot and sole and large plush knit ribbing provides exceptional comfort and is ideal for sensitive and diabetic feet.
Non-constricting and Featuring graduated compression to keep your sock in place and prevent bunching and sliding.
The moisture-wicking fibers help keep your feet dry, and the bacteria resisting finishing treatment prevent infection and controls odor.
A seamlessly linked toe closure is non-irritating to the skin and provides soft comfort.
---
5
The Perfect loose-fitting and non-binding top diabetic sock, the Falari Crew Sock, has been approved by physicians as a therapeutic sock.
A physician-approved therapeutic sock for Circulatory problems, Diabetes, Edema, and Neuropathy.
It is manufactured from 90% cotton, 7% polyester, and 3% elastane.
Easy to wash in the washing machine.
A loose and more comfortable fit and a non-binding top.
Available in sizes 9-11, 10-13, and 13-15.
---
6
From Donava, we have comfortable compression socks for Diabetes with Dry-Tech technology to keep you dry.
The Socks consist of Nylon, Lycra, and Spandex.
They have DRy-Tech Technology to wick away moisture and keep your feet dry.
There is also 15-20mmHg of graduated compression.
They come in a set, and there are a few colors to choose from as you prefer.
---
7
The Socks for Diabetes sock is a crew design sock designed specifically for individuals who have Diabetes.
It comes in different size options for men and women.
Select from a white, grey, or black color option.
Physician-approved and therapeutic design Crew-style socks.
It is made from 90% cotton and 10% Nylon for elasticity.
Machine washable and offers a loose fit with a non-binding top.
---
8
The Yomandamor is a seamless designed non-binding top sock made from all-natural Bamboo.
It comes with availability in a few neutral color selections and sizes for both men and women.
It is made with 70% Bamboo and 30 % Elastane for elasticity.
A large and wide calf and to with Micromesh and breathing holes to discharge sweat.
Stay-Up performance design to keep socks from slipping down.
High-quality yet quite affordable.
---
Index Table: Top Rated Socks for Diabetics
---
---
---