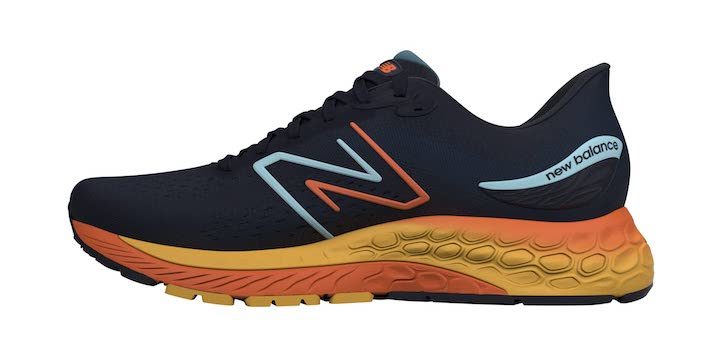 The New Balance 880V13 release date is on June 13, 2023.
The New Balance 880V13 will have the following features & updates:
The New Balance 880V13 will be one of the best training, all-day wear, and light running shoes that you will ever own.
The Fresh Foam technology will be improved to be plush and flexible.
There will be a more secure lockdown fit that will not reduce the room this time around.
The new model will likewise fit comfortably with no break-in period needed out of the box.
Previous model of the 880:
The New Balance 880V12 release date was on May 8, 2022.
---
Latest Version of the New Balance 880
*
---
Video
---
Price
The recommended price according to manufacturers for the New Balance 880V13 should be about $135.
You should compare prices with retailers and look for specials on this new model as they may differ.
Arch Support and Pronation Control
The new balance 880V13 will be part of their Fresh Foam range that will be neutral daily wear and running shoes.
It will be ideal for neutral pronation and neutral and high arch types.
Terrain
The new model will be recommended for use o roads and hard surfaces.
However, it will not be suitable for outdoor trails and wet terrains.
Use
The New Balance 880V13 will be a flexible shoe.
It will be ideal for running, jogging, walking, treadmill use, and even training routines.
Durability
The New Balance 880V13 will generally be more durable.
Though, it should not be used in wet outdoor trail situations, as this may cause damage.
Fit and Sizing
The New Balance 880V13 will have a lock-down fit with a medium-fit toe box.
It will be available in narrow, regular, wide, and extra-wide width options.
Weight
Because of the technology, it will hold, the new model will be heavier.
There will be a 275-gram weight for men, whereas a lighter 243-gram weight for women.
---
Elevation of the New Balance 880V13
Heel Height
The New balance 880V13 will have a heel height of 32 mm.
This deems to be quite a high height.
Forefoot Height
There will be a 22 mm forefoot Height.
The design will be perfect for its intended purpose concerning the heel.
Heel-to-Toe Drop
The running shoe will have a 10 mm heel-to-toe drop.
Generally, this is the ideal heel-to-toe drop in a regular running and training shoe.
---
Components of the New Balance 880V13
Outsole
The New model will have a very durable outsole that will be rubber.
The tread will be improved for traction and durability.
Midsole
The Fresh Foam cushioning will still be used in the sole and midsole for ultra-plush cushioning.
There will be a comfortable removable insole
The footbed will likely have a more molded shape for better support and alignment.
Upper
The Uppers will consist of improved, breathable, engineered mesh.
It will have a reinforced design with a more roomy toe box.
Furthermore, there may be some new color designs coming your way.
---
New Balance® 880 vs. 1080
---
*
---
---
---