A drop foot is a condition that is quite rare but needs to be addressed by individuals who do have the conditions.
When you have a drop foot, it is imperative to wear proper footwear to accommodate this condition.
This article will look at some of the best New Balance Shoes for drops' feet and how they can help you.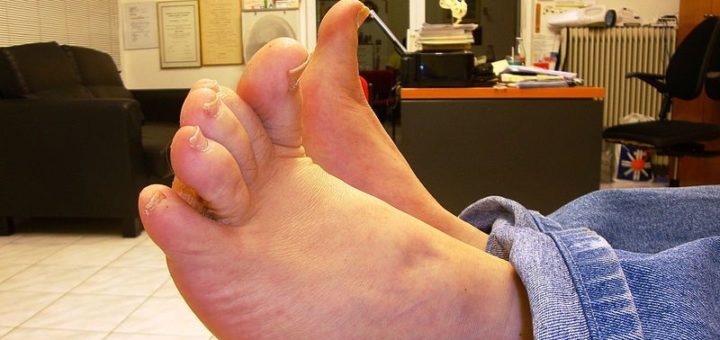 ---
Drop Foot Causes and Symptoms
Drop Foot or Foot Drop is a general term that refers to difficulty lifting the front area of your foot.
If you have a drop foot, you will most likely drag the front part of your foot when walking.
It is not quite a disease, rather an underlying neurological or muscular, anatomical issue. Sometimes it is temporary. On the other hand, it is permanent.
In more temporary situations, you may need to wear a brace on your feet or ankle to keep your foot n a normal position for healing.
The main symptoms are difficulty in lifting the front part of our foot. It will generally drag on the floor when you walk and may cause you to raise your thig when you walk.
A drop foot can also lead to skin conditions and issues because of the abnormal placement of your feet when walking.
A drop foot can be caused by injuries to the nerves in your rear or legs, which control the muscles involved in lifting your feet, such as the peroneal nerve. You may have a muscle or nerve disorder or a brain or spinal cord disorder that can lead to eth condition.
A drop Foot is rather a neurological or muscular issue than a condition that there may be risk factors for, however crossing your legs prolonged kneeling or wearing a leg cast for a long period may lead to damage or pinching of the peroneal nerves that can lead to dropping foot.
Supportive shoes will help prevent and heal or correct temporary drop foot conditions. With more permanent conditions, it may just help to ease other symptoms. However, you may need to address the underlying cause or use specialized orthotics with a drop foot.
---
How Should You Choose Shoes for Drop Foot
If you want to choose shoes for drop foot, you can look for these characteristics which may all help;
Stability – Invest ins a shoe that offers good stability and support. It should have high traction and a slip-resistant sole for good grip so that you can easily keep your balance.
Fit – If you need orthotics or an AFO, you may need a shoe with a wider fit or extra depth design.
Lightweight – Choose more lightweight shoes in general as walking with a drop foot is tiresome all on its own already.
Accomodating – Sometimes, you may need to wear a brace or orthotics, which in turn means that you need a shoe that will have the extra depth or removable layers to accommodate the orthotic device.
---
Features of a Good New Balance Shoe for Drop Foot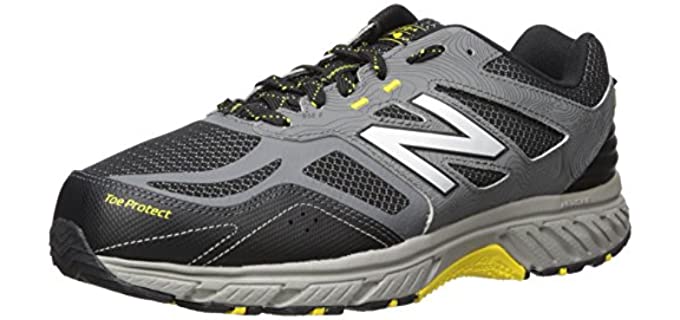 Uppers – New Balance shoes for drop foot come in a few appropriate options, from a more snug socklike fit to their more regular and relaxed fitting models. The uppers are usually constructed using genuine or synthetic leather with or without textile insets, mesh, or knit fabric, with different weave forms for flexibility and breathability. Most New Balance shoes also come with a comfortable moisture-wicking lining and generously seamless interior for less friction and irritation.
Cushioning and Support – To Illustrate cushioning, the New balance has a firm, very plush cushioning system. For instance, their ACTEVA Midsoles ate more versatile and flexible, while their ENCAP midsoles are firmer and more lightweight. They have the two-layered TruFuse midsole and the lush and soft cushioned Fresh Foam midsoles. All in all, every New Balance shoe comes with a removable soft cushioned New Balance insert. On the other hand, for support, you can look at features such as their Rollbar system for stability and motion control and their unique and effective TPU heel counters for stability.
Outsole – New Balance shoes will come with either a regular rubber or softer blown rubber outsole. As you will most likely notice, in turn, there will be different patterns depending on the model and design of the shoe for its intended purpose of grip and traction on certain surface types.
Fit – New Balance shoes do offer a variety of width options, as well as general fits, so you will need to look at the specific model, ideally. More suitable snug fits will be their mesh and knit models, whereas more relaxed and roomy fits will be their leather nd, textile models.
Options – Then again, as mentioned, options. New Balance does offer plenty of color options. However, I have noticed that their leather shoes are generally limited in color selections. Widths options should be available in every model and design. Wide XX and XXX wide widths
---
Reviews: The Best New Balance Shoes for Drop Foot
Furthermore, in our list, you will see in detail some of the best available New balance Shoes that are truly beneficial for Drop Foot;
---
1
Drop Foot Running and Walking Shoe
So we start with the 990V5.
The shoe has very breathable and comfortable textile and leather uppers with a lace-up closure.
It is ideally a running and walking shoe, whichever you choose.
The shoe has an EVA core with an ENCAP ring midsole and a Blown rubber outsole for stability and cushioning.
There is a comfortable, removable NB cushioned insole, and the shoe is lined.
You can also select from a few more colors that are available.
---
2
The New Balance 847V4 is a walking shoe for Drop Foot.
The shoe offers the perfect fit, with synthetic leather uppers and wider widths available to accommodate all foot conditions.
The 847V4 is essentially a stability shoe that features Rollbar technology and TPU stability heel inserts.
On the other hand, it also has firmer ENCAp midsole cushioning but a more comfortable NB insole.
TruFuse technology in the midsole combines two layers of cushioning foam.
---
3
Walking Shoe for Drop Foot
The New Balance 577V1 is a leather running and walking shoe, which deems quite perfect for Drop Foot and similar conditions.
Ideally, the shoe has more durable leather uppers and a much roomier fit, being a Diabetic rated shoe.
You can also get medical reimbursement because the shoe is Medicare / HCPCS code = A5500 rated.
It features ABZORB cushioning, which supports the heel, and a PU midsole for or stable cushioning.
---
4
Cushioned Shoe for Drop Foot
Something more soft and comfortable that still has the best fit for Charot's foot is the Fresh Foam 1080V11 from New balance.
The shoe has an exquisite design, with an almost flatform type sole that contains many layers of soft cushioning.
The sole provides good stability, even though it is abundant in cushioning. However, it also has a snug heel fit for stability.
On the other hand, there is an Ortholite moisture-wicking and cushioning sock liner.
You can likewise get this model in plenty of color variations.
---
5
The 928V3 from New Balance is seen as more of an Orthopedic comfort shoe, and that is why I also recommend it for Charcot's foot.
All in all, the design is effectively durable and comfortable with a roomy fit and wider widths available.
There is ample cushioning, along with proper support and stability features to keep your foot well-aligned as needed.
Furthermore, a removable Pu footbed should you wish to use your orthotics.
The rubber outsole similarly provides good grip and stability.
---
6
Outdoor Shoe for Drop Foot
Looking for something to wear outdoors? Well, then the 510V5 is the perfect trail shoe if you have Charcot's foot.
The fit is comfortable and accommodating, and the construction is durable and effective for its crucial purpose.
There is an ABZORB technology cushioning midsole, along with an NB insole and lightweight injection-molded EVA foam.
Furthermore, the outsole boasts Built-In off road technology for grip on trails and wet surfaces.
The uppers are breathable and lightweight mesh.
---
Index Table: Top Rated New Balance Shoes for Drop Foot
---
---