The expected release date for the Hoka Clifton 9 is March 29, 2023.
The Hoka Clifton 9 will have the following features & updates: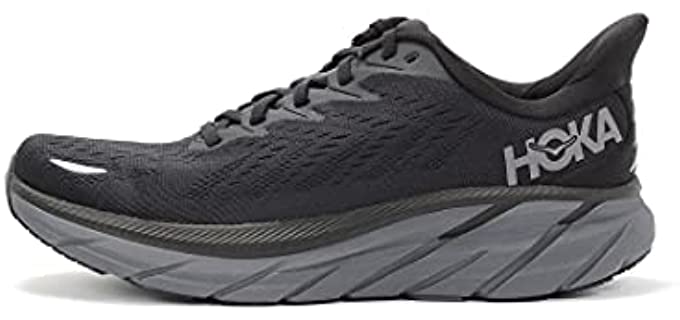 The Hoka One Clifton 9 will be even better than the previous model with some slight changes.
Most of the winning features, such as the breathable upper, wide toe box, and stability features, will be kept, and some will even be advanced.
This time around, it will have more responsive cushioning and reduced weight, as these were some issues with the latest Clifton.
You can also expect a very useful heel pull tab with the new model.
Previous Models of Clifton
The Hoka Clifton 8 release date was on May 15, 2021.
The Hoka Clifton 7 release date was on August 2020.
---
Latest Version of the Hoka One Clifton
*
---
Video
---
Price
The recommended price, according to manufacturers, for the new Hoka Clifton 9 will be $180.
There will be a slight increase in price as only a few small noticeable differences will be added for your comfort.
Arch Support and Pronation Control
The new Clifton 9 will continue to be a neutral support shoe for a high or neutral arch type.
It will be more cushioned and balanced with better flexibility.
Terrain
The Clifton 9 will be designed for all flat surface types and road running.
It will not be recommended for trail use and outdoor use.
Use
The new Clifton 9 will be so much more versatile.
It will not be something to run a marathon in but rather a casual jogging, walking, and everyday wearing shoes.
Durability
If used for the right purposes, the Clifton 9 will be very durable as it will be designed for regular use.
All the same, try not to get them too wet or use them for trail walks and runs.
Fit and Sizing
The Hoka One Clifton 9 will offer a comfortable and relaxed fit with a medium-design toe box for everyday use.
You will also be able to get your new favorite in a narrow, normal, or wide-width fit.
Weight
The Hoka One Clifton 9 will be quite light in weight this time around.
You can look at a weight of 247 grams for men and 201 grams for ladies.
---
Elevation of the Hoka Clifton 9
Heel Height
The heel height for the Clifton 9 for men will be around 29mm.
Then again, the heel height for the ladies will be lower at 27 mm.
Forefoot Height
For the ladies, there will be a forefoot height of 22 mm.
For men, you can expect a forefoot height of 24mm.
Heel-to-Toe Drop
The heel-to-toe drop will be a low 5mm.
This is a pretty uniform heel-to-toe drop for such a versatile all-purpose shoe.
---
Components of the Hoka One Clifton 9
Outsole
As with the predecessor, the Clifton 9 will also have a meta-rocker sole in early-stage design.
The sole will consist of durable, lightweight rubber with a high traction tread.
There will also be new strategically placed high-abrasion rubber zones for better durability.
The heel should have a moderate level for smoother foot transitioning.
Midsole
You can look forward to a full-length compression-molded EVA midsole as usual with much more plush cushioning.
The midsole will also be slightly more lightweight and flexible.
Upper
As for the Uppers, there will be a more open mesh sandwich construction for breathability.
There may be improved TPU inserts for structural stability.
The fit will be more regular, and some new colors are expected.
You will also enjoy the more roomy toe box design.
---
Related Articles on Hoka Shoes New Releases
---
Hoka® Clifton vs. Rincon
---
*
---
---
---