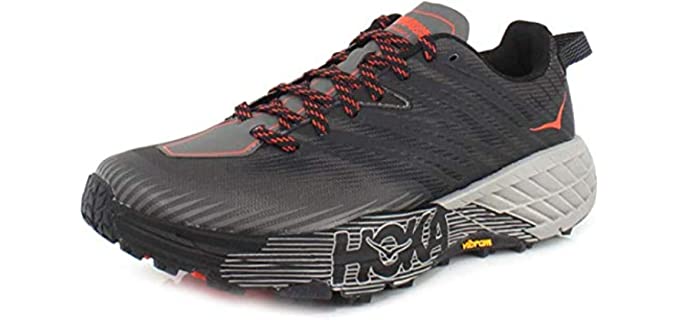 ---
The expected release date for the Hoka One Speedgoat 5 is October 18, 2022.
The Hoka One Speedgoat 5 will have the following features & updates:
The Speedggoat 5 will be one of the most versatile trail running shoes that will be an all-rounder that can handle any terrain.
It will have excellent cushioning for a trail running shoe without impeding flexibility.
This will be a heavy-duty workhorse with the improved Vibram rubber outsole.
The shoe will be quite stable and offer excellent support on uneven terrains.
Furthermore, the uppers will be improved to keep debris out, and more color ranges will be available.
Another improvement will be the advanced airflow to keep you cool and comfortable in the hottest weather conditions.
---
Latest Version of the Hoka One Speedgoat
*
---
Price
The recommended price according to manufacturers for the new Hoka One Speedgoat 5 will be $160.00.
Although the Hoka One One Speedgoat 5 will be improved, the price remains relatively the same.
Arch Support and Pronation Control
The new Hoka One Speedgoat 5 will be designed to offer more neutral support and stability.
It will be ideal for a forefoot and midfoot strike when running.
There will also be p[plenty of balanced cushioning.
Terrain
the Hoka One Speedgoat 5 will be designed for outdoor trails.
The new model will be able to handle any type of terrain.
Use
The Hoka One Speedgoat 5 is an outdoor trail running shoe.
Surprisingly it will also be great for trail walking and light hikes.
Durability
because it will be an outdoor trail running shoe, it will be very durable.
The design will have some improved durability features.
Fit and Sizing
the fit will be more regular and released with a wider toe box.
Yyou can also get the new Speedgoat 5 in a narrow, normal, wide, and extra wide width option.
Weight
It will, however, hold some weight.
The men's model will be around 306 grams, and the women's model a lighter 263 grams.
---
Elevation of the Hoka One Speedgoat 5
Heel Height
The heel height will be 32 mm for men and 30 mm for women.
This heel height is quite a substantial height for additional protection.
Forefoot Height
The Forefoot height will be around 28 mm for men.
For the ladies, there is a forefoot height of 26 mm.
Heel-to-Toe Drop
The Heel-to-toe drop will be a low 4mm.
The heel-to-toe drop design will offer better stability on uneven terrains.
---
Components of the Hoka One Speedgoat 5
Outsole
the Outsole will be an improved Vibram mega Grip rubber that is ideal for wet and dry conditions and all types of terrains.
There will be zonal rubber placements to enhance durability.
Midsole
The midsole will be a much more cushioning and responsive, lightweight foam this time around.
The midsole will likewise offer just enough stability.
Upper
The uppers will be a highly improved mesh design for ventilation with 3D print overlays for better structural stability.
The Gusseted tongue will also have a new design for better ventilation and to keep debris out of your shoes.
Furthermore, some new colors and styles are to be expected for the new Speedgoat 5.
---
*
---
---
---