The Hoka Arahi 7 release date is July 17, 2023.
The Hoka Arahi 7 will have the following features & updates: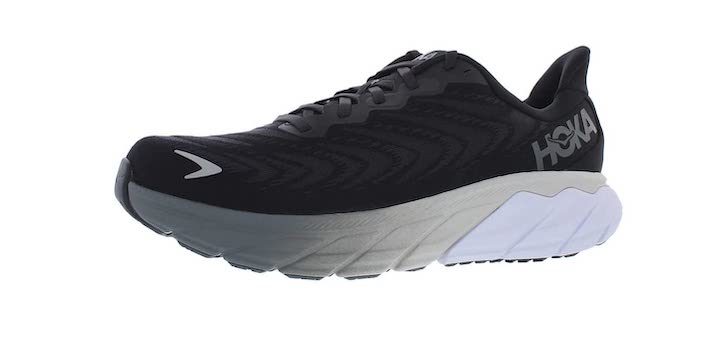 The new Arahi 7 will boast the maximum amount of cushioning yet be extremely lightweight with new technology plush cushioning.
Like its predecessor, the Arahi 7 will Have lighter-weight engineered mesh uppers and a more comfortable, snug fit.
You will still be able to enjoy the now-reinforced pull tab for easy on and off.
The very resilient and ultra-lightweight foamy base will offer some stability and excellent cushioning.
As for the outsole, you will still be able to enjoy the same high-traction rubber sole.
You can also expect many new color variations and color options from which you will choose.
Previous Models:
The Hoka Arahi 6 release date was on March 16, 2022.
---
Latest Version of the Hoka Arahi
*
---
Video
---
Price
The recommended price, according to manufacturers, for the new Hoka One Arahi 7 will be around $150.
There is a slight price increase this time as there are a few more new features.
Arch Support and Pronation Control
The Arahi 7 will offer excellent stability and support.
It will cater to flat feet with a slightly stiffer sole yet still have comfortable cushioning.
It will be designed for mid-foot and forefoot striking.
Terrain
The Arahi 7 will be a road shoe only as its predecessor.
Outdoor trail running and walking is not advised with the new model.
Use
The Uses of the new Arahi model will be more versatile.
This time it caters more for training, general jogging, and running.
Durability
the new Arahi 7 will be durable if used for its intended purposes.
However, it is not advised for long-distance and marathon running when it comes to durability.
Fit and Sizing
As for the size and fit, you can look forward to a comfortable and roomy toe fit.
There will be normal, narrow, and wide-width options available similar to the Arahi 5 model.
Weight
the Arahi 7 will be around 275 grams for men and 221 grams for women.
It will be very lightweight for the amount of cushioning and support that it will feature.
---
Elevation of the Hoka One Arahi 7
Heel Height
You can expect a heel height of around 29mm.
The heel height will be standard for a running and training shoe.
Forefoot Height
The Forefoot height should be around 24 mm.
The sole will be uniform and solid, which will be ideal for stability.
Heel-to-Toe Drop
As you can see, there will be a very low 5mm heel-to-toe drop.
This is predominant in stability shoes as well as training and running shoes.
---
Components of the Hoka One Arahi 7
Outsole
The outsole will be constructed of the same durable rubber.
There will be patterns on the tread for traction and grip.
However, keep in mind that it will be a road or flat surface shoe only.
Furthermore, the outsole will still keep the slight Meta-Rocker design for stability and balance.
Midsole
The new Arahi 7 will have a very lightweight and slightly firmer support EVA midsole along with the trusted J-Frame design.
The Flat waisted design of the sole entirely will offer excellent stability.
Upper
There will be a much more lightweight and breathable mesh design engineered for comfort for the uppers.
The Arahi 7 will offer different width options and will generally have a more roomy toe box.
Furthermore, you can look forward to some new colors and designs in the new model.
---
Hoka® Arahi 6 vs. Arahi 5
---
*
---
---
---