The Hoka Mach 6 release date is October 9, 2023.
The Hoka® Mach 6 will have the following main updates: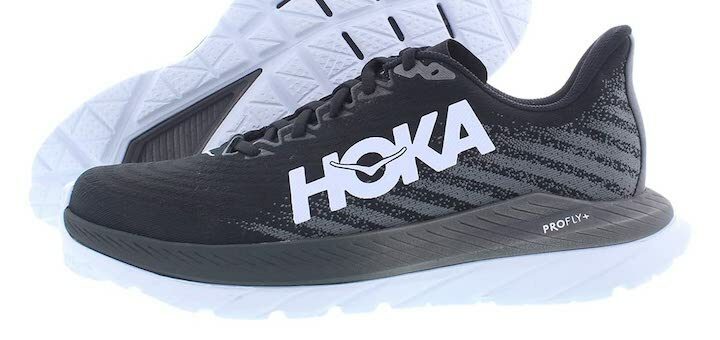 The Hoka Mach 6 will be a do-it-all-daily running and jogging shoe for everyone.
It will have a more glove-like and streamlined fit and sleek design than most Hoka One models.
There will be lightweight but well-balanced cushioning and extremely comfortable features additionally.
The new model will be available in more colors, with reflective elements for night runs.
Previous Models of the Mach:
The Hoka Mach 5 release date is September 21, 2022.
---
Latest Version of the Hoka Mach
*
---
Video
---
Price
The MSRP (Manufacturer's Suggested Retail Price) for the Hoka Mach 6 will be $140.
The price may vary according to the retailer and the style of the new model.
Arch Support and Pronation Control
The Hoka Mach 6 will be a neutral running shoe, ideal for neutral pronation.
It will be perfect for individuals with high to normal arch types.
It will offer excellent shock absorbency for forefoot and midfoot striking.
Terrain
The new model should, however, only be used for road running and on hard surfaces.
It will also be ideal for running on a treadmill.
Use
As we have mentioned, The Hoka Mach 5 will be an all-around excellent running shoe.
It will be ideal for long-distance and marathon running.
On the other hand, it will also be suitable for daily running or jogging and running on a treadmill.
Durability
The Hoka Mach 6 will have a dual-density midsole, and the outsole will not be entirely rubber, hence some durability issues.
The shoe will be durable with proper use overall.
Fit and Sizing
The Hoka Mach 6 Will offer a normal to medium fit with a reasonably roomy toe box.
It may have some wider width options available in the new model.
Weight
The weight for the men will be 232 grams.
For the ladies, it will have a weight of 192 grams which is quite lightweight in comparison.
---
Elevation of the Hoka® Mach 6
Heel Height
There will be a heel height of 29 mm for men.
There will be a heel height f a lower 27 mm for ladies.
Forefoot Height
The forefoot height will be 22 mm for ladies.
While the men's model will have a forefoot height of around 24 mm.
Heel-to-Toe Drop
Drop: 5mm

Generally, there will be a low 5 mm heel-to-toe drop.
The heel-toe drop will offer good flex and stability.
---
Components of the Hoka Mach 6
Outsole
The Outsole will be a durable rubberized EVA foam outsole.
It will offer excellent ground contact and traction with more responsive cushioning.
Midsole
The Hoka Mach 6 will have a removable and moldable EVA sock liner for cushioning.
The Profly midsole ensures better cushioning when landing,
There will also be a Meta-Rocker early-stage design sole for a smoother ride.
Upper
The Uppers will be an improved engineered mesh.
The design will be streamlined with a medium fit.
Some new color options should likewise be available to you soon.
---
Hoka® Mach vs. Clifton
---
*
---
---
---