Plantar Fasciitis is one of the most common causes of heel pain, which could affect anyone at any time in their lives.
Though not a very serious condition, it should not be taken lightly, and proper care must be taken to prevent and treat the conditions.
One of the best courses in treating Plantar Fasciitis course having the right footwear.
What I love about Hoka One shoes for Plantar Fasciitis is the proper density and supportive midsoles, as well as the cushioning and rocker sole features that they have to reduce pain associated with Plantar Fasciitis.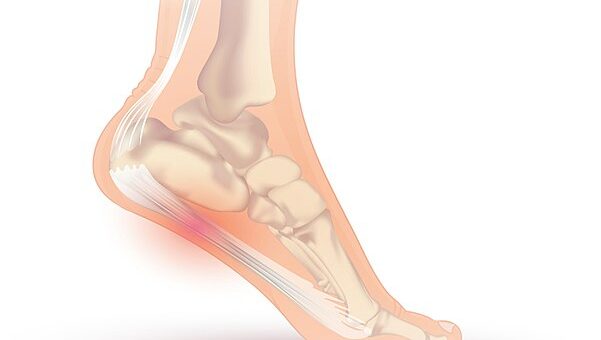 ---
Plantar Fasciitis Explained
At the bottom of your feet, you have a band of tissues that run across from the toes and connect them to the heel bone. These tissues are called the plantar Fascia; when the Plantar Fascia becomes injured, damaged, or inflamed, you get what we call Plantar Fasciitis, which causes a deep stabbing and burning pain in the heel area. As you will notice, the pain will be the worst when you get up after being off your feet for a while or in the morning, and it usually precedes long periods of standing or being active on your feet.
Symptoms – Plantar Fasciitis cause a burning, stinging pain in the heel when you step on it. It may feel like you are stabbed in the heel or midfoot section. The pain will be the worst in the mornings or after sitting for a while. You may also notice the pain, especially after long-standing periods or activities that strain the Plantar Fascia.
Causes – Though there is not much information on the exact cause of Plantar fasciitis, it mostly occurs in people who take part in activities that repeatedly tear, irritate, or stretch the plantar Fascia or individuals that are overweight. When the Plantar Fascia becomes torn or inflamed, it causes pain in the heel area.
Risk Factors – There are a few risk factors related to plantar fasciitis. People between 40 and 60 years are more prone to getting these conditions. Activities such as long-distance running, ballet, and aerobic dancing that place repetitive strain on the heels and connective tissues may add stress to the Plantar Fascia. Individuals with flat or higher arches are more likely to develop Plantar Fasciitis because of their foot mechanics. Obesity is a great risk as the extra weight can stretch out and cause tension on the Plantar Fascia, which may lead to Plantar fasciitis.
Complications – Plantar Fasciitis, if not treated, can cause chronic heel pain, eventually interfering with walking and other activities.
Treatment – You can treat the symptoms of Plantar fasciitis with pain medication, Ice, Physical therapy, and topical creams. However, to treat the condition, you will need proper supportive shoes with good cushioning and arch support, or you can invest in an orthotic insole. The right shoes and insoles will help the Plantar Fascia heal and prevent you from getting Plantar Fasciitis again in the future.
---
Choosing the Right Shoes for Plantar Fasciitis
When it comes to Plantar Fasciitis, you need good support and cushioning from your shoes to deal with the symptoms and prevent the reoccurrence of the condition or further damage. Now mostly athletic and Orthopedic styles of shoes are ideal, and there are a few shoe types that should be avoided at all costs;

Shoes To avoid – I strongly suggest avoiding minimalist shoes; as for Plantar Fasciitis, you need cushioning and more features. Flat-soled shoes with no midsole or support, or even high-heeled shoes, should be avoided. Shoes with little to no cushioning or unstable fit are likewise not a good option. Most sandals, such as flip-flops, will also not provide much comfort and relief. Then again, it would be best if you kept in mind to replace old and worn-out shoes, as they will not offer the proper levels of support and comfort that they used to.
The Right Shoes – The right shoes for Plantar Fasciitis will offer you much softer ground contact with durable and soft Midsole and insole cushioning that will conform to the shape of your feet and absorb hard impact. Shoes with a contoured footbed or arch support for your specific arch type will be ideal. Most individuals with flat feet tend to get Plantar Fasciitis, and they will need a more stable supportive shoe with arch support. While individuals who have a higher or neutral arch and Plantar Fasciitis can opt for more cushioning and flexibility to support their arch type. You also want a supportive fit, especially in the heel, to prevent heel slippage that could place tension on the Plantar Fascia and the ankles.
---
Features of a Good Hoka Shoe for Plantar Fasciitis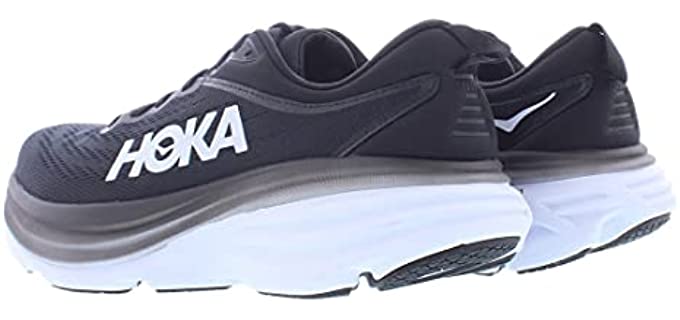 Uppers – Hoka One shoes have engineered mesh or knit uppers that offer a flexible and comfortable fit with secure overlays. Some models have a J-Frame structure for a more structured, locked-down fit for stability in the midfoot area. Hoka One shoe is lined for comfort and to wick away moisture.
Fit Options – Hoka One shoes are available in options with a more relaxed and roomier fit and with a snug or locked-down fit. You can get Hoka One shoes in narrow, normal, wide, and extra wide width options.
Insole – Hoka One shoes come with a padded, OrthoLite, or Molded EVA insole that provides good underfoot cushioning and arch support.
Midsole – Hoka One shoes feature a Compression Molded EVA or CMEVA Midsole. Or a full EVA midsole that ensures optimal cushioning and supports to reduce the impact on your feet.
Outsole – Hoka One shoes offer a durable rubber outsole. Some models have Zonal Rubber placement for additional shock absorbent or a Rocker design sole that reduces pressure on your feet. The outdoor shoe models may have a Vibram Mega Grip outsole.
---
Reviews: The Best Hoka Shoes for Plantar Fasciitis
In our list, we have added a few Hoka One shoe models that will be highly suitable for Plantar Fasciitis;
---
1
Shoe for Plantar Fasciitis
The Hoka One Bondi has a soft foam midsole and a slight rocker sole to reduce pressure on your heels.
It is very lightweight and has mesh uppers for a lighter feel/
The outsole has a heel crash pad to absorb impact and is a durable rubber.
The shoes are available in wider widths and more color options.
---
2
Shoe for Plantar Fasciitis
The Hoka One Clifton also has a Meta-Rocker Sole to take pressure off painful heels.
It is a mesh shoe for breathability that also has a stable fit.
There is a compression molded EVA midsole and insole for support and comfort.
The shoe has a durable rubber outsole.
---
3
Shoe for Plantar Fasciitis
The Hoka One Carbon X has proper support and cushioning for Plantar Fasciitis.
There is a compression molded EVA midsole and molded EVA insole for support and cushioning.
The shoe has breathable engineered knit uppers that are comfortable and breathable.
The shoe does offer wider width fits and more sizes.
---
4
Shoe for Plantar Fasciitis
The Hoka One Gaviota is a rocker design shoe for Plantar Fasciitis.
It has snug-fit knit uppers for stability, with J-Frame technology.
There is a rubber outsole with rubber placement in high-wear areas.
The shoe is durable and has shock-absorbing cushioning in the midsole and insole.
---
5
Trail Shoe for Plantar Fasciitis
The Hoka One Challenger is a comfortable trainer for Plantar Fasciitis.
It has breathable mesh uppers and a textile upper for abrasion resistance.
There is a full-length EVA midsole and padded insole to absorb shock and provide comfort.
The outsole is rubber with inserts for proper grip and durability.
---
6
Trail Shoe for Plantar Fasciitis
The Hoka One Speedgoat is an outdoor trail shoe for Plantar fasciitis.
It has waterproof uppers and a Vibram Megagrip outsole for slippery surfaces.
The full-length EVA midsole and padded insole provide cushioning and support for Plantar Fasciitis.
The uppers are breathable and very durable.
---
Index Table: Top Rated Hoka Shoes for Plantar Fasciitis
---
---