When you have very low arches or the arches of your feet are completely collapsed, you have flat feet.
This means that when you stand, the inside midsection of your feet completely touches the ground.
Flat arches in many individuals do not generally cause issues. However, there are some individuals that find problems with flat feet.
All in all, you will need shoes that offer the right support for flat feet, such as Adidas shoes for flat feet.


---
Flat Feet Issues
When your feet are flat, it means that the arch of your foot is collapsed and no longer performs as it should. The Arch of your feet has the main purpose of supporting the weight of your body and distributing it evenly, as well as distributing impact evenly as you walk or run.
When your feet are flat, there is a lack of support, and impact will be felt either in the heels or the balls of your feet.

Overpronation – One issue that we find many times with flat feet is Overpronation. Your feet and ankles naturally roll inward slightly as you walk or run. However, when you overpronate, they roll inwards excessively, which can cause problems. Overpronation is an issue that is highly predominant in individuals with flat feet.
Heel Pain – Heel Pain or a Condition called Plantar Fasciitis, where the band of tissues stretching from the midfoot to heel bone underneath your feet becomes damaged or inflamed. Plantar Fasciitis is one of the greatest causes of heel pain. On the other hand, with no arch support, there may be more impact on the heel of the foot, causing heel pain.
Foot Pain – Generally, when there is more impact or weight felt in the heel, ball of the foot, or sides of the feet because of overpronation and a lack of arch support, you may have foot pain in certain areas of your feet.
Improper Alignment – Overpronation and other mechanical issues related to having flat feet may also lead to improper body alignment and incorrect posture.
Wider Feet – Flat feet, especially when you have developed them over time or from certain conditions, may eventually cause your feet to widen or their shape to change, which means that you may need wider-width shoes. However, this is not always the case with flat feet, so you should not worry about this too much, as you can always just opt for a wider-width shoe fit.
---
How to Choose Shoes for Flat Feet
The biggest issue with having flat feet is the lack of arch support, so ideally, you want a shoe that offers good arch support to elevate your arches slightly.
On the other hand, you will need proper cushioning in your shoes as your feet and arches do not distribute impact or weight evenly, especially in the ball of the foot area and the heel.
A shoe with a slightly more rigid sole that only bends in the midfoot will be ideal as this will provide some stability which is especially ideal if you tend to overpronate.
We have chosen a few shoe models from Adidas, which all fit the criteria to support flat feet with proper arch support, cushioning, and light stability.
Then again, you will likewise need to consider the width of your feet and whether you need to consider more regular fit design shoes or if your feet will be comfortable in their sock-like fit flexible upper shoes.
---
Features of a Good Adidas Shoe for Flat Feet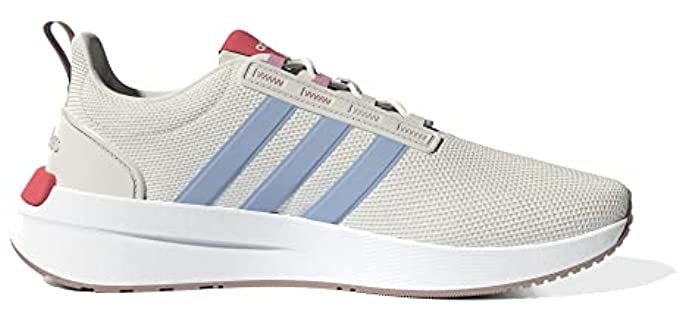 Uppers – The Uppers may be mesh, or a stretch knit fabric, or leather, depending on the model. They will have a comfortable, adaptable fit, or customizable fit with a lace-up closure feature.
Midsole – The Midsole can be a Boost or Cloudfoam, or EVA lightweight midsole. These foam midsoles are ideal to provide good underfoot comfort, as well as shock absorbency, especially in the heel and ball of the foot area.
Cushioning – For cushioning you can have Cloudfoam cushioning or a cushioned insole.
Outsole – The Outsole will be a durable and high traction rubber. the design of the heel will be suitable for better stability especially in flat feet.
Options – Options available include colors, full, and half sizes, depending on the model.
---
Reviews: The Best Adidas Shoes for Flat Feet
These are some of the best available Adidas Shoe models that are ideal for flat feet;
---
1
Running Shoes for Flat Feet
The Adidas Runfalcon is a comfortable running shoe for flat feet.
The uppers are breathable ballistic mesh.
There is a lightweight EVA midsole and rigid sole.
The rubber outsole is durable and offers good traction.
There is likewise more colors from which you can choose.
---
2
The Advantage sneaker is a comfortable everyday shoe for Flat feet.
The Cloudfoam sock liner offers good shock absorbency.
The rubber outsole has a cup sole design for stability and grip.
The uppers are recycled polyester.
---
3
Training Shoes for Flat Feet
The Adidas Strutter is a Cross Training shoe that is ideal for flat feet.
It has leather and textile uppers,
There is good cushioning and support for flat feet.
The outsole is a durable and high traction rubber.
There are likewise more color options available.
---
4
Running Shoes for Flat Feet
The Adidas Ultraboost 21 is a comfortable running shoe for flat feet.
It has a slight rocker sole that is a thick boost midsole and rubber outsole.
There is a stretch web outsole for flex and stability.
The uppers are textile and lightweight.
There are also more colors available.
---
5
Hiking Shoes for Flat Feet
The Adidas Terrex Swift is an Outdoor trail shoe for Flat Feet.
The uppers are Textile, with Gore-Tex waterproofing that is very breathable.
There is an EVA Midsole and Molded Heel cup for support.
Inside is a textile lining and molded sock liner for comfort.
---
6
The Adidas Originals NMD is a Knit sneaker for flat feet.
The uppers are textile and synthetic with a comfortable fit.
There are TU plugs and a molded heel cup for stability.
The Boost midsole offers shock absorbency and cushioning.
The fit is stretchy and sock-like to adapt to your feet.
---
Index Table: Top Rated Adidas Shoes for Flat Feet
---
---