So, we are looking for the most comfortable shoes offered by Adidas.
The brand itself makes some really comfortable shoes, but what means comfort to one individual may not always be so comfortable to another.
So, in this article, I want to help you find the most comfortable Adidas shoes to address your needs specifically.
Generally speaking, there are features such as arch support, cushioning, a moisture-wicking lining, flexible uppers, and a softer midsole that altogether make for a very comfortable shoe. These features are predominant in the Most Comfortable shoes from Adidas.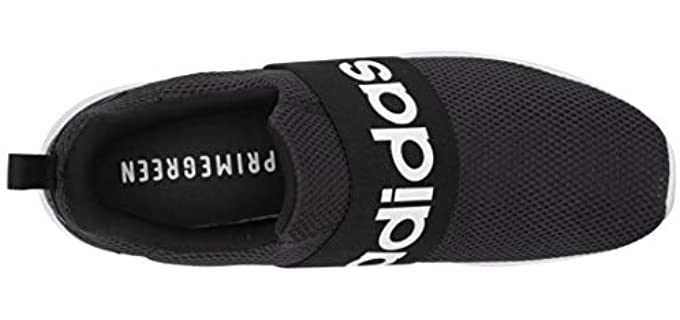 ---
Getting a Comfortable Fit
Firstly, we all have different foot shapes, body shapes and weights, and different needs in terms of daily activities.
For a runner or sports, person comfort may mean something completely different to someone that just wants a casual daily wear shoe.
For someone with a high arch, a shoe that is meant for lower arches may be extremely uncomfortable.
On the other hand, for heavier individuals, a lightweight shoe may not offer the support and comfort needed.
Not to mention fit, where a sock-like narrow fit may feel extremely uncomfortable for someone with a wider foot, and a regular wide fit can be loose and unstable for someone with a very narrow foot.
When you take all of these things into consideration, comfort will depend entirely on the individual.
---
What Makes a Shoe Comfortable
So, with that in mind I want to discuss a few things that make a shoe comfortable which will work for everyone in turn;
Fit – Firstly the, fit is important. Your shoes need to have ample toe room for your to spread out your toes with half an inch of space in front. For a snug or sock-like fit shoe, you still need to be able to move your feet, and there should be no pressure on your feet. You also do not want a very loose fit which causes instability and can lead to some serious chafing and blisters on your feet.
Cushioning – Whether you have high, low, or neutral arches cushioning is important, just at different levels for your arch types. For higher arches, I usually recommend full cushioning that is more abundant. In contrast, for flat feet and low arches, especially when you tend to overpronate, I recommend slightly firmer cushioning, more concentrated in the heel and ball of the foot area. Neutral feet can enjoy any type of cushioning. Cushioning in the form of foam in the midsole absorbs shock and is more durable, whereas a cushioned insole gives a softer underfoot feel.
Support Features – Support features, in turn, help with issues such as Over or Underpronation and mechanical issues. These features support your arches, heels, and ankles in a proper safe alignment to prevent Achilles issues and incorrect walking mechanics. They may include a TPU heel, heel cup, and arch support, among other features. These features become more specific according to your needs and foot biomechanics.
Lining and Breathability – Good comfortable shoes need to have a smooth lining that will not scratch or irritate your feet, and that will help to manage moisture. Breathability relates to the upper materials of the shoe, mostly that need to allow airflow into and out of the shoe to keep your feet from overheating. Most Adidas shoe models will have breathable knit or mesh uppers, and some have leather with perforations for breathability.
---
Features of a Good Comfortable Adidas Shoe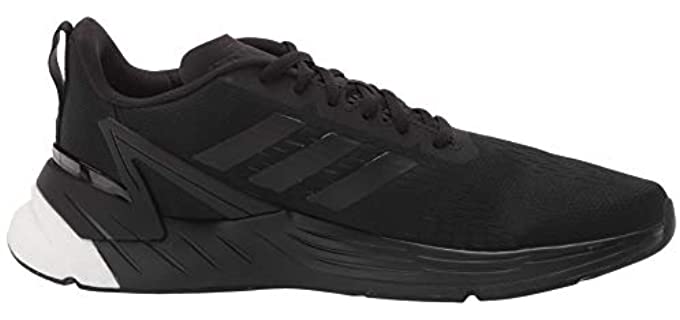 Uppers – The uppers need to be comfortable in fit and stretchable. They may be leather, knit, or mesh.
Comfort and Support Features – For comfort, there may be a textile lining to wick away moisture and a cushioned insole or Cloudfoam sock liner. The Midsole will be a supportive Boost or EVA midsole.
Outsole – The best outsole will be a rubber outsole for durability and comfort.
Options – As you will see, there will be some color options available in every model as well as more sizes.
---
Reviews: The Best Most Comfortable Adidas Shoes
In our list we have some of the most comfortable Adidas shoe models available;
---
1
Comfortable Walking Shoes
The Adidas Response is a very comfortable running shoe for all foot types.
It has Zoned Mesh Uppers and a TPU heel for stability.
There is a Molded TPU heel and Textile uppers with an EVA Sock liner for cushioning.
You can also choose from a few more available color options.
---
2
Most Comfortable Running Shoes
The Adidas Lite Racer Adapt is an extremely comfortable and supportive running shoe for everyday use.
It has a durable rubber outsole and comfortable cushioning.
The shoe is a slip-on design with a secure elastic strap.
There are mesh uppers and more colors available.
---
3
The Adidas Terrex Voyager is one of their most comfortable hiking and trail shoes.
The shoe has flexible and textile uppers.
There is a Traxion outsole for slip resistance.
Inside is a cushioned footbed and shock-absorbing midsole.
There are also more colors available to you.
---
4
Most Comfortable Running Shoes
The Runfalcon is one of their most comfortable runnings and walking shoe models.
It has soft Ballistic Mesh Uppers and a no-sew heel for comfort.
There is a lightweight and supportive EVA midsole and cushioned insole.
The rubber outsole provides excellent durability and traction.
---
5
The Adidas Grand Court tennis shoes are a comfortable and fashionable in design for everyday wear.
They have leather uppers and a regular fit.
There is good cushioning and a roomy toe box.
A textile liner wicks away moisture.
There are also more colors available.
---
6
Most Comfortable Walking Shoes
The Adidas Lite Racer is a very lightweight and comfortable casual shoe for everyday wear.
It has flexible knit uppers that are breathable and conform to the shape of your feet.
There is a lightly cushioned insole and shock-absorbing midsole.
The outsole is a durable and high traction rubber.
More color options are available to you.
---
Index Table: Top Rated Most Comfortable Adidas Shoes
---
---