Plantar Fasciitis is a painful condition that is usually felt as a burning or stabbing pain in your heel.
When you have Plantar Fasciitis, it is necessary to have shoes that offer good support and cushioning to help relieve the symptoms and give the condition time to heel.
Adidas shoe for Plantar Fasciitis offers some impressive comfort and support features that will help with the treatment of the conditions as well as to reduce the symptoms.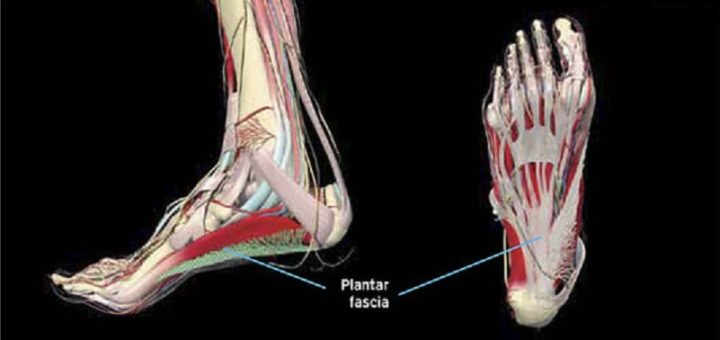 ---
Plantar Fasciitis and How it Affects You
Plantar Fasciitis is a condition that is one of the main causes of heel pain.
Plantar Fasciitis, as the name refers, is a condition that exists when the Plantar Fascia, the tissues connecting your heel bone to the arch of your feet, running across the bottom of your feet, become damaged, torn, or inflamed.
Plantar fasciitis is mainly caused by overuse injuries or repetitive activities that place strain on these tissues.
The Plantar Fascia tissues may develop micro-tears or just be inflamed, which is less severe. Not seeking treatment or preventing further aggravation could lead to much more serious damage and tears in these tissues.
When you have Plantar fasciitis, you may feel a burning or stabbing pain in the heel or under your feet, especially when you get up in the morning or after resting for a while.
The pain will be especially severe when you have been on your feet or taken part in strenuous activities before going to sleep or resting.
Individuals who have low or flat arches and those who also tend to Overpronate are much more likely to develop Plantar Fasciitis.
Plantar Fasciitis is likewise much more predominant in individuals that are obese or overweight and in runners or sportspersons.
However, there are some treatments, as well as footwear and orthotics, that can help to heal the Plantar Fascia and to reduce the symptoms.
---
Best Shoes for Plantar Fasciitis
There are a few characteristics that you should look for in shoes when you have plantar fasciitis or would like to prevent the condition;

Cushioning – Firstly, cushioning, and good cushioning for that matter, especially in the heel, to reduce the pain. Cushioning in the form of a firmer foam midsole and softer insole absorbs impact, which can further damage your Plantar Fascia and which can cause pain. The cushioning absorbs the impact so that there is less strain on your feet and arches, which is especially ideal if you have flat arches.
Stability – Shoes with light stability features such as a more rigid sole and heel cup or support will help to prevent your feet and ankles from twisting as well as excessive twisting of the arches and motions that could cause further pain and damage. A less flexible sole will give better support to keep your feet well aligned for proper healing.
Comfortable Fit – A shoe that fits uncomfortable can just worsen the symptoms of Plantar fasciitis, so make sure you have a shoe with plenty of toe room and a comfortable fit. Many individuals who have flat feet tend to suffer from Plantar Fasciitis as a result of the lack of arch support. It may be necessary for you to opt for shoes that are available in a wider width to accommodate a wider width foot or flat feet for when they are fully splayed out.
Supportive Heel – Some extra padding in the heel and a TPU heel clip, or heel cup keeps the heel stable and will help to prevent pain and discomfort in the heel area.
---
Features of a Good Adidas Shoe for Plantar Fasciitis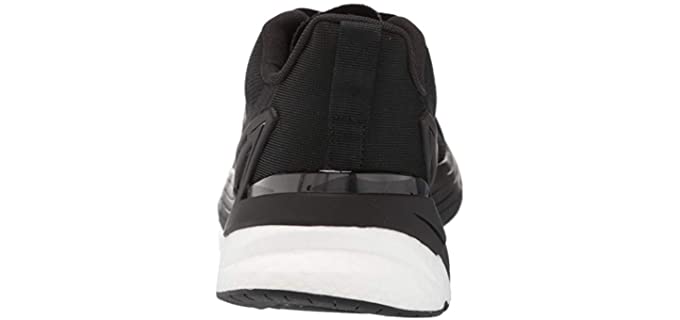 Uppers – The Uppers can be either mesh, engineered mesh, Prime knit fabric, or leather. They may have a sock-like or a more regular fit.
Support and Comfort – For Plantar Fasciitis you need good heel cushioning and support such as a heel cup or TPU molded Heel. An EVA or Boost midsole and Cloudfoam sock liner likewise provide good cushioning.
Outsole – The Outsole will be a durable rubber or continental rubber on the trail models.
Options – You can choose from many color options in most Adidas shoe models.
---
Reviews: The Best Adidas Shoes for Plantar Fasciitis
The Best Shoes whether for running, training, or walking, are what you will find in our list, especially suited if you have Plantar Fasciitis.
---
1
Plantar Fasciitis Sneaker
The Adidas NMD is a Primeknit sneaker that is perfect for Plantar Fasciitis.
The sneaker has a Boost Midsole for cushioning, and a TPU plug molded heel for stability.
There are textile and synthetic uppers and smooth lining.
You can likewise choose from a few available colors.
---
2
Running Shoe for Plantar Fasciitis
The Adidas Ultraboost has a slight rocker sole for Planta Fasciitis symptom relief.
It has a Boost midsole and flexible stretch web rubber outsole.
The uppers are textile and offer a sock-like fit.
There are also plenty of color options available.
---
3
Walking Shoe for Plantar Fasciitis
The Adidas Advantage Sneaker is a comfortable sneaker for Plantar Fasciitis.
It is ideal for everyday casual wear with leather and textile uppers and a rubber sole.
There is a Cloudfoam sock liner and midsole for cushioning and support.
More colors are available if needed.
---
4
Running Shoe for Plantar Fasciitis
The Adidas Runfalcon is the perfect running shoe for Plantar Fasciitis.
It has a durable and high traction rubber outsole and Ballistic lightweight mesh uppers.
There us a lightweight EVA midsole and a no-sew heel design.
More colors are also available to you.
---
5
Hiking Shoe for Plantar Fasciitis
The Adidas Terrex Swift R3 is an outdoor trail shoe that is waterproof.
The EVA Midsole and Molded Heel cup make it perfect for Plantar Fasciitis.
It has textile uppers with Gore-Tex waterproofing.
The outsole is a high traction rubber with a tread, especially for trails.
---
6
Walking Shoe for Plantar Fasciitis
The Adidas Response is a great sneaker for Plantar Fasciitis.
They offer a regular fit and have textile uppers that breathe well.
There is a Molded TPU Piece for stability and an Adibouncy EVA sock liner.
The outsole is durable and slip-resistant rubber that is ideal on a variety of surfaces.
---
Index Table: Top Rated Adidas Shoe for Plantar Fasciitis for Plantar Fasciitis
---
---