There may be many reasons as to why you may need a slip-resistant shoe. However, many of us are at risk of serious injury or damage from a fall or may just want to avoid the risk of falling.
Especially when you work or operate on slippery floor surfaces, a slip-resistant shoe can help you to keep your grip and balance.
Overall, Adidas slip-resistant shoes mostly consist of athletic and trail shoes that have a specialized sole for slip resistance.
So we have done some research on both these shoe types to give you the best options in a slip-resistant shoe for your needs.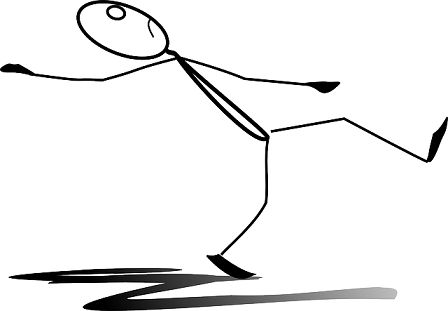 ---
Why You may Need a Slip Resistant Shoe
I have categorized the need for a slip-resistant shoe in three areas, with some explanations on why they may be necessary;

Sports – Certain sports or exercises ay require you to use floor surfaces that may be wet or slippery. Take, for example, some gym floors or running surfaces, especially wet pavements and roads, and other surfaces. Having a slip-resistant shoe can safeguard you against slips and falls on any hard wet floors or even wet grass and other slippery surfaces.
Work – Many industries may require you to work on hard slippery floors, sometimes with greasy substances or wetness on the floors. Take, for instance, food industry work, such as kitchens and restaurants with greasy and slippery floors, or the medical industry with slippery hospital floors. In all these cases, as well as others, a slip-resistant shoe will protect you from slipping and falling. Many nurses today likewise opt for athletic shoe styles because they are more comfortable, but they do sometimes lack slip resistance. Though this will to be the case with the shoe models, we have chosen for you today.
Outdoors – Then again, outdoor trail walking or running shoes and hiking shoes all have very lug slip-resistant outsole to protect you in wet, slippery grassy, muddy, or even loose gravel terrains. For outdoor trails, there are so many hazards that could cause slips and falls. Thus, you need the best grip on your shoes in this case.
Regular Wear – On the other hand, you may live in an area where the pavements, sidewalks, or your surroundings have slippery floor surfaces. It may rain, or there might be quite a bit of frost, which all in all may cause slippery surfaces. Your home itself may have slippery tiles that can benefit from you having a more slip-resistant shoe.
there are literally tons of cases and even environments where you can benefit from a slip-resistant shoe. Having the security that you can rely on the grip of the outsole of your shoe may bring great comfort and releif.
---
What Makes a Shoe Slip Resistant?
As you will see from our Adidas shoe range, I have included Athletic, sports, and outdoor trail shoes that all have a slip-resistant sole.
Your athletic and sports shoes usually feature a rubber sole with a Stretchweb or patterned and more lug tread, which in turn provides much better slip resistance.
With their trail shoe selection, the outsole will be a much more durable Continental or regular rubber with an extremely lug tread for optimal slip resistance on a variety of terrains.
So, whatever may be your need for a slip-resistant shoe, there are quite a few options included which will all provide excellent slip resistance in the right settings and on the surfaces that you require them.
---
Features of a Good Slip Resistant Adidas Shoe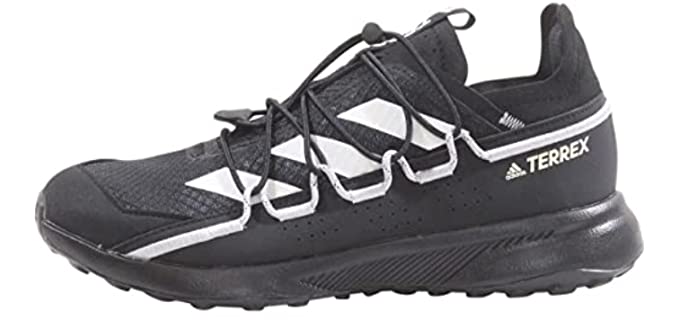 Uppers – From the selection we have chosen, there are mostly Hiking and trail shoes that are slip-resistant and waterproof with Gore-Tex. The uppers may be textile, leather, or mesh.
Support and Comfort – Most models will have a boost or EVA midsole for shock absorbency and support, there may also be a Cloudfoam sock liner for comfort.
Outsole – The Outsole will be rubber or continental rubber with a very lug tread for slip resistance.
Options – You may be able to choose from more colors, and neutral colors as well as size options.
---
Reviews: The Best Slip Resistant Adidas Shoes
These are some of our top favorite slip resistant shoes from Adidas;
---
1
Outdoor Walking Slip Resistant Shoes
The Adidas Terrex Ax4 is a slip-resistant shoe for everyday wear.
It has mesh and synthetic uppers with a dual-density EVA midsole for cushioning.
The outsole is durable and slip-resistant continental rubber.
There are also a few more neutral colors from which you can choose.
---
2
Hiking Slip Resistant Shoes
The Adidas Terrex Swift is an outdoor trail shoe.
It has a slip-resistant rubber sole with a lug tread.
The textile uppers have a breathable Gore-Tex, waterproof lining.
There are also a few more colors available to you.
---
3
Slip Resistant Hiker Boot
The Adidas Terrex Free is a slip-resistant Hiking boot.
It has waterproof Gore-Tex uppers for full protection.
There s boost cushioning in the midsole and a comfortable insole and lining.
You can select from a few available neutral colors.
---
4
Tennis Slip Resistant Shoes
The Adidas Grand Court is a Tennis shoe that can be worn casually,
It has a solid rubber outsole that offers excellent grip and traction.
The uppers are durable leather with a textile lining.
It also features a Cloudfoam sock liner and midsole for cushioning.
Some more colors are available to you.
---
5
Racer Slip Resistant Shoes
The Cloudfoam racer offers plush cushioning and good slip resistance.
It has Seamless textile uppers and a comfortable lining.
There is a cushioned Cloudfoam midsole and step-in comfort.
The rubber outsole has inserts for better grip and traction.
---
6
Trail Walking Slip Resistant Shoes
The Adidas Terrex Trailmaker features a Hiking style rubber outsole for optimal slip resistance.
It has a cushioned EVA midsole and a comfortable insole.
The Traxion outsole maximizes grip on a variety of surfaces.
There are also a few more colors available to you.
---
7
Hiking Slip Resistant Shoes
The Adidas Terrex Voyager is a Hiking and Trail walking shoe.
It has a lug Traxion outsole for grip on all surfaces.
The uppers are synthetic with bungee laces, which allow you to adjust the fit accordingly.
There is a Lightweight cushioned EVA midsole for comfort.
---
Index Table: Top Rated Slip Resistant Adidas Shoes
---
---