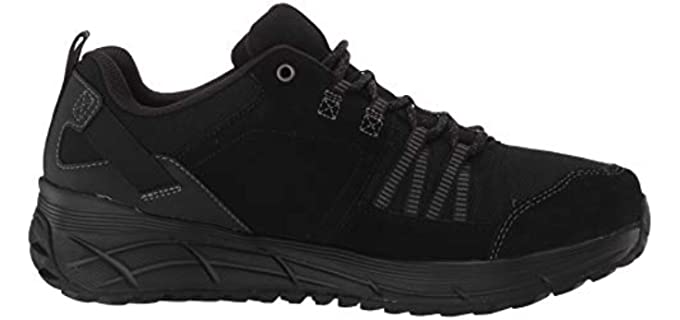 The expected release date for the Skechers Equalizer 5.0 is September 25, 2023.
The Skechers Equalizer 5.0 will have the following main updates:
The Skechers Equalizer 5.0 will have a few slight updates to make this perfect shoe even better.
It will consist of a more breathable woven mesh with improved durability.
The fit will be more relaxed, with ample toe room and secure fitting heel areas.
There will be an Air-Cooled Memory foam insole rather than just the regular memory foam insole.
The entire sole unit and midsole will be more lightweight and shock absorbing,
The shoe will have a much more comfortable fit and generally lighter weight than the predecessor.
Previous model of the Equalizer:
The Skechers Equalizer 4.0 release date was on June 24, 2022.
---
Latest Version of the Skechers Equalizer
*
---
Video
---
Price
The MSRP (Manufacturer's Suggested Retail Price) for the Skechers Equalizer 5.0 will be $90.
The new Equalizer 5.0 will have some lovely enhancements. Thus, there will be a price increase.
However, it will still be quite an affordable and comfortable sneaker.
Arch Support and Pronation Control
Though a neutral pronation shoe, the cushioning system will be ideal for heel pain or plantar fasciitis.
It will offer excellent cushioning and arch support for a normal or high arch type.
Terrain
The Skechers equalizer 5.0 will be a road running shoe model.
It will be appropriate for regular hard surfaces.
Use
Generally, the new model will be more versatile, more of a light running and jogging shoe.
You can use it for daily walks or runs and casual wear.
Durability
The new model will be very durable.
It will have some improvements, especially in the uppers, that will enhance durability.
Fit and Sizing
The fit will be slightly adapted.
You can expect a more relaxed fit with a roomy toe box and a snug, secure heel.
Weight
The model for men will weigh 280 grams.
There will be a slight reduction in the weight with the new model.
---
Elevation of the Skechers Equalizer 5.0
Heel Height
The Heel height will be 19 mm.
The heel will be quite low.
Forefoot Height
There will be a forefoot height of 15 mm.
The forefoot will offer good flexibility.
Heel-to-Toe Drop
There will be a total heel-to-toe drop of 4mm.
The heel-to-toe drop will be minimal for a better ground feel.
---
Components of the Skechers Equalizer 5.0
Outsole
The rubber outsole will be improved with a more platform-like style.
It will be abrasion resistant with excellent traction on a variety of surfaces.
There will be a more textured design on the tread and strategically placed pods in the outsole and grooves to accommodate more natural bending of your feet.
Midsole
For cushioning, there will be an Air-Cooled Memory Foam insole that is more lightweight and will not overheat.
The Midsole will be a full-density compound foam that offers lightweight shock absorbency.
Upper
The uppers will be a slip-on design that will have a stretchy gore gusset on the sides.
The uppers will be Skech-Knit consisting of tightly woven mesh that will have improved durability and breathability.
The collar will be padded for comfort and to support the ankle area.
There will be a soft, moisture-wicking interior lining.
---
*
---
---
---