Bunions are painful bony bumps that form at the joints of your big toe, whereas a flat foot means that you have either a completely fallen arch or a very low arch in your foot.
When it comes to Bunions you want a shoe that places less or no pressure on your forefoot, and with a Flat foot you will require good shock absorption, stability, and arch support.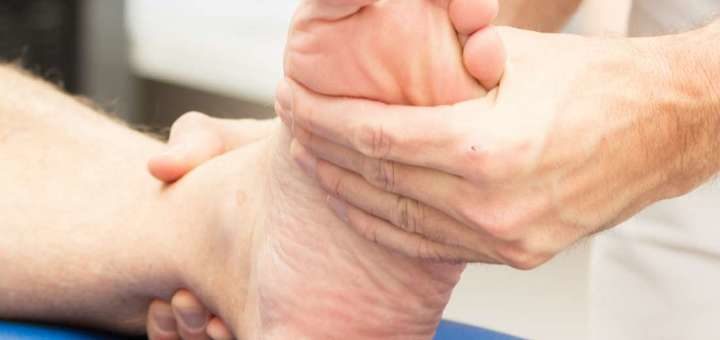 ---
Bunions
Excessive pressure on your big toe, usually from improperly fitting or narrow shoes, causes the big toe to lean towards the second toe, and in time the normal structure of the joint bone changes to form a bump. This painful bony bump at the joint of the big toe is called a Bunion.
Bunions usually develop slowly with irritation that is consistent and may make it very painful for you to wear shoes or even walk. Bunions are generally more common in women, this is mainly because women tend to wear tight and narrow style shoes.
For the most part, it is very easy to prevent Bunions as well as relieve pain and symptoms by simply wearing a wider shoe with more toe room, or to use other treatments that prevent pressure on your big toe.
All in all the main aim here is to eliminate all forms of pressure on the big toe in order to avoid pain and aggravation, as well as aid in treating the Bunion.
---
Flat Feet
Flat feet are basically a foot of which the arch is either extremely low or completely fallen, unlike a normal or neutral arch which is slightly lifted, or a high arch. The arch of your foot is basically the part between the heel and the forefoot.
Flat feet can be caused by certain conditions and situations, or it could be completely genetic. Either way, you need a shoe that provides the right type of support in order to prevent injuries and pain in your feet and joints when walking or running.
Flat feet are mostly caused by being overweight, and can generally occur in pregnant women because of the extra weight and their joints being more flexible.
Some other Causes of Flat Feet Include

Injuries that cause muscle damage or ruptured tendons.

Excessive weight gain.

Prolonged and repetitive high-impact activities particularly when you are overweight.

Ill-fitting or unsupportive shoes.

Other health conditions such as Diabetes, Cerebral Palsy, a Stroke or Rheumatoid Arthritis.

Because most individuals with flat feet tend to overpronate (when the arches of your feet roll inward and downward when you walk), stability and motion control in any running or walking shoe is vital.
You can opt for an orthopedic shoe or a shoe that features motion control and stability characteristics, along with good shock absorbency and the right type of arch support. Though I would be careful of excessive arch support for this foot type, make sure that the arch support is for a low or flat arch.
---
Features of Good Shoe for Flat Feet and Bunions
A wide and roomy toe box.

Soft and flexible upper constructions.

A seamless interior that will not cause irritation.

Good arch support is specific for a flat arch.

Stability features such as a heel counter or stiff arch.

Roll Bar or pronation control.

Shock absorbing Midsole or outsole and cushioning such as Gel.

Orthopedic features.

---
Reviews: Best Shoes for Bunions and Flat Feet
Some of the best available brands of shoes to accommodate Bunions and Flat feet.
---
1
Walking and Running Shoe for Bunions and Flat Feet
A comfortable and supportive running and walking shoe from the top brand Asics, available in wider widths to accommodate bunions.
Mesh and synthetic uppers for breathability and a superior fit.

A durable and thick rubber sole with AHAR technology and reverse lugs for better abrasion resistance and traction.

Removable comfort sockliner to accommodate orthotics.

Rearfoot GEL to attenuate shock and impact.

Available in many colors and wider widths options to accommodate Bunions and other foot conditions.

---
2
Dress Shoes for Bunions and Flat Feet
These are two gorgeous models from Dansko that are ideal to u as dress or professional shoes when you have a flat foot and painful Bunions.
100% pure and supple leather uppers with a wider toe box fit.An integrated sole with a tuckboard and shank for stability in the Wyat Model.

The Fawna has a cushioned insole and fabric lining, while both shoes feature a seamless soft interior.

Rubber outsole for durability and shock absorbency.

The Wyat is available in black and brown and the Fawna a few more color options.

---
3
Summer Shoes for Flat feet and Bunions
As I would not recommend sandals if you have an unsightly and painful Bunion, Crocs are a great option for summer and hot weather or beachwear, that will provide comfort for flat feet and accommodate a Bunion.
Made from 100% lightweight and quick drying Crosslite material that is soft and cushioned.

Advanced toe box ventilation too keeps moisture out and feet cool.

A wide and roomy toe box and a comfortable ankle strap.

Water-friendly and buoyant.

Offers lightweight cushioning and support and slight flexibility.

Available in many bright and neutral color options to choose from.

---
4
Loafers for Bunios and Flat Feet
Comfortable and stylish Loafers from Skechers with a relaxed fit and ideal features for flat feet.
Manufactured with soft and supple suede leather uppers with mesh insets for breathability.

A soft and seamless fabric lining for less irritation.

The toe box is soft and offers a wider and roomier fit.

A durable and shock absorbing rubber outsole.

Comfortable and cushioned footbed.

Available in a few neutral color options for your choice.

---
5
Therapetic Athletic Shoes
These are Therapeutic extra depth and width shoe ideal for walking and all day wear, with comfort, features perfect for flat feet and Bunions.
Breathable and comfortable leather an mesh uppers with a seamless lining.

Comes with an additional GEL cushioned insert, that is removable to accommodate orthotics.

A durable and shock-resisting rubber outsole.

Comfortable and snug Velcro and lace-up closure.

Lightweight and available in extended widths and sizes.

---
6
Walking Shoe for Bunions and Flat Feet
An orthopedic walking shoe that is designed to offer the best support for flat feet while accommodating painful bunions.
Genuine leather uppers with breathable synthetic insets, and a wide and roomy toe box.

The EVA footbed offers excellent cushioning and comfort.

Received the APMA seal of acceptance and an orthopedic shoe.

Available in wider width options to choose from.

The footbed is designed by a podiatrist for the best in stability and comfortable support.

Active motion system and orthaheel technology.

---
7
Cushioned Flat Foot and Bunion Walking Shoe
The Go Wal Max from Skechers has an easy slip on and off the design with comfortable and flexible soft uppers and a Goga Max footbed.
Flexible and stretchable soft mesh uppers that are breathable and will not irritate bunions.

A Goga-Max high-rebound insole, for shock absorbency and cushioning.

There is 5Gen cushioning for a lightweight response, that is ideal for a flat foot.

The outsole is made out of durable and high traction rubber with a high grip tread.

---
8
Walking Shoe for Bunions in a Flat Foot
The Saucony Pro Grid Echelon is a casual and classy walking sneaker that has the perfect features for a Flat foot and Bunions.
This shoe is available in wider widths which will help to accommodate painful bunions.

Comfortable leather uppers are available in a black or white color option.

Customized motion control features and an EVA midsole, for shock absorbency.

ProGrid Heel technology, that absorbs shock and protects you from heel pain.

Carbon rubber outsole for better traction and durability with a blown rubber forefoot design for better gait and flexibility.

---
Index Table: Top Rated Shoes for Bunions and Flat Feet
---
Please Rate this Article:
---
---