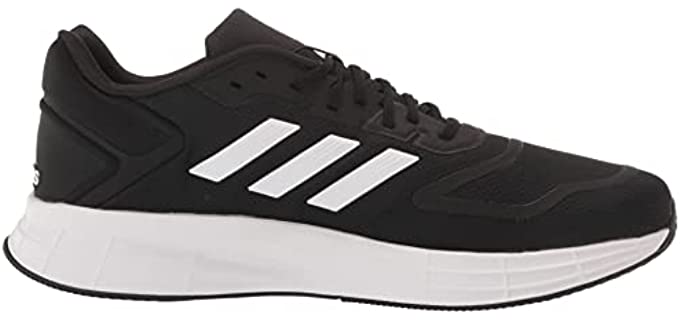 The expected release date for the Adidas Duramo 11 is on August 30, 2023.
The Adidas Duramo 11 will have the following main updates:
The new Adidas Duramo 11 will be an improvement from its predecessor.
It will still be an exceptional option as a beginner's running shoe, as well as an appealing casual wear shoe and training shoe with the new designs and colors that will be available.
The new model will be very comfortable and lightweight with breathable materials for warmer days.
It will have durability improvements to handle daily wear and gym training, as well as light running.
The new model will contain some recycled materials making it eco-friendly.
It will still have quite an affordable price.
---
Latest Version of the Adidas Duramo
*
---
Price
The MSRP (Manufacturer's Suggested Retail Price) for the Adidas Duramo 11 will be $50.00.
The Duramo 11 will be a more minimalistic style and extremely affordable.
The new model will offer improved and reliable comfort and quality in a very affordable shoe model from a great brand.
Arch Support and Pronation Control
The Adidas Duramo 11 will be a neutral shoe.
It will offer balanced cushioning and support for high and normal arches.
The heel padding will be ideal for Heel Striking.
Terrain
road
The new model will be suitable for roads, pavements, and general hard surfaces.
You can likewise use it in the gym and on the treadmill.
Use
The new model will be a daily running shoe that will be versatile for training, jogging, and running on the treadmill.
Likewise, with the new color ranges available, it will be an attractive casual wearing shoe.
Durability
Some improvements will be made to the mesh uppers to increase durability.
The sole will be durable for daily running and training.
Fit and Sizing
The general fit will be medium with a roomy toe box.
The new model will be available in narrow, normal, as well as wide-width fit options.
Weight
The Adidas Duramo will weigh 275 grams for the men, quite lightweight.
An estimated 265 grams for the lady's model is expected.
Heel Height
There will be a heel height of around 31 mm.
The heel will offer excellent shock absorbency for heel pain.
Forefoot Height
The Forefoot height will be 22 mm.
The forefoot likewise will offer comfortable cushioning in the ball of the foot area.
Heel-to-Toe Drop
You can expect a heel-to-toe drop of around 9 mm.
The heel-to-toe drop will be more suitable for training and casual wear.
---
Components of the Adidas Duramo 11
Outsole
Her will be some improvements to the outsole.
It will have a more durable, thicker rubber construction with a high traction tread.
Midsole
For cushioning, you will be able to enjoy an improved, incredibly lightweight Lightmotion Midsole for shock absorbency.
There will be a lightweight insole and a moisture-wicking lining.
Upper
The Uppers will consist of very breathable sandwich mesh.
There will be no sew-overlays to reduce friction and discomfort.
The heel will have a softer feel, and the collar will be padded for comfort.
---
*
---
---
---