Plantar Fasciitis is one of the most common causes of heel pain. Many people suffer from Plantar fasciitis today and need the proper footwear to help alleviate this condition's painful symptoms.
Even when it comes to summer footwear, you will need the best sandals for Plantar fasciitis.
Sandals are ideal for warmer weather as a casual leisure pair of footwear, but when you suffer from Plantar fasciitis, even your casual footwear needs to provide support and comfort for this condition.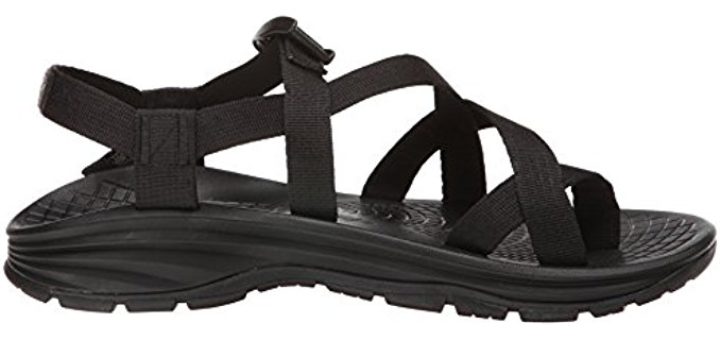 ---
What Exactly is Plantar Fasciitis
Your foot has a flat band of tissue or ligament connecting your heel bone to your toes; this tissue is called your plantar fascia.
When the plantar fascia becomes strained, it can weaken and become swollen or irritated, causing heel pain.
---
How is Plantar Fasciitis Caused
Stress or strain from activity or sports, as well as an injury, can cause Plantar Fasciitis.
You will notice that the pain from Plantar fasciitis is at its worst when you have been sleeping or sitting down for a while and then get on your feet.
This is why it is important to have a pair of supportive and comfortable sandals or dress shoes for plantar fasciitis when you get on your feet again.
Going barefoot is most likely the worst choice for Plantar Fasciitis.
---
What to Look for in A Good Footwear for Plantar Fasciitis
Here are a few main aspects to consider in the best sandal for Plantar fasciitis;
Arch Support – People who suffer from Plantar Fasciitis need footwear that provides proper arch support and cushioning that will allow the plantar fascia time to heal, reducing pain.
Cushioning and Support – A removable footbed that provides contoured arch support is always the best option in a good shoe for Plantar Fasciitis because it allows you to choose your own orthotic inserts as necessary.
Support Specific to Your Arch Type. The Sandal that you choose should also accommodate your arch type, for example, a low, neutral, or high arch, as well as accommodate supination (when your inner foot turns out as you walk) or pronation (when your inner foot turns in as you walk).
---
Features of a Good Sandal for Plantar Fasciitis
Arch Support – Arch Supportive and Cushioned Insole or footbed.
Contoured Footbed – A contoured footbed that cradles the foot offers the best support.
Flexible Uppers – A comfortable and flexible fit for easy movement.
Sole – A durable and shock absorbing rubber outsole that offers good grip.
Midsole – A comfortable and supportive midsole such as an EVA midsole.
Heel Support – A deeper heel cup.
---
Reviews: Best Sandals for Plantar Fasciitis
Here are some of the best sandals for plantar fasciitis available that aid in reducing the pain from your heel and that will provide you with the necessary support and comfort;
We hope you love the products we recommend!
So that you know, We may collect a share of sales or other compensation from the links on this page.
---
1
Birkenstock Sandals for Plantar Fasciitis
Birkenstock is a trendy brand for its unique footbed that provides excellent arch support and cushioning. The Birkenstock Arizona is a classic style that is available in many different colors to choose from.
Comfortable leather-like uppers lined with soft fabric and available in many different colors.
The Birkenstock footbed offers exceptional arch support and cushioning while contouring to the shape of your foot.
A deep heel cup and roomy toe area made the Birkenstock Arizona even more comfortable and sought after as a sandal for many foot conditions.
The EVA outsole is flexible and lightweight while also absorbing shock and staying durable.
---
2
Hiking Sandals for Plantar Fasciitis
Keen has introduced the Newport H2 sandal for the outdoor adventurer for those hot summer hikes and trips outdoors. The Keen Newport H2 is comfortable, supportive, and an adamant performer.
Keen Newport H2 features a razor-zipped outsole with 3mm lugs for the best traction you can get on different terrains.
The uppers have washable polyester webbing with an Aegis Microbe Shield to keep your feet free from odor and infection.
The keen patented toe offers protection against bumps and scrapes wherever the road may take you.
A comfortable and supportive footbed will prevent heel or foot pain and keep you comfortable all day.
A large color variety was available.
---
3
Lightweight Plantar Fasciitis Sandal
The Chaco ZVolve offers lightweight comfort and support with contemporary aesthetics in a classic Chaco design.
Adjustable webbing straps made from synthetic materials constructed in a crisscross silhouette with a toe loop make up the comfortable uppers.
The classic and traditional LUVSEAT PU footbed is airy and offers the softest underfoot cushioning that you will find.
A nylon shank has been embedded in the Chaco ZVolve to provide extra protection and stability in the shoe.
The durable and non-marking outsole ensures secure footing and all-day comfort and protection.
A variety of colors are available to choose from for every taste in style.
---
4
Comfortable Plantar Fasciitis Sandal
ECCO aim at manufacturing natural and comfortable footwear without causing any harm to the environment. The Ecco Offroad and Yucatan is a flexible and lightweight sandal that offers ultimate support and comfort using only the best technologies.
The Nubuck leather uppers are fitted with a stretch fit textile lining to give you only the most comfortable fit and long-lasting durability.
The ECCO Yucatan's CMEVA footbed is covered with a dual-density Agion treated with lining that inhibits bacterial growth and reduces odor for happy and healthy feet.
The PU midsole is directly injected, and a full length features Receptora technology for improved shock absorption and support.
A durable and flexible rubber outsole finishes off the Ecco Yucatan for a comfortable and long-lasting sandal.
---
5
Leather Flip Flop Sandal for Plantar Fasciitis
The Olukai Ohana offers full comfort and support with active durability and traction on any floor surface.
Stylish and comfortable full-grain leather uppers with a jersey knit lining, a neoprene back, and Velcro closure offer a comfortable and custom fit for all-day wear.
The footbed consists of an anatomical compression-molded EVA midsole and a full-grain high character leather drop-in footbed, ensuring exceptional comfort and support.
The ocean-inspired outsole offers superior wet and dry traction and is manufactured from durable and long-lasting gum rubber that is non-marking.
---
6
Orthaheel Flip Flops for Plantar Fasciitis
The Orthaheel sandal is a high-quality orthopedic flip-flop sandal designed by podiatrists.
This sandal has a biomechanical orthotic footbed providing a steady stride and motion control.
It is designed with a deep heel cup to support your feet' back and relieve plantar fasciitis pain.
It has a durable yet soft rubber outsole, which further cushions the impact of the weight of your feet.
Overall, this is a great Flip Flop stylish sandal with orthopedic properties.
---
7
Heel Spurs Therapeutic Slide Sandal
The OOFos OOahh is a therapeutic Heel Spurs and Plantar Fasciitis relief slide sandal featuring textured a footbed and split upper.
This sandal will make it feel like you are walking on springs or clouds with perfect arch support to start immediate healing.
These sandals are not fashionable, but they will give you great relief when walking with them at home.
Made from a patented breakthrough oofoam – they hold firmly to your foot to ensure unbelievable impact absorption, arch support, and natural motion.
---
8
Fancy Dress Shoes for Plantar Fasciitis
The best sandals you will most likely find for heel pain and Plantar Fasciitis are the Vionic Brand. I have chosen the Amber for the ladies and the Ludlow Charlie for men, two top-rated and fashionable models.
Both of these sandals are available in wider widths options.
A Biomechanical design that hugs your feet and ensures excellent stability.
Supportive and cushioned heel cup to reduce heel pain.
Comfortably cushioned and smooth linings.
A thick shock-absorbing rubber outsole.
---
9
Casual Dress Sandals for Plantar Fasciitis
Two Fisherman sandals from the Popular Dr. Scholls range to support feet with Plantar Fasciitis.
A sporty and sleek design with a fisherman's style uppers.
The insole has an anatomical design and is cushioned for comfort.
There is an instep strap with a hook and loop closure for an adjustable fit.
The men's model has a memory foam insole and smooth leather uppers with a neoprene lining.
---
10
Casual Plantar Fasciitis Sandals
A casual and easy-wearing slip-on sandal in a men's and women's model from Propet with a supportive and cushioned footbed.
Smooth leather upper design with a durable and slip-resistant synthetic outsole.
A removable cushioned insole with great low arch support.
Adjustable straps for the perfect fit.
Easy slip-on and off the design.
---
Concluding
You can step out in style and complete comfort with any one of these supportive sandals. Choose your style that meets your requirements, and be sure that heel pain is a worry of the past. With the added arch support and cushioning that each of these sandals offers, you are sure to see great results in no time and to enjoy comfort without the pain.
Index Table: Top Rated Sandals for Plantar Fasciitis
---
---