Plantar Fasciitis is a painful condition that is one of the main causes of heel pain.
Proper footwear can make a huge difference in providing relief of the symptoms, as well as prevention.
In this article, we focus on a shoe brand, Crocs shoes, for Plantar Fasciitis relief, which is becoming much more popular as footwear for this foot condition.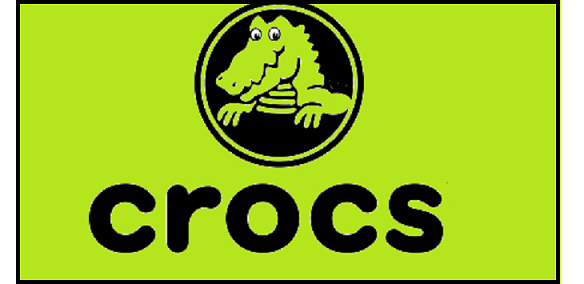 ---
Plantar Fasciitis and Risk Factors
Plantar Fasciitis is a condition that occurs because the thick band of tissue running across the bottom of your feet connecting your heel bone to your toes, called the Plantar Fascia, becomes torn, damaged, and inflamed.
It causes a stabbing pain I usually with your first steps after being off your feet for a while, but the pain is generally not felt during the actual activity.
Plantar Fasciitis is more prevalent in runners and athletes, overweight people, and those who wear shoes that do not provide proper support that is why some experts advise them to use sandals for plantar fasciitis for protection and comfortability.
Persons who are at risk for this condition are usually between 40 and 60 years of age and obese. Occupations that keep you on your feet and activities that place stress on your feet, especially that Plantar Fascia, can also lead to Plantar Fasciitis.
Persons who have very flat feet or an abnormally high arch which affects the way weight and impact are spread in their feet can have an abnormal walking pattern or pronation, which in turn may lead to Plantar Fasciitis.
Ignoring Plantar Fasciitis may lead to more chronic heel pain that can hindermost of your daily activities. It may also change the way you walk or run, which can lead to other issues such as the knee, hip, and back pain.
---
How to Choose a Good Shoe for Plantar Fasciitis
Before we get into what Crocs shoes have to offer, let us first look what the basics are for choosing proper footwear for Plantar Fasciitis;
Arch and Heel Support – A supportive arch and a more stable heel or heel cup are ideal for helping relieve the symptoms and prevent Plantar Fasciitis. Arch support evenly spreads your weight and impact so that there is less strain on the Plantar fascia. Heel cushioning helps to reduce some of the pain and protects your heel from impact.
A More Rigid Sole and Midfoot Cushioning – Slight rigidity in the sole and a full-length midsole or midfoot midsole cushioning helps to prevent impact on the heel, which is extremely painful when you have Plantar Fasciitis.
Firm Heel Counter – The back of the heel area needs to offer firmer support to minimize abnormal stretching of the Plantar Fascia to reduce pain and inflammation in the heel and the arch of the foot, both associated with Plantar Fasciitis.
Some Cushioning – You will need some cushioning in the sole and midsole to offer a soft underfoot platform to absorb impact when walking or running.
Try to avoid shoes that are minimalist designs that offer no stability or cushioning. Also, avoid flat shoes and heeled shoes at all costs.
---
Features of a Good Crocs Shoe for Plantar Fasciitis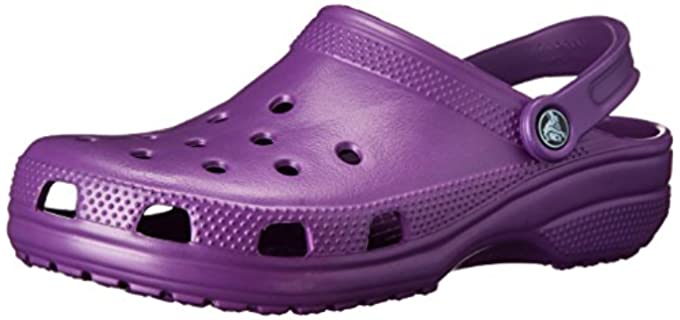 Materials – Crocs shoes come in many varieties. Their basic clog, and sandal range consist of a soft and foamy crosslite material that is water friendly and durable. Their sneakers, loafers and other styles may have canvas, mesh and other materials for the uppers, with a LiteRide, Matlite or Croslite foam insole for cushioning. The sole can be rubber or synthetic materials.
Designs – Crocs offers many shoe designs such as; Clogs, Flats, sandals, Flip flops, Sneakers, Boots, Loafers, Water Shoes, slides, and work shoe ranges.
Fit – Crocs shoes are generally designed to offer a more wide and roomy fit, with a very roomy toe box design.
Options – Crocs shoes are available in sandals, flip flops, clogs, work shoes, sneakers, loafers, and many other styles. They usually do offer some color variations and many size options depending on the specific model of shoe.
---
Reviews: The Best Crocs Shoes for Plantar Fasciitis
These are some of our favorite Crocs shoe models that are all ideal for Plantar Fasciitis;
---
1
Shoes for Plantar Fasciitis
This is the most popular classic clog from Crocs.
It consists entirely of the foamy Crosslite material.
The sole is EVA and slip-resistant.
The footbed has a contoured and supportive design that is well-cushioned.
There are also many solid color options available in this model.
---
2
The Crocs LiteRide Pacer is a sneaker from Crocs that has perforations for breathability and a closed design.
The sneaker is entirely synthetic with a slip-resistant synthetic sole.
There is a LiteRide Foam insole for cushioning.
It is very soft and also quite resilient.
---
3
Shoe for Plantar Fasciitis
For work purposes, we have the Crocs on the Clock range available in solid and printed color options.
The On the Clock from Crocs is a slip-on design closed-heel clog.
It has a slip-resistant tread outsole for slip risks.
The shoe consists of crosslite foam and offers excellent dual cushioning comfort.
---
4
Shoe for Plantar Fasciitis
Here we have a Flip Flop range from Crocs the Crocband Flip Flops.
They feature similar crosslite materials and cushioning technology with a contoured support footbed,
The flip flops have a sporty design and come in many more color options.
They are very lightweight and water-friendly.
---
5
The Crocs LiteRide Clog is a more lightweight and breathable clog design.
It has an EVA sole and Crosslite foam materials, which cushions your feet and absorbs shock that could aggravate your heel pain.
The Matilite Uppers are much softer and more flexible.
The footbed is comfortable and supportive, which is an excellent design for Plantar Fasciitis relief and prevention.
---
6
Shoe for Plantar Fasciitis
Here we have two loafer designs from Crocs for men and women, the Walu and the Cruz 2 Luxe.
Both loafers have textile uppers that are lightweight and breathable, as well as quite quick-drying when washed or gotten wet.
They are an easy slip-on design with comfortable cushioning and a good support system which is ideal for Plantar Fasciitis.
The footbed is extremely soft, and there is a moisture-wicking microfibre insert.
There are also more colors available to you from which you can choose as needed.
---
Index Table: Top Rated Crocs Shoes for Plantar Fasciitis
---
---