Being a nurse, you are generally on your feet all day on hard, unforgiving, and slippery floor surfaces.
If you are also overweight, the strain on your feet and joints is increased and can cause even more problems.
Luckily with the right footwear, you are provided with ample comfort and support features that help to reduce strain on your feet and joints and to prevent foot fatigue and other ailments.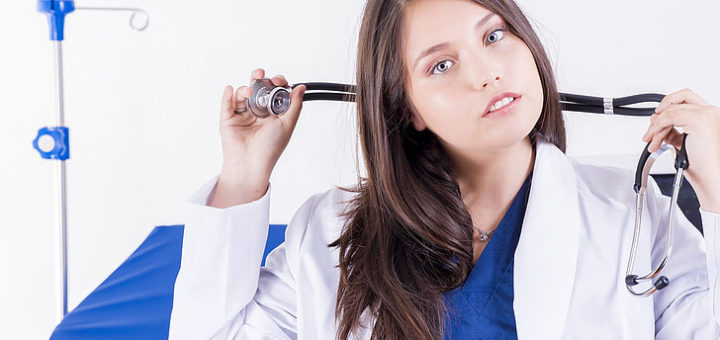 ---
How Being Overweight and a Nurse Affects Your Feet
When you are a Nurse, there is much strain on your feet and joints daily, and when you are overweight, even more so;
Flat Feet – When you are overweight and on your feet all day, damage can be done to your arches if you do not wear footwear with proper arch support, and the muscles and tendons in your arches can weaken, resulting in a flat or fallen arch. Fla arches, in turn, cause an array of issues.
Excess Weight – Excess weight in general means more pressure on your feet and joints as well as uneven weight distribution, which may weaken your ankles and cause a disproportionate impact on your heels and the balls of your feet when you walk.
Hard Floor Surfaces – The Hard Floor surfaces of hospitals in itself cause much impact and strain on your feet and joints from standing and walking, which can lead to heel and joint pain as well as foot fatigue.
---
Shoes for Overweight Nurses
Nurses, in general, need to seek shoes for safety first, considering a slip and oil resistant sole as well as durable and protective uppers.
Cushioning and shock-absorbing technologies are ideal and required, mainly when you are overweight, along with a comfortable and roomy fit.
Good stability features help to correct pronation and motion issues when you are overweight and have improper foot mechanics.
---
Features of a Good Shoe for Overweight Nurses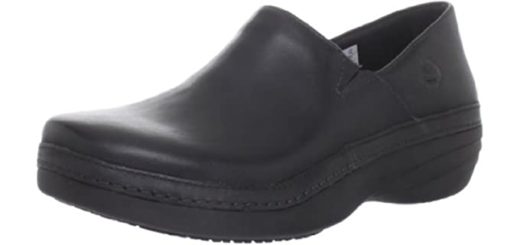 Durability – Durability is very important in a shoe that you are going to be wearing for long hours on a regular basis and even more so when you are heavier in weight. Look for a good quality brand that uses heavy-duty materials and technologies that can stand the wear and tear. A Slip-resistant industrial design work shoe is ideal when it comes to durability.
Support – When you have excess weight on your feet, you need extra support to prevent tension and pressure on your joints and feet. The right arch support is vital in this case, and because most individuals who are overweight have a lower or flatter arch in general, stability features are good to have along with excellent shock absorbency in the midsole and outsole.
Cushioning and Shock Absorbency – Cushioning in the insole and crash pads or Gel cushioning in the heel and forefoot are perfect for high-impact areas. A cushioned or EVA midsole also helps to absorb shock, and so does a thicker rubber outsole. Because the floor surfaces of the hospital are hard and unyielding cushioning and shock absorbency is extremely important to protect your feet and joints from hard impacts and to provide anti-fatigue features.
Slip Resistance – Look for a rubber outsole designed for industrial environments or that is ASTM rated for slip resistance on not only wet and slippery floors but also oily floor surfaces.
Fit Design – Make sure that the fit is comfortable and right for your foot type. Many shoe brands for nurses come in wide with options if you have a wider foot, and their design also has a more roomy and comfortable toe box.
---
Reviews: The Best Shoes for Overweight Nurses
Below you will find the best-rated shoe brands and models that are ideal for Nurses that are overweight to wear;
---
1
The Neria and On The Clock from Crocs are the perfect Nurse's shoes with a comfortable fit for extra weight.
A comfortable wide with design work clog that is easy to slip on and off and ideal for Hospital workers, Nurses, teachers, and Restaurant staff.
A low and supportive standard heel and a roomy toe box with thicker construction in critical areas for better durability.
The Men's version is available in a black and white option, and for the ladies, there are plenty of colors and patterns from which you can choose.
Both have highly durable oil and slip-resistant rubber outsole.
These shoes are ASTM and CE certified and tested for workplace safety.
---
2
The Dansko Professional is another work shoe that comes highly recommended by nurses worldwide in all shapes and sizes.
The uppers consist of durable and soft leather that is lined for your comfort.
The Dansko professional offers a roomy and comfortable fit and is available in broader width options.
The roomy toe box is also reinforced for durability and toe protection, and there is a padded instep collar for comfortable walking.
A PU design outsole with a Rocker Bottom sole is ideal for better stability when walking.
A wider heel strike also offers better stability, and the outsole tread ensures excellent slip resistance.
---
3
Shoe for Overweight Nurses
The Timberland Pro Renova and Newbury are two highly durable and robust working shoes ideal for overweight nurses.
It is made from 100% pure premium full grain genuine leather and a footbed lined with anti-microbial technology to keep you fresh and dry.
The PU footbed is molded and cradles your heel for improved stability, and there is very reliable arch support.
It is also comfortable cushioning for shock absorbency and anti-fatigue technology, which allows you to be on your feet all day.
With the 3M Scotchguard protection layer, you have stain resistance and some water resistance.
This is also a comfortable and easy, flexible fit design shoe.
---
4
Shoe for Overweight Nurses
For an easy slip-on and off-design work shoe for the nurse, I would highly recommend the Merrell Encore range.
The upper consists of a lightweight and breathable mesh and leather that allows for better ventilation and offers a roomy fit.
This shoe is sturdy and durable with a slip-resistant rubber outsole and is also available in broader width options.
The sole is flexible, and there is a comfortable and shock-absorbing cushioning in the insole and the midsole.
You can also easily choose between a few neutral color options.
---
5
Shoe for Nurses that are Heavier
The Sure Track from Skechers is a flexible and comfortably fitting shoe for overweight nurses.
Soft and flexible leather uppers with a stretch-top panel and an easy pull-on loop.
A shoe designed to be comfortable with an easy slip-on and off the design.
The outsole is ideally slip-resistant for wet and slippery work surfaces.
The is comfortable and shock absorbing cushioning with athletic performance and a moisture-wicking interior lining.
---
6
These are two more elegant and fashionable shoes that can also be worn by nurses on the heavier side from Drew Shoe, a popular orthopedic comfort brand shoe.
The Bexley is a comfortable slip-on loafer design shoe with smooth full-grain leather uppers available in a black or brown color option.
The Bexley also has a Plus Fitting System with two removable footbeds for extra depth and a twin gore stretch inset and Opanka construction.
The Bexley furthermore offers DRilex water protection and a tempered steel shank along with firmer heel counters for stability.
With the Bexley, you get a wider width option, and it can accommodate orthotic devices.
The Rose is a Mary Jane style shoe for the ladies with an adjustable strap and availability in many different colors and textures.
The Rose has a more breathable design with soft leather uppers and a roomy toe box.
There is also an extra depth option with two removable, comfortable cushioned insoles in the Rose, as well as the fact that it accommodates orthotics.
---
7
Shoes for Overweight Nurse's
The Sticky Work shoe range is perfect for nurses and hospital workers.
The shoes are comfortable and available in more colors.
They have a non-slip, durable sole.
There are a moisture-wicking interior and shock-absorbing midsole.
They have a waterproof design and are very lightweight.
---
8
The Vangelo is a slip-resistant work clog for nurses.
The shoes are available in more colors and prints.
They are an EVA foam body that is lightweight and supportive.
There is an Ortholite moisture-wicking and cushioning removable insole.
The rubber outsole is lug and slip-resistant.
Also lined with an antimicrobial treatment.
---
9
Shoe for Overweight Nurse's
A comfortable and cushioned work she for nurse from Skechers.
They are durable and comfortable.
The uppers are full leather, and the sole a thick and slip-resistant rubber.
There is a cushioned insole, a moisture-wicking lining, and an EVA midsole for shock absorbency.
The shoes are available in more colors and wider widths in fit.
---
10
Shoe for Overweight Nurse's
The Reebok Senexis range is designed as a slip-resistant and cushioned, comfortable work shoe ideal for nurses.
The shoes have a slip-resistant, durable rubber outsole.
There is EVA cushioning foam in the insole and a shock-absorbing EVA Max Midsole.
The MaxTRax Slip-resistant rubber outsole is designed for hospital floors and similar surfaces,
The toe is soft with no safety cap.
---
Index Table: Top Rated Shoes for Overweight Nurses
---
---