Whether you are a professional chef, cook, or just a father who has the chore of cooking meals at home, cooking can be a tough job with many hazards involved.
Cooking requires you to be on your feet for many hours, usually in a kitchen that becomes quite hot.
For all these reasons, you will need a pair of breathable and comfortable shoes with the necessary support and protective features for working in a food industry environment for many hours.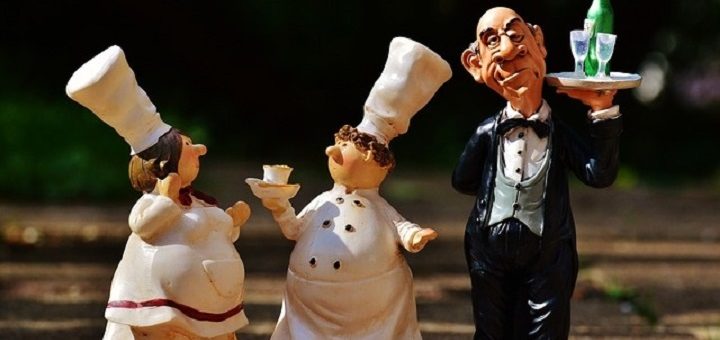 ---
Hazards in the Kitchen
A kitchen can be quite a dangerous place to work in with all the sharp objects, hot liquids, and foods, as well as electrical equipment and slippery floor surfaces.
So you will need a shoe that protects against all these hazards while still giving you the maximum amount of support and comfort.
---
Features of a Good Kitchen Shoe
You might be tempted to wear your usual comfortable or dress shoes for working in a kitchen or restaurant, but this is ill-advised.
Shoes best for working in the food industry have specific features making them unique for a kitchen environment.
Design – Slip-ons are the best kitchen shoes because you can take them off and put them on quickly and easily as needed.
Comfort – Comfort is also a crucial factor along with support because you will be moving around and on your feet for long hours; therefore, a shoe with a thick platform, slight heel, lots of padding, and a contoured midsole will be the best.
Flexibility – Take into consideration having a flexible and lightweight shoe because in the food industry, especially with waitressing, you need to be quick on your feet.
Breathability – Because you are going to be working in an environment that can get quite-hot, breathability is a must to ensure your feet keep dry and to prevent chafing, blisters, and infection.
Slip Resistance. Lastly, you need protective features for the environment you are working in; the slip-resistant outsole is at the top of the list for safety requirements. Characteristics such as oil and water resistance, a steel or composite toe, durable abrasion-resistant construction, and electrical hazard protection are also quite important.
---
Why Should You Choose the Best Kitchen Shoes
Any job where you are required to stand on your feet all day can cause some severe health issues in the long run and potential injuries; therefore, it is vital to have supportive and comfortable shoes.
Because of the many hazards in a kitchen, it is just as important to have protective features to prevent injuries.
What to Look for When Buying a Kitchen Shoe
Comfort and Cushioning.
Good arch support.
Outer Soles that are slip-resistant and offer good traction and grip.
Spill and Stain resistance.
---
Reviews: The Best Kitchen Shoes
We have put together a list of some of the top-rated shoes for use in the kitchen and food industry today, taking into consideration the required comfort, protection, and durability characteristics;
---
1
Flexible Kitchen Work Shoes
Skechers offer you their Flex range with superb non-marking and highly slip-resistant outsole, as well as a highly flexible design.
An Air Cooled Memory Foam footbed for plush comfort and support.
Lightweight shock-absorbing midsole.
There is a High traction non-marking slip-resistant rubber outsole.
Flexible design and lightweight textile uppper construction.
---
2
Best Kitchen Chef's Shoes
A trendy looking, professional-class men's and women's clog with padded insteps to cushion your feet and ankles. You have a breathable and comfortable shoe that is lightweight and durable.
AMPA approved, and SATRA tested for slip resistance in an oily environment.
A polyurethane midsole and metal shank to absorb shock and improve stability.
The leather sock liner is breathable and comfortable.
A dual-density Eva Midsole with cushioned memory foam insoles for maximum cushion and comfort.
Constructed with premium pull up leather for comfort and durability.
The higher toe box allows for some wiggle room.
Available in many colors such as Black Cabrio, oiled brown and black burnished nubuck.
---
3
Slip On Kitchen Workers Shoes
Dansko Wayne is a stylish slip-on shoe worn in the kitchen and the office because of its dress shoe appearance. It is an excellent choice for an executive or sous chef required to be in and out of the kitchen frequently.
The outsole is slip-resistant on wet and oily floor surfaces.
A removable triple-density Eva Midsole for great comfort and support.
A low profile shape and lightweight construction so you can be quick on your feet.
An added an anti-microbial and anti-odor inner lining to keep your feet dry, fresh, and protected against infections.
A 1.5-inch heel to reduce pressure.
---
4
If you work in a fast-paced kitchen with loads of action and just as many hazards, then the Blundstone 72 is perfect for you. Blundstone is a shoe that originates in Australia, made sturdy and durable for the outback.
Poron XRD in the heel strike zone for shock protection and underfoot comfort.
It has a polyurethane midsole that is resistant to hydrolysis and microbial attacks.
The thermal urethane outsole is a slip, oil, and acid resistant as well as heat resistant up to 284 degrees Celsius.
An ergonomically engineered toe spring to reduce foot fatigue.
A steel shank is ensuring correct step flex pointing and torsional stability.
It is a lightweight, comfortable, and durable shoe.
It can be clean easily using a damp microfiber cloth.
Available in Stout Brown and Brown leather color variations.
---
5
Slip resistant Kitchen Work Shoe for Narrow Feet
Renowned chefs have designed Mozo Sharks for renowned chefs. They are comfortable, lightweight, and durable, and straightforward to clean.
Lightweight with added side ventilation for breathability.
Gel insoles for extra cushioned comfort and support.
Slip-resistant rubber outsoles that withstand oily and wet floor surfaces.
The uppers are constructed from durable and easy to clean synthetic materials.
A narrow fit for slimmer feet.
A slip-on shoe with dual goring insets.
---
6
The GEL-Venture series by Asics includes a Slip-Resistant outsole.
It is great wide width chef shoes and waiters and waitresses.
This model was designed with OrthoLite® Insoles combined with GEL cushioning and Trusstic construction to help you stay on your feet in comfort until the end of your shift.
The GEL-Cushioning technology provides the ultimate in shock absorption – it enables one to lighten the weight and load on your feet.
---
7
ventilated Kitchen Work Shoes
There is nothing like a pair of crocs for kitchen work. These models have airflow ventilation holes to keep your feet dry and cool and those hot kitchens.
Made from 100% lightweight and cushioned Crosslite material.
It is vented for better airflow and breathability.
Durable and slip-resistant outsole.
Very Lightweight.
Easy to clean and quick drying.
---
8
Moc Toe Slip on Kitchen Shoe
The Merrell Jungle is an easy slip on and off shoe, with a comfortable design and slip-resistant outsole.,
Leather and textile uppers with a slip-on design and Moc toe.
An Aegis antimicrobial lining for dry protection.
Durable and slip-resistant rubber outsole.
Air-cushioned heel for comfort and support.
A supportive Nylon arch shank.
3mm Lug outsole.
---
9
Clogs for Kitchen Workers
The Crocs Bistro has been designed particularly as a work shoe for the food-service industry. They meet the slip-resistant and ASTM F1677 safety standards and are also made to provide the maximum comfort and support for work long shifts.
Slip-resistant standard rated tread that provides increased traction on wet and oily floors.
Enclosed design with a thicker metatarsal area protecting the feet from spills.
It is made from Croslite material that will conform to your feet, creating a comfortable custom fit.
It can be easily cleaned with soap and water.
Crocs Lock technology that is slip-resistant and ASTM F1677 tested and rated.
Extra dense Vamp for improved protection along with the famous cushioned footbed for superb comfort and support.
---
10
Lightweight Kitchen Work Shoe
The Skechers Bronaugh and Bendon are the ideal work shoes for a Kitchen and hospitality environment.
They both have mesh and synthetic uppers that are lightweight and breathable.
The durable rubber outsole is slip-resistant and oil-resistant with an ASTM rating standard.
Inside is a comfortable memory foam footbed and moisture-wicking lining.
The design is sleek and athletic and very comfortable to wear all day on your feet.
---
11
The Mosida is a Non-Slip shoe ideal for Kitchen and hospital occupations.
The design is solid and water-resistant, with three ventilation holes on each shoe for breathability.
Constructed from cushioned EVA, it is light and comfortable and straightforward to clean, acid, and alkali resistant.
The sole is designed to be slip and oil resistant and puncture-proof.
Because of the foamy EVA material, the shoe coffers very comfortable cushioning and has a supportive footbed.
---
12
A more robust and protective choice for kitchen work is the Merrell Static Dissipative Jungle Moc toe Shoe.
I like this shoe because it is static dissipative, ideal for floors that tend to hold static electricity.
Durable sole that is slip-resistant and oil-resistant.
The slip-on style is easy on and off convenience, and the leather uppers are durable and water-resistant.
Inside is a comfortable Kinetic Fit advanced footbed with zonal arch support and heel cushioning.
Moreover, you have the protection of a composite toe cap, which is much lighter than a steel or alloy toe cap.
---
Conclusion
As with every other profession, the right shoe for you may not be the right shoe for any other chef, so your personal preference and requirements must be at the top of the list.
The shoes that we have listed should give you a good idea of the most popular on the market today that will offer you various safety, comfort, and aesthetic characteristics.
A kitchen can be a dangerous place to work in, so always ensure that you are protected from head to toe.
---
Comparison Table: Kitchen Workers Shoes
---
---