Laboratory work entails long hours on your feet on usually hard and slippery surfaces and working with Hazardous Chemicals and substances in some cases.
Therefore, a comfortable, supportive, and protective slip-resistant shoe is required by every Laboratory worker.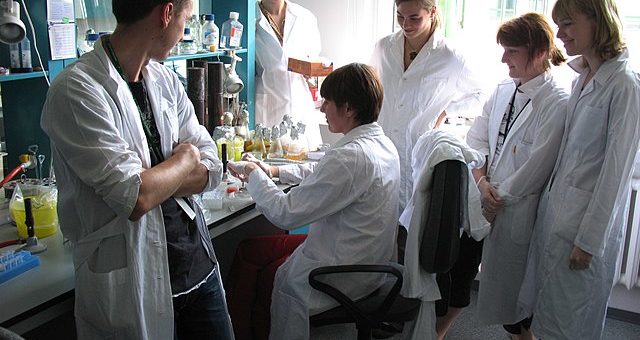 ---
Laboratory Work Hazards
When it comes to choosing the right footwear for Laboratory work, with regards to the protection and safety features, here are a few hazards that you need to identify in your workplace;
Chemical Hazards – If you work with strong chemicals in your Laboratory, which can cause burns and injuries, it is advised to look for shoes that have a chemical resistant layer as well as a chemical resistant sole specifically.
Biological Hazards – Biological hazards include microbes, recombinant organisms, and viral vectors and contain biological agents introduced into experimental animals and airborne and bloodborne pathogens. Shoes that offer water resistance and bloodborne pathogen resistance should be ideal in this case.
Physical Hazards – Physical hazards for which you need protective footwear are heavy falling objects. A protective toe is required, and sharp and protruding objects can cause puncture wounds, for which you need a protective shield underfoot plate.
Electrical Hazrads – When you work with electrical equipment and tools which can cause an electrical shock, it is safe to wear shoes with Electrical Hazards Resistant materials.
Slips – Laboratory floors are often hard, slippery, and can become wet, greasy, or oily depending on what you work with. Therefore, the safety's number one feature of a laboratory work shoe should be slip resistance or oil and slip resistance in the outer sole.
---
What Kind of Shoes are Acceptable for Laboratory Work
Considering the above laboratory environment risks and hazards, the protective features will depend on your environment and the hazards you are faced with, such as a protective toe, electrical hazard safe materials, slip and oil-resistant soles, and chemical or water resistance.
Other than comfort features such as stability and cushioning features for shock absorbency and the prevention of foot fatigue from standing and walking all day, it is ideal.
---
Features of a Good Shoe for Laboratory Work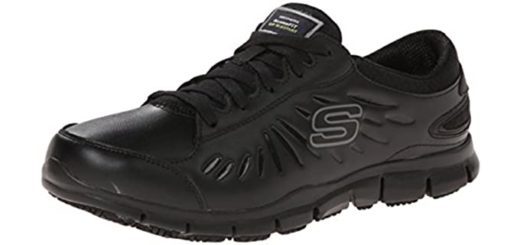 Uppers – Comfortably fitting and durable uppers made from leather or synthetic materials with or without a waterproof or chemical resistant lining. Mesh insets and perforation in the uppers allow for better breathability and cooling. A moisture-wicking interior lining keeps your feet dry and comfortable.
Comfort Features – These include a comfortable insole or footbed designed to pad and cushion, consisting of foam or memory foam, and a relaxed fit with a padded collar and tongue.
Slip Resistance – The outsole should offer good slip and oil resistance depending on the chemicals and materials that you work with within your laboratory.
Outsole – Lok for a durable and thick rubber outsole with a lug tread for optimal grip and sip resistance.
Heel – A solid and unform or slightly elevated heel is ideal but avoids anything with a very high heel or heel drop design.
Cushioning and Shock=k Absorency – Cushioning in the insole and a foam or EVA midsole offers ample shock absorbency and protection against impact.
Fit – An excellent comfortable and relaxed fit is ideal for laboratory work, and look at the width options available for your foot type.
Hard Surface Protection – Most laboratories have tough surfaces on which you will be standing and walking most of your day, so make sure that your shoe offers ample cushioning and shock absorbency, particularly in the heel area.
---
Reviews: The Best Shoes for laboratory Work
Below are some of the best types and brands of shoes for working in a Laboratory;
We hope you love the work shoes we recommend!
So that you know, We may collect a share of sales or other compensation from the links on this page.
---
1
Shoes for Laboratory Work
The Timberland PRO powertrain is a top shoe brand that is tough, durable, and protective for all forms of laboratory work, to mention extremely comfortable.
The uppers contain rip-stop durable Nylon, and there are mesh interior linings to keep your feet dry and comfortable.
Both feature a lightweight and protective Alloy tote for safety and have electrical hazard safe materials.
A low-profile, comfortable athletic design shoe with anti-fatigue technology designed to keep you on your feet all day.
Both models are available in other color options from which you can choose.
---
2
The Dansko Emma and Wyatt are both Oxford-style work shoes that you can use for most Laboratory work.
The upper consists of durable leather available in a few neutral color selections.
Inside is a cushioned, comfortable, anti-microbial treated moisture-wicking sock liner to prevent odors and foot fatigue.
The PU midsole has additional cushioning and shock absorbency, and the low profile shape is much more lightweight.
The rubber outsole is designed to be no-slip on various surfaces and is durable and long-lasting.
This shoe also has a removable comfort insole.
---
3
The Eldred and Felton from the Skechers for Work range are likewise perfect for laboratory work.
Both shoes are available in different black and white leather options with a breathable upper design made from genuine leather,
It offers a more relaxed and comfortable fit with a roomy toe design.
The tongue in the collar is padded for comfort, and there is a memory foam padded insole with a soft shock absorbing midsole.
The durable rubber outsole ensures excellent slip resistance, and this shoe is OSHA compliant with the Nitrile design outsole.
---
4
Training Shoe for Laboratory Work
Another superb two additions from Timberland Pro, in work shoes with safety features for Laboratory work.
Leather upper with insets for improved breathability and a low-profile lightweight design.
Ther is an Open-Cell PU footbed and a shock-absorbing Compression-molded EVA midsole.
The rubber outsole is Oil and slip-resistant as well as abrasion-resistant.
Inside is an anti-bacterial lining for protection against infection and bacteria.
There is also a TITAN safety toe for toe and forefoot protection.
---
5
Laboratory Work Clog Shoe
From Crocs, we have these two excellent additions in Laboratory safe work shoes.
Tough and comfortable work clogs with solid leather and synthetic upper for optimal protection.
There is a roomy toe box, and it offers a slip-on design and availability in wider width options.
The sole is designed for optimal slip resistance, and the footbed offers all-day comfort on your feet.
The mean model is available in a black and white option, while the ladies have more color and pattern options.
Both are Certified and tested safety work shoes for this work environment.
---
6
Shoe for Work in a Laboratory
The Sure Track and Track Scloric from Skechers is another excellent choice in work shoes for laboratories for both men and women.
The uppers are made from genuine durable leather, and the inside is lined for optimal moisture management.
There is an easy pull om loop and stretchable top panel for easy on and off.
Inside are a padded footbed and cushioned midsole for shock absorbency.
The outsole is designed with athletic durability and cushioning, along with a slip-resistant tread.
---
7
The Bogs Sauvie is perfect for laboratory work.
They are comfortable and cushioned.
The shoes are waterproof and slip-resistant.
There is comfortable rebound cushioning.
---
8
The Workshift from Fila is an ideal laboratory work shoe.
They are leather with a slip-resistant outsole.
Athletic in style and comfort features.
There is a white and black model available.
---
9
The Muyck Boot is perfect for laboratory work as it is waterproof and chemical resistant.
The uppers are neoprene and waterproof.
The rubber outsole is slip and chemical resistant.
There is a shock-absorbing footbed.
---
10
The Bogs Farmer is a low-cut work boot.
They are rubber and leather with a waterproof lining.
Inside us is a rebound cushioning insole.
There are also more colors available.
---
Index Table: Top Rated Shoes for Laboratory Work
---
---