One of the most dangerous jobs in the entire construction industry is, of course, roof work. Working at such a height means a slip and fall can be severe or even lethal.
A good roofing boot or shoe is required to protect roofers against this main factor, among other discomforts and hazards. For the most important feature, GRIP and slip resistance should be y.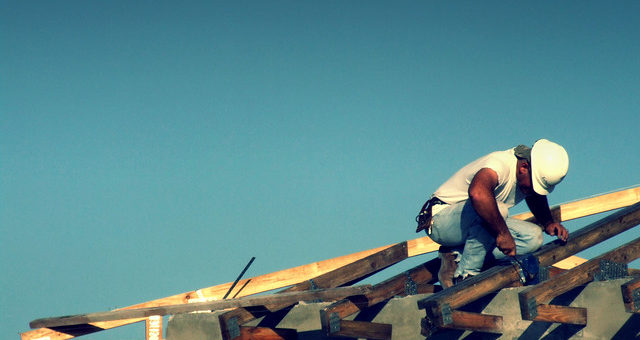 ---
---
Roof work and The Dangers Involved
There are so many hazards in roof work; here are a few of the main hazards that every roof worker should be made aware of;

Fall Hazards – Anything from objects that obstruct your walk path, holes, loose tiles, wetness, oil, and even unstable ladders can be a fall hazard, so always ensure you take every safety precaution.
Electrical Hazards – You may be working with electrical tools and equipment on the rooftop, which may hold electrocution risks. Please ensure that all electrical equipment is in a safe working condition and that you use it safely.
Power Tools – Power Tools are heavy, dangerous, and can cause electrical and slip hazards, so make sure anyone using these is qualified to do so and know how to use the specific tool safely.
Hazardsous Substance – Asbestos, dust, paint fumes, and thinners are all hazardous substances used on rooftops, so wear gloves and a mask to protect yourself against vapors and liquids that may cause harm.
Extreme Heat – Working on the rooftop means directly in the sun with no shade and protection. Sunburn, as well as heat exhaustion, is the main concern here. Therefore, wear protective gear and sunscreens on your face, hydrate regularly, and have short rest periods.
---
What to Look for in a Shoe for Roof Work
Outsole – The sole on your roof work shoe is vital as it will protect you against your greatest hazard, slipping and falling. I recommend rubber or, even better, Vibram Rubber for the outsole with a lug pattern and design to offer you the best slip and oil resistance.
Misole – A thick cushioned midsole is an excellent advantage, mainly when working on hard roofs on your feet all day. The midsole will protect against puncture hazards, stability, and shock absorbency.
Weight – Working on a roof is exhausting and hot in general, so the last thing you need is heavy shoes weighing you down, causing further fatigue. Choose lightweight shoes from lightweight materials.
Uppers – Soft and supple leather uppers or mesh and leather overlays are your best options. It would be best to have lightweight, flexible, breathable uppers, offering a comfortable fit without friction.
Ankle Support – Good ankle support can help when climbing those steep inclines and declines on a roof and help with stability.
Laces – Beware of your lacing system so they do not cause a tripping hazard. You can choose a shoe that can lace up securely and safely.
Durability and Quality – Last and most importantly, your Roofing shoe protects you against severe and fatal injuries and provides comfort for your workday. Choose good quality and durability, even if the price tag may be high, as you invest in your safety and work performance.
---
Features of a Good Shoe For Roofing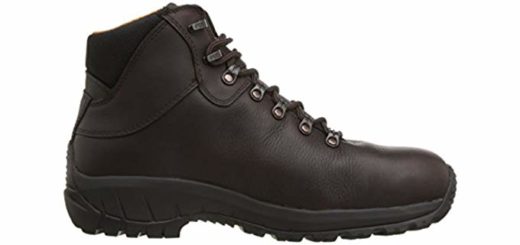 Uppers – Durable leather and synthetic uppers in some models with breathable mesh insets. It has a waterproof lining or Gore-Tex waterproof membrane. Soft and moisture-wicking interior linings.
Support – Stability shank. Arch support and cushioning for comfort.
Closure – Secure lace-up closure.
Outsole – A durable lug rubber outsole is heat slip and oil resistant.
Cpnstruction – I look forward to Goodyear Welt or Cement construction for durability.
safety features – A soft toe, moc toe, or steel protective toe cap.
---
Reviews: The Best Shoes for Roofing
Here are some of the safest, most durable, and most comfortable Roofing Shoes Available today.
---
1
Durable leather waterproof Roofing shoes from Georgia, the Titan has a safety toe for extra protection and safety.
Durable leather uppers construction with a TITAN safety protective toe.
Lightweight with breathable antimicrobial interior linings and uppers from full-grain leather.
It features a Power Fit, comfort fit system design.
The rubber outsole has a lug pattern and is slip and oil-resistant.
Waterproof and highly breathable upper design.
---
2
Timberland Pro is a top name in industrial-grade work boots. The Direct Attach is extremely tough and durable, ensuring superb slip resistance for Roof work.
Full-grain leather uppers with 200 grams of insulation for warmth in colder weather conditions.
The protective steel cap on the toe will protect your toes against falling objects.
The 24/7 comfort system reduces foot fatigue with arch support and cushioning.
A lug slip-resistant rubber outsole that is also oil-resistant.
---
3
The Moc Toe Red Wing Heritage shoe is a stylish and comfortable soft-toe work shoe with all the features required for roof work.
Soft and supple leather uppers with a contra-stitched moccasin style soft toe.
The outsole has a layer of soft cushioned crepe for shock absorbency and a high traction lug tread for slip resistance.
Inside is a comfortable and moisture-wicking lining and cushioned footbed.
A soft and comfortable work boot is available in a few neutral color options from which to choose.
---
4
The Moab Ventilator 2 is a waterproof hiking shoe with a high grip slip-resistant outsole, perfect for roof work.
100% genuine and durable suede leather and mesh uppers are lightweight, breathable, and completely waterproof.
A Closed Cell foam tongue keeps moisture and debris out.
There is a molded Nylon arch shank for better stability and support.
The slip-resistant and durable Vibram rubber TC5 outsole has a lug tread for roof work and hiking.
---
5
Leather Roofing work Boots
The American Heritage and Softstreet work shoe from Thorogood features a Max Wear highly slip-resistant and cushioned outsole perfect for roof work.
Soft and comfortable leather uppers.
It has a Heat-resistant design and a protective metatarsal guard.
Inside is a removable dual-density Ultimate Shock Absorbing insert on a Poron 4000 cushioned insole.
A slip-resistant single-density polyurethane MAxwear wedge sole, is also oil and heat-resistant.
A durable and long-lasting quality shoe for roofing and construction work
---
6
The Keen Utility Flint is another superb Roof work shoe for men and women.
The Keen Utility has a Waterproof leather upper and dual-density molded EVA footbed for shock absorbency.
The contoured heel lock and the Metataomical design footbed offer excellent stability and support.
A very durable and high slip-resistant Rubber outsole with a lug tread also exists.
---
7
The Sublite from Reebok is the Cushioned model from their work range.
The Sublite work shoe is ideal for roofing and offers comfort and a good grip.
The shoe has a Memory Tech cushioned footbed and mesh breathable uppers.
The outsole on the shoe has a design to provide optimal grip.
The Sublite also has a protective Alloy toe.
---
8
The Timberland White Ledge is a hiking design work boot ideal for use as a roofing work boot.
The White Ledge has leather uppers and a boot construction with a lace-up closure.
The boot comes with a comfortable padded insole and a high grip slip-resistant outsole.
The Timberland White Ledge Boot is comfortable and protective.
---
9
These shoe models from Keen are ideal for industrial and roofing work.
They have a high grip rubber outsole.
The uppers are durable and waterproof leather.
Inside is a comfortable lining and cushioned footbed.
They are also available in more neutral color options.
---
10
The Wolverine Floorhand is a basic lightweight work shoe for men and women.
It can be used for roofing work and other environments.
The uppers are leather, and the sole is a high traction slip-resistant rubber.
They are fully waterproof and durable.
---
11
The Columbia Newton Ridge is another top choice in roofing shoes.
It is a waterproof hiking boot that also doubles as a work shoe.
The sole offers exceptional grip and slip resistance.
The uppers are comfortable and durable with padding.
---
12
These are two similar but different model roofing work shoes from Skechers.
They are very lightweight, with a high traction lug rubber outsole for grip.
The uppers are leather, and there is a comfortably cushioned footbed.
They are electrical hazard safe and have a relaxed fit design.
---
Index Table: Top Rated Roofing Shoes
---
---