Have you gone to the garage or your wardrobe to find a pitiful pair of beaten-up sneakers to mow your lawn in, which in the end makes you even less up to the task?
Well, why not invest in something that you can trust and rely on, and that can even double up as a shoe for gardening or other purposes.
In this article, I will open your eyes to the many possibilities with shoe options that are perfect for cutting grass.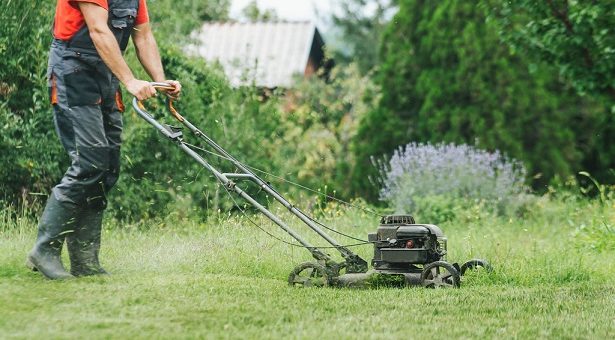 ---
Why You Need the Right Shoes for Cutting Grass
Cutting grass is a time-consuming and messy or even slippery activity that we all can agree upon.
Improper footwear that offers little comfort and protection can make this task excruciating.
The right shoes can protect your feet, keep you cool and comfortable, and who knows, even double up for full gardening, a day at the beach, or a hiking trip.
---
Tips for Buying the Best Shoes for Cutting Grass
Here I have some excellent tips in choosing the best shoes to invest in for Cutting grass;
Uses – Are you getting shoes just to cut your lawn in, or do you participate in other activities that you can use these shoes for as needed. If only for cutting your lawn, I would go for a basic, affordable lawn cutting shoe. If, for another purpose, I would select something like a Hiking shoe, which can also be used for gardening and outdoor excursions, and trail walking. Or a Good sneaker which you can use for walking with as well. Then there is also the water-friendly shoe for hot summer, which can be used as a beach shoe or gardening shoe.
Comfort – How vital is a comfort to you in the time that you are mowing the; lawn. If it is a quick job and small lawn comfort may not be that much of an issue, yet you may reconsider comfort features if you are going to be busy for a couple of hours.
Durability – Once you have found the perfect shoe for cutting grass, you do want it to last and last long. Well then, always look for a durable and high-quality shoe with durable materials that will last the tough outdoor use.
Protection – the level of protection such as waterproofing, toe protection, and slip resistance will depend on your garden and other uses of your Grass Cutting shoe. For the most part, a high grip lug rubber outsole and upper that keep grass pieces out of your shoes would be the best in a simple Grass Cutting Shoe.
Shoe Types – Shoe types that make excellent Grass Cutting Shoes are; Golf Shoes, Hiking and Trail Walking Shoes, Trail running shoes, Athletic Shoes, Crocs, and water Shoes.
---
Features of a Good Shoe for Cutting Grass
Uppers – Breathable leather and mesh uppers are durable and keep your feet cool. Some models also offer water resistance or waterproofing.
Toe – Look for a protective and closed-toe style to prevent toe bumping and also that has a roomy fit.
Outsole – A rubber outsole with lug patterns is ideal for grip on slippery grass and outdoor surfaces.
Comfort and Support – Look for a comfortable cushioned footbed and midsole and good stability and support features such as a heel cup and contoured design footbed.
---
Reviews: The Best Shoes for Cutting Grass
The below list of shoes offer the best comfort and protective features for Cutting Grass;
---
1
The Moab 2 from Merrell is one of the best choices to make in an entirely protective and very comfortable gardening shoe for cutting grass.
The Moab is a durable and breathable hiking shoe that can double up as an outdoor walking shoe and even a gardening or hiking shoe.
The uppers are constructed from durable leather and mesh with a secure place up a system.
It is an Air Cushioned footbed for comfort and a Nylon Arch for better stability and support.
The outsole consists of
The Moab is also waterproof and comes with a protective rubber toe cap.
---
2
Athletic Shoe for Cutting Grass
The Tech response from Adidas is a Golf shoe, but what not better for cutting grass than rubber-soled Golf shoes to give you the best grip and protection.
A Golf shoe can be the perfect choice for cutting grass.
There are synthetic microfiber leather and textile upper that are light and breathable.
A Cloydfoam sockliner keeps your feet dry and comfortable.
The Six Spike ThinTech outsole and durable Adiwear outsole design is durable and offers exceptional grip, especially on wet grass.
The shoe has a low profile and a comfortable fit.
---
3
Waterproof Shoe for Cutting Grass
The Muckster 2 is an ankle design Muck boot that offers complete waterproof protection and excellent slip resistance.
A longer-length ankle boot for extra protection.
The rubber and neoprene uppers are comfortable and completely waterproof.
There are a cushioned comfort insole and moisture-wicking interior lining.
The lug rubber outsole is designed to perform in mud, slush, and wet weather.
---
4
The Premium Waterproof range from Timberland is an excellent choice in a work boot that also doubles as a grass-cutting boot.
The Timberland boot can make fr the perfect grass cutting, outdoor, and even work boot.
The ankle-length offers full protection along with durable leather upper construction.
Inside is a comfortable padded and cushioned footbed for comfort.
The lug rubber outsole offers excellent slip resistance.
The boot is also completely waterproof.
---
5
The Ultimate beach and water-friendly shoe, so why not the best shoe for cutting grass on those hot summer days?
Lightweight in breathable, the Crocs classic is ideal for cutting Grass.
It was constructed for a durable and soft Foamy Crosslite material that offers excellent support and comfort.
The toe is closed for protection, and there are extensive drainage and ventilation holes.
You can likewise choose between a vast array of color options.
---
6
Hiking Shoe for Cutting Grass
The Adidas Terrex AX3 is a hiking shoe that makes brilliant gardening and grass cutting shoes because of its durable and slip-resistant features.
The Terrex is a highly durable and robust athletic outdoor trail and walking shoe perfect for gardening and cutting grass.
The uppers are light and breathable with synthetic and mesh materials.
There is a comfortable and anatomical footbed for support.
The outsole is constructed from a very hard Continental Tyre Rubber and has lug patterns for superb grip and slip resistance.
---
Index Table: Top Rated Shoes for Cutting Grass
---
---