Finding the right shoes and clothing if you are a bigger or heavy person is not always the easiest task as most clothing and shoes do not always fit, and if they do fit, they do not always last.
Finding the most appropriate running shoes when you are on the heavy side could be quite a challenge, particularly if you are looking for a pair of running shoes that promote joint health without costing too much.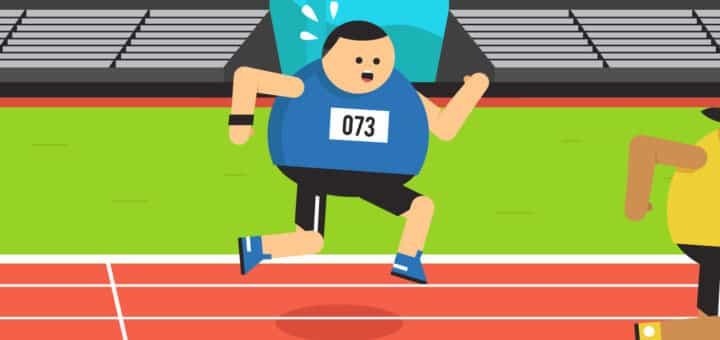 ---
Good Shoes for Heavy Runners are Important
Running puts an average of 1.5 to 3 times your body weight of shock on your joints, so if you are quite heavy, your joints will suffer from a reasonable amount of strain. You are considered a heavyweight when your Body Mass Index is over 27.
When you are overweight, there is also the chance that you may over-pronate. Pronation refers to the way in which your foot rolls inward when you walk or run; being heavier on your feet, your arches tend to be lower, thus causing over-pronation, which in turn will affect your lower leg's ability to deal with the shock.
---
What to Look for In a Good Running Shoe
Structure – The best running shoe will be a shoe that aims at protecting the general health and well-being of your feet and lower limbs.
Cushioning – You will need a pair of running shoes that will offer you the best cushioning and shock resistance for your weight. Depending on your style of running and the structure of the skeleton in your legs, you may need extra cushioning in your heel or at the forefoot, and sometimes in both places.
Durability – Also, to keep in mind is a shoe that will fit properly, and that is tough enough to last and not fall apart after a few runs. Good quality shoes for heavy runners need to be able to absorb and distribute the force of impact evenly while running.
Arch Support – Most overweight men and women tend to have flat feet; at some point, due to the enormous force exert on their feet, choosing the correct running shoe for flat feet is important in order to correct and support this condition.
For those who don't have normal to flat feet – we recommend reading the article about High Arch Shoes.
Pronation Control – As stated above, flat feet tend to create a state that the foot overpronates, or in simple words, your inner foot roll too far to the inside while you walk or run. You can easily spot overpronation condition by looking at the soles of your worn shoes; If the inner side of your shoes is worn, this is good evidence that you need shoes for overpronation with motion control technology.
Extra Wide Width – Overweight people usually will have a much wider foot, and they need to choose extra widths, usually from 2E and up to 6E, in order not to strain their feet and sole.
---
The Top Running Shoes for Heavier Runners
Below we have compiled a list of some of the best running shoes for people who are on the heavier side;
---
1
Running Shoes for Heavy People
The New Asics Gel Cumulus 24 Running Shoe is a neutral training shoe that can be worn every day and will comfortably go the distance for any long run. The cushioned sole and crash pad on the heel will ensure the optimal amount of shock absorbency and comfort even for the heaviest runner. It is a good quality affordable shoe that will last you very long
Added cushioning in the forefoot area.
A FluidRide System is increasing cushioning in the entire sole area.
The Crash Pad on the heel will absorb most of the impact of every step.
The outer sole offers excellent traction and grip even in wet conditions.
Seamless uppers with many overlays for added support.
A supported heel and wider toe box for a comfortable fit.
Breathable, keeping your feet dry and fresh.
---
2
Running Shoes for Overweight Runners
Available in men's and women's running shoes, the Mizuno Wave Creation is an attractive and comfortable pair of running shoes that are perfect for your heavier runners because of their extra cushioning and support.
The sole is designed to help disperse the impact of every foot strike away from the foot.
Extensive cushioning in the sole for maximum shock absorbency.
A smooth and breathable mesh upper.
The secure midfoot wrap offers extra support and a better fit.
U4ic midsole cushioning and Infinity-Wave bounce-back heel for added shock absorbency.
The padded tongue and collar offer even more comfort.
Removable insoles add the ability to customize this shoe with specific orthotics further.
---
3
Overweight Choice of Running Shoes
The Nike Revolution 3 is a perfect Running Shoe; it is the latest Stability shoe designed by NIKE for both men and women. A perfect shoe for the heavier runner because of its exceptional durability, underfoot cushioning, stability, and extra widths.
A Flymesh upper for breathability, with Flywire cables for a secure and locked-down fit.
Dual-density foam in the midsole for soft cushioning, combined with medial support.
Duralon rubber in the sole of the forefoot for extra cushioning and a high-abrasion rubber used for the heel for durable traction.
Maximum stability and control for every runner.
This is one of not too many Nike's models that comes with extra-wide widths up to 4E.
---
4
Running Shoes for Overweight Individuals
The Saucony Ride Running Shoe is ideal for a larger person as this shoe is designed to guide your gait and give you the best support at all levels. A perfect running shoe for overpronation and individuals who have problems with their arches as well.
A moisture-wicking, open-cell foam and an antimicrobial sock liner that is breathable.
Synthetic and leather uppers, with mesh for additional breathability.
A lightweight shoe that will use less energy.
This shoe is designed to help with moderate over-pronation.
Heel-to-toe foam cushioning for added support and comfort.
A rubber sole for excellent traction and grip.
---
5
Heavy Weight Running Shoe
New Balance is a company that thoroughly understands all the aspects of foot pronation. The New Balance 1260 and FuelCell Running Shoe for men and women have all the features required by a heavy runner and more.
A perforated fabric and Synthetic outer shell for breathability and coolness while you are running.
An outer rubber sole for excellent grip.
A modern style appearance with a reflective logo.
N2 low to the ground response system.
ABZORB shock-absorbing cushioning for added support.
A T-BEAM midfoot stability shank.
An excellent choice for people with lower arches and overpronators.
---
Content Table: Running Shoes for Heavy Runners
---
---