You may think the shower is the perfect place to get a fresh start and remove all dirt and germs, well think again. The shower, in particular, if a shared shower or public shower holds many unexpected lurking germs and funguses.
Although much more common in shared, communal and public showers, such as those at the gym, dorms or pool area, Fungus, bacteria, and microorganisms love breeding in moist and warm environments.
Because your feet come into direct contact with the actual shower floor, they are the most at risk of picking up and spreading germs, therefore a pair of shower shoes may be just what you need!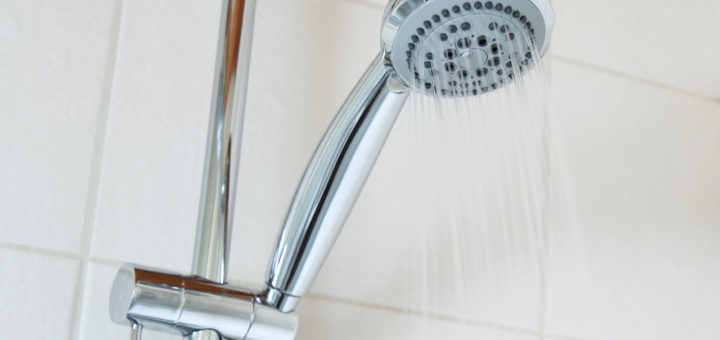 ---
Beware The Shower Floor
Shower floors can become infested with germs and fungus, as well as many types of bacterias that can cause infection and disease.
When you shower all the dirt and germs end up on the shower floor, and if not cleaned and disinfected regularly, can build up and multiply just to be passed on to your feet and the rest of your body.
Viruses such as HPV, MRSA, and Athletes foot can easily be acquired from a shower floor. In the case of public or communal shower floors, other persons may have blisters or wounds on their feet that could spread infection, and you may, in turn, have a wound or blister that could just as easily get infected.
A public, pool, dorm, gym or communal shower, and even shared shower at home is a dangerous area if not kept spotless and disinfected, and even then there is still a risk of infection.
Therefore protecting our feet is the first step in preventing yourself and others from becoming infected.
Shower floors can likewise be extremely slippery depending on the surface and soap build-up, so a good slip resistant shower shoe is advisable to prevent slips and falls.
Another factor to consider mostly in public showers is the risk of sharp objects, glass, nails or other protruding objects that can cause a puncture wound, or cut on your feet, which may then, in turn, become infected.
---
Protecting Your Feet in Public or Communal Showers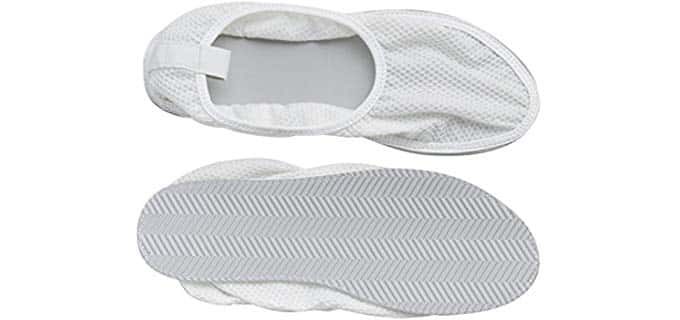 As we have confirmed, showers particularly communal and public may be infested with infection and disease-causing germs, therefore protecting your feet is vital.
Here are a few ways in which you can protect your feet

You can wear proper shower shoes or slippers to protect your feet against infections and sharp objects.

Flip Flops can be used as a shoe to shower in.

Always use your own soap and body products when showering and never share a sponge or loofah.

Never share towels, shoes or showering gear with others.

Make sure to always dry your feet thoroughly after a shower to prevent fungus and infections growing in wetness.

Pre-treat your feet with antifungal creams or powders or disinfect them after taking a shower with a disinfecting spray or cream.

Clean the shower floor and disinfect before you take a shower, you can use Lysol or other disinfectants to remove germs from the shower floor.

In the end, rather take your sower at home where it is the safest if you are able to.

---
Charactaristics of a Good Shower Shoe
Any shower shoe should be water friendly and not collect water allowing it t drain or seep through easily.

A comfortable footbed helps to support your feet and keeps them comfortable.

A durable and highly slip resistant outsole that is made for wet surfaces.

Open to design or mesh slippers are ideal.

Quick drying and lightweight materials.

---
Reviews: Best Showering Shoes
Some excellent choices in shoes to wear in the shower that will protect your feet from infections as well as offer good slip resistance.
---
1
Anti Bacterial Sandal to Shower In
The slide on design sandals from vertigo has a quick and easy on and off the design. They are lightweight and were friendly, perfect for using in the shower, public restrooms and even to the pool or beach.

Manufactured from high-quality rubber that has a waterproof feature and quick-drying characteristics.

The Footbridge strap is designed to aid in venting away moisture from your feet and the durable tread is designed to protect you from slipping on wet and slippery surfaces.

Lightweight with a very comfortable and soft insole made of thin memory foam.

Comes in a variety of sizes and color options for both men and women.

---
2
These non-slip shower slippers are designed to fit both men and women and are available in both men and women's sizes.
They are closed slippers that offer secure protection against germs and slipping in the shower and wet bathrooms.
Ideal for use in a nursing home, hospital, public restrooms and showers, gyms and dorm rooms or hotel rooms.

Heavy duty grooved soles prevent slipping and are tested for excellent slip resistance on a variety of wet and dry surfaces.

The soft nylon mesh uppers are very comfortable, flexible and dry quickly.

There is an expanded foot opening for easy on and off with a higher back to prevent the slippers from slipping off.

---
3
Shower and Pool Slip-On Sandals
This fun and colorful slip-on sandals from FunkyMonkey are perfect for using in the shower or public restrooms, on the beach or even to the pool.
The Anti Slip sole has a diamond raised design with high-Elastic EVA for better balance and excellent slip resistance.

Ideal for many occasions and uses, and lightweight enough for travel.

A concise style with diamonds patterns and a raised design available in many fun color options to choose from for both men, and women.

Very soft and lightweight, manufactured from highly durable EVA that can bend and flex with high rebound and agility.

---
4
Water Shoes for Showering
I simply adore these, they are water shoes from VIFUUR, one of the most popular water shoe brands. These shoes can be used for anything from watersports, fishing, swimming, showering and even for Yoga and other types of sports.
They come in a vast array of color and pattern options that are fun and inviting and are available in men's, women's, and children's sizes.
A durable rubber outsole that offers exceptional slip resistance and likewise protects your feet against sharp objects and hard surfaces.

The comfortable and flexible uppers have a smooth and breathable design that is quick drying and non-irritating.

A comfortable insole to provide cushioning and a convenient smooth neck and fit.

Available in many sizes and colors to choose from.

---
5
These shoes form Amoji are actually gardening shoes, but they have so many excellent characteristics which make them perfect for use in the shower, as well as many other occasions and environments where your feet may get wet.
Made from tough and flexible, soft EVA in an extensive line of color options for men and women.

The ventilation ports provide breathability and excellent water drainage.

Very easy to clean, and dries within 30 seconds tops.

The roomy fit and wider toe room is more comfortable and allows more freedom of movement and water dispersement to your toes.

Very lightweight with a cushioned sole that has an ergonomic shape to provide support and comfort.

The non-slip sole ensures exceptional grip on all walking and showering surfaces.

---
6
The classic Croc design makes a great all purpose water, shower and comfort leisurewear shoe that dries quickly, is comfortable and can be worn in the shower.
Made from 100% durable and lightweight Crosslite material.

Quick drying and water draining holes.

Easily washable and durable.

Comes with a backstrap optional closure.

Excellent for any occasion.

---
7
Showa Flops are flip flops designed specifically to shower with, with antimicrobial treatment and a water draining system.
Made with blended rubber and EVA, that is durable and lightweight.

Cushioned comfort and slip resistant.

Holes for water drainage.

Available in a few fun color selections to choose from.

---
8
The Vertigo rubber flip flop is perfect for use in the shower, at the gym or even the poolside, it offers strong and durable slip resistance and a comfortable fit.
Full Closed Cell EVA construction for comfort and durability.

Rubber materials and sole for excellent slip resistance.

Very lightweight and easy on and off the design.

Comfortable and quick-drying design.

---
Index Table: Top Rated Shower Shoes
---
Please Rate this Article:
---
---