Summer is the best time to go out for a long walk or for traveling, but choosing the right shoes for summer activities is also crucial.
You need to be comfortable in that pair of shoes or else you will not be able to enjoy much.
The good news is that with the advanced materials, used today in the footwear industry, summer shoes for 2019 are more breathable and much more comfortable.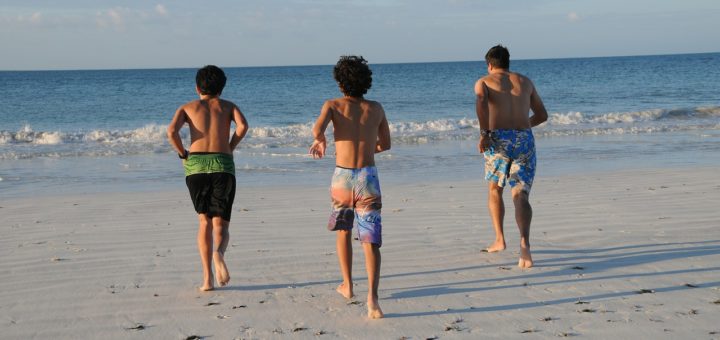 ---
Why do You Need Special Shoes for Summer
In winter we are all looking for those fluffy fur-lined or insulated boots to keep our feet warm and insulated against the cold.
Well with summer it is quite the opposite, fun and bright colored shoes with a light and airy design will not only give your feet much-needed comfort and breathability in the hot summers but will also instill that summer feeling.
Hot and Sweaty – Our feet tend to become overheated and sweaty in the summertime, which in turn can cause bacterial growth and odors to form. Your feet are likewise more prone to infection when warm and wet, in the summer. Thus a breathable shoe with moisture wicking capabilities can help to keep your feet cool and dry.

More Active – Because summertime is usually the time when we are more active, it is ideal to have a flexible and lightweight shoe that allows for more adventurous and outdoor excursions.

Outdoor Surfaces – Then there is also the outsole that needs to be considered, as with adventures and outdoor activities come the need for a good gripping and high traction outsole.

---
What to Look for in a Summer Shoe
Construction – You want a summer shoe to be lightweight on your feet and materials to be thin and breathable, thus mesh and canvas are ideal in most slip on's and sneakers for summer.

Breathability – Breathability can be enhanced by materials such as cotton and canvasm as well as some leathers and mesh. Perforation holes or an open mesh or lace design improves ventilation and keep your feet cool.

Style – Sneakers, slip on's, ballets flats and even espadrilles are all great fashion styles for summer, not to forget the ever popular Crocs.

Flexibility – Easy movement is a must in summer time when we are more active, so flexible sole and uppers construction gives you the freedom to do just that.

Durability – Look for a good quality brand that has durable construction and material that will last.

Grip – Rubber is a good outsole option as it offers good grip in general, look for a lug or patterned outsole to provide slip resistance.

Moisture wicking – A moisture wicking inner lining is a must in the summer to keep sweat and odors at bay.

In this Summer of 2019; high tops and boots are out. We've compiled a list of slip-on, slides, sneakers, hiking and loafers to keep you and your feet fresh so you can go on every adventure you have planned this summer.
---
Reviews: Best Summer Shoes
Enjoy summer with one of these fantastic choices of shoe brands that are top of the notch quality.
Make sure that your summer shoes keep you cool and light on your feet.
---
One of the best and most ideal summer walking shoes.

It is made up of genuine and breathable leather along with Lycra net cloth.

Perfect for trails, walking, biking, camping, and fishing.

With the help of this shoe, you will be able to walk in water as well as on hot sands.

It is very light in weight which will make you feel there is nothing on your feet.

Designed with fresh, breathable and soft material perfect for the spring and summer.

It is purely handmade and is quite affordable too.

---
2
Breathable Summer Walking Shoe
This shoe is one of the most comfortable pairs of shoes which will help you a lot to walk during the summer.

Made of superior quality of mesh and suede.

The sole of this shoe is made up of rubber, and some wavy lines are curved.

This will help you to prevent skidding, and you walk very comfortably.

The upper part of this shoe is done with netting fabric along with cow suede which will provide a stylish look.

Even the quality of this is quite wearable in summer as it is breathable.

This shoe is one of the best Slip On Walking Shoes, we highly recommend.

The cow suede is quite friendly to your skin, and it will not affect your toes at all.

The shoes are designed with a double layering of net fabric. This helps to keep the dust and stuffiness away from the shoes.

---
3
Slip-On Casual Summer Shoes
This shoe is designed and made perfectly for summers.

The canvas cloth is perfect for summer shoes, and the design is quite innovative.

There is a 3-dimensional breathing system which allows fresh air to come inside the shoe making your feet comfortable.

The shoe is made up of durable and sturdy mesh and keeps your feet dry too.

The look is quite stylish, ideal for walking and even for just a casual and comfortable yet fashionable wear.

---
4
Light Breathable Summer Shoes
This shoe is perfect for summer outings, and it is highly comfortable.

The sole of this shoe is made up of rubber and fully human-made.

It looked casual and built for a better walking experience during summer.

It is best for outdoor walking and other fun summer activities.

The material by which it is made of is quite comfortable as well as breathable.

You can totally rely on this pair of shoes to go on for a long walk during the summer months.

You will feel very comfortable in this pair.

---
5
The Clarks brand is well known for its comfortable, lightweight, casual slip-on summer shoes.

The uppers are manufactured from padded and breathable leather.

The Ortholite insole ensures excellent comfort and support along with anti-microbial properties.

Cushioned with ethylene vinyl acetate.

The non-marking rubber outsole ensures excellent grip.

Available in narrow, medium and wide fit options.

---
6
Crocs are most likely one of the most popular summer leisure shoes out there. They are lightweight, cushioned and offer the best ventilation.
Made from 100% Crosslite material that is lightweight and has a foamy feel to it.

Very lightweight and easy to clean.

Ventilation holes allow quick drying and keep your feet cool.

Easily sheds water and debris.

Available in many bright and bold color options to choose from.

---
7
Breathable Canvas Summer Shoes
Lightweight and cool summer shoes with a comfortable insole and durable rubber outsole.
Features 100% breathable and cool canvas upper construction.

A slight heel and durable rubber outsole that offers good traction.

The heel is stacked with leather and welt materials.

Inside is a comfortably cushioned insole for support.

---
8
Flyknit Materail Summer Shoes
These models from Skechers are lightweight, airy, and very easy to slip on and off, the perfect summer leisure wear shoe.
Features Flyknit mesh uppers and a comfortable relaxed fit for superior cooling and breathability.

A thick and durable rubber outsole that offers good traction.

Inside there is a plush memory onsole for cushioned comfort and support.

Available in a few color options.

Easy slip on and off the design.

---
Comparison Table: Breathable Summer Shoes
---
---