High Arches can cause injuries such as ankle sprain and plantar fasciitis.
When you can't find the correct shoes for high arches you might want to try and use good quality insoles for high arches, most probably a good quality one will do the work with good results.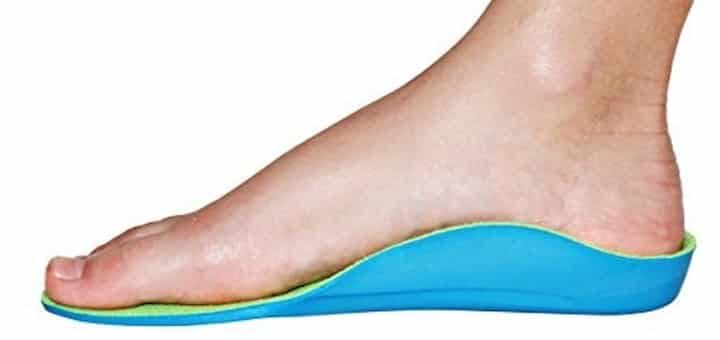 ---
Causes and Symptoms of a High Arch
A high arch occurs because of excessive and fixed flexion of the arch of your foot.
While you typically bear the stress of the weight of your body across your entire foot with normal and lower arches, a high arch results in the weight being carried mainly by your heels and balls of the foot.
The high arched foot lacks the flexibility to absorb shock which in turn causes impact to the rest of your body and feet and can result in supination when your feet roll outward excessively. This, however, can increase your risk of attaining an ankle injury.
Unfortunately, a high arch can develop in one or both feet at any age or you may have inherited them genetically.
There are not many causes that you hold in your power that cause a high arch, but rather physical and medical conditions and genetics;
Inherited – A high arch may be a structural deformity of the foot that you are born with or inherit at a later stage in your life.

Neurological Condition– Neurological conditions such as Charcot-Marie-Tooth disease can cause a higher arch.

Other Conditions – Other conditions including post-stroke paralysis, spina bifida, cerebral palsy, clubfoot, poliomyelitis, and muscular dystrophy, can all cause a higher arched foot or feet.

All of these conditions can result in pain and impairment, although the Neurological causes will progress much faster and be much more severe, requiring urgent medical attention.
Here are some symptoms to take heed of when you have a High arch;
Metatrasalgia, which is a cramp or pain in the ball of your feet.

Lateral ankle instability which, can cause you to trip and fall because of imbalance.

Hammertoes or bend and deformed toes.

Calluses and Bunions forming suddenly.

Knee, hip, lower back and ankle pain.

---
Features of Good High Arch Orthotics
Cushioninng and Shock Absorbency – Dual or tri-layer will provide the best cushioning and gradually absorb the shocks coming from your feet.

Firm Support – A firm bottom layer, made from foam or latex, topped with a softer, mouldable top layer is the latest configuration for high arch insoles.

Heel Cup – A deep heel cup to provide better stability by allowing the heel to sink down and the midfoot to level-up with the midfoot when touching the insole.

Midfoot Support – A thick cushioning midfoot to gives better support and correct weight distribution along the arch of the foot.

---
Reviews: Best Insoles for High Arches
---
1
Supportive High Arch Insoles
A shock-absorbing and arch support insole that will fit most athletic shoe brands as well as your New Balance shoes.
Features Heel and Forefoot cushioning, for superior shock absorbency and comfort.

The arch shape has special airflow channels that expel warm air and allows cool air to enter.

The extra deep provides additional support and stability.

Lined with a no-friction, anti-blister to coat.

---
2
You should consider using insoles that can fit almost any shoes and can relieve the pain you have.

These insoles can also be helpful to add some extra support on top of your specialized shoes.

You should consider soles that cater to high arches, such as the Sof Sole Fit Series pictured below.

Pay attention to buy the orange and black color insoles as the other colors are for a natural arch or low arch.

---
3
High Arched Support Insoles
These are professional Orthotic designed insoles that provide structural support and stability required bu a higher arch.
Features a deep heel cup for stability and support.

Stabilizing cap and high profile shape with arch support.

Closed cell foam, high density cushioned support and comfort.

Smooth moisture-wicking top layer.

---
4
Custom Select High Arch Insoles
The Aetrex High Arch insole provides all the support and comfort features who may ever need for a high arch.
features a cushioning gel system to attenuate shock in the heel and ball of the foot area.

The copper guard cover protects your feet against germs and odor and wicks away moisture.

Features a high arch contoured and stabilizing design.

It offers excellent support and comfort for a high arch.

---
5
The perfect insole to improve alignment and provide support for a higher arch.
Two-part arch support system with a supportive base and comfort layer on the top.

A flawless fit for a high or even extra high arch.

Form yet comfortable support and excellent pain relief.

---
6
High Arch Supportive Insole
One of the most popular insoles that cater to specific foot conditions and shapes, the Orange range from Superfeet is ideal for high arches.
Made with AERSPRING dual comfort foam with a high volume fit and extensive high arch support.

A reinforced stabilizer cap ensures structural stability.

Deep heel cup to support your heels during high impact.

High impact foam forefoot for better shock absorbency.

---
Index Table: Top Rated Insoles for High Arches
---
---