The arch of your foot makes up the most important part of the entire structural composition of your feet.
Your foot's arch bears all your weight when you walk or run and absorb the pressure and shock from each step that you take.
As a result of certain medical conditions, genetics, weight gain, and other factors, the arch height may vary in each person.
This is why it is essential to choose the best High Arch Support Flip-Flops for your feet!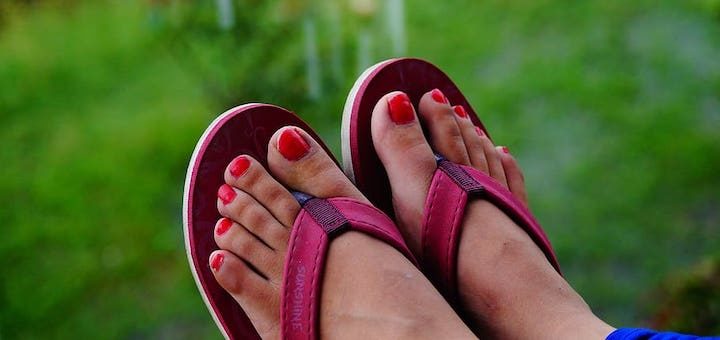 ---
Different Types of Arches
Some people have high arches where others have low arches, and some are in between, which we consider normal arches.
The proper supportive footwear for your arches is vital to prevent musculoskeletal problems that can lead to injury, loss of activity, or even disability.
People tend only to choose good supportive shoes when they buy work or sports shoes. Dress shoes and casual shoes that are worn at home are usually neglected.
It is just as important that the shoes you wear casually at homes, such as slippers or flip flops, are also supportive and comfortable.
To see what type of arch you have, low, neutral, or high, you can wet your feet and press them on a surface that will show the pattern.

Low and Flat Arches – A flat or low arch will have a little curve from the big toe to the heel. You will also observe a flat foot or low arch when your entire foot rests on the floor when you are standing.
Neutral Arches – A normal arch will show a print between a high and low arch. People with different arch types need different levels of support; A normal arch also needs good support to reduce pressure and keep the foot healthy.
High Arches – Slippers for high arches will show a thin strip from the heel to the ball of the foot.
---
The Benefits of Flip Flops
Flip Flops do not seem like shoes that can give much support or cushion.
Today many flip-flops designs aim mainly at providing support and comfort for foot conditions and pronation.
If you choose the correct make and flip flop model, you will have all-day support and comfort in a shoe you can wear at home, in the garden, and on the beach.
Flip Flops are easy to wear, convenient shoes, perfect for the summer, particularly for feet that tend to sweat excessively or swell.
---
Features of a Good Arch Support Flip Flop
Uppers – The upper webbing r thong can consist of rubber, textile materials or a foam such as EVA or crosslite.
Footbed – The footbed should be contoured, anatomical, or biomechanical in shape to provide good support. You can also look at a footbed with arch support. Cushioning such as EVA or foam, cork, or latex is also ideal.
Outsole – Look for a durable rubber or synthetic outsole with a lug tread for better grip.
Options – Most flip flops are available in more colors, sizes and widths, depending on the specific brand and model.
---
Reviews: Top Rated High Arch Flip Flops
We have researched and listed some of the best available Flip Flops with their reviews; that provide support for low, normal, and high arches;
We hope you love the products we recommend!
So that you know, We may collect a share of sales or other compensation from the links on this page.
---
1
Arch Support & Motion Control FlipFlop
The Vionic Flip Flop Sandal with Orthaheel technology is the perfect flip flop sandal for high, low, or neutral arches as it provides both cushioning and motion control.
Comfortable leather uppers that are soft and light on your feet.
A perfect sandal for recovery after a sports injury.
The Motion Control footbed is biomechanically designed and contoured and made from triple-density EVA.
Added rear foot stability and cushioning for shock absorption and support.
The forefoot and heel are cushioned to relieve pressure and reduce strain.
Available in different color options.
A tough and durable Vibram outsole is providing a good grip on many surfaces.
---
2
High Arch Support Flip Flops
A classic and sporty flip flop for everyday wear, the SOLE Sport is comfortable and water-friendly, a great choice for wearing to the beach and swimming pool. This flip-flop provides good cushioning and support that is perfect for higher and neutral arches.
Cushioned footbed for added support and shock absorbency.
Soft synthetic straps offer a comfortable and relaxed fit.
The ultra-soft polyester liner ensures all-day comfort.
The synthetic sole offers excellent traction on and off the beach.
Available in five different colors
---
3
Arch Support Flip Flop Sandal
The Olukai Ohana is a flip-flop that provides exceptional arch support for all types of arches; it is a durable and water-resistant sandal that will ensure your all-day comfort.
A soft nylon toe post webbing with a laser-etched logo and embroidery detail for a more classy appearance and a comfortable fit.
The rubber sole is non-marking featuring a coral reef lug design for exceptional traction on many surfaces.
The upper strap is water-resistant made from synthetic materials with a soft textile lining.
An anatomical ICEVA drop-in footbed with a compression-molded EVA midsole promises you superior comfort, support, and shock absorbency.
Available in a large variety of colorful designs.
---
4
Cushioned High Arch Support Flip Flop
The OOfos OOriginal flip flop features the popular OOfos OOfoam for comfort and support and enhances natural articulation. A fantastic flip-flop for any foot type or arch height.
The famous OOfoam will give you cushioned support and comfort.
A durable rubble outsole that ensures excellent grip and traction.
Enhances impact absorption and natural foot articulation.
It provides excellent arch support for any arch type.
A durable and tough shoe that is machine washable
---
5
Beach Arch Support Flip Flop
This beach flip-flop provides well-cushioned support as well as a massaging footbed that keeps tired feet feeling brand new.
The uppers are made from high-quality soft EVA with a soft toe thong.
The rubber outsole is durable and gives a good grip.
The soft footbed is antibacterial and odor resistant.
Available in a variety of colors and patterns.
---
6
High Arch Support Flip Flops
Another perfect all-rounder suitable for a low, high, and neutral arch, these New Balance Flip Flops provide fantastic support and aids in realigning the foot into its natural position.
The contoured footbed with its 360-degree heel cup and anatomical arch support is perfect for every arch type.
A durable TPR outsole that is flexible and provides a good grip on different surfaces.
The synthetic PU uppers with a mesh lining are breathable and supportive for a comfortable fit.
A durable, stylish, and versatile sandal.
Available in a few different colors.
---
7
Orthotic High Arch Flip Flop
The FlipThotic Orthotic Sandal is a true breakthrough in technology in an ever-popular flip flop. The patented design and added comfort and support features ensure you the maximum performance and arch support.
The patented metatarsal riser pad aids in encouraging biomechanics throughout the entire stride.
The rubber outsole provides exceptional grip and traction capabilities.
An oversized compression point ensures a high rebound and comfort with each heel strike.
A deep heel cup helps to stabilize the foot with lateral movements.
An EVA arch support enhances the foot's natural enhancement by molding to the shape of the arch.
---
8
Flip Flop for Arch Support
The uppers are a quick-drying textile.
They are ultra-light and comfortable.
The sole has an ergonomic design with cushioning.
The Uppers are also padded and leather-lined for your comfort.
More colors are available.
---
9
The sandal is synthetic and easy to clean.
They have a water-friendly design with rubber uppers and a soft foamy sole.
There is cushioning in the heel and ball of the foot area.
The sandal also has built-in arch support.
Many color options are available.
---
10
The flip flop has a podiatrist-designed footbed with proper arch support,
It is cushioned and comfortable for everyday wear,
The rubber sole provides excellent slip resistance.
There are also many colors and prints available.
---
11
Flip Flop for Arch Support
The uppers are a quick-drying fabric,
The flip flops have Vio Motion support with three zones of comfort.
There are arch support, heel, and ball of foot support and cushioning.
The footbed consists of EVA Foam, and there is a rubber sole.
---
Index Table: Top Rated High Arch Support Flip Flops
---
The Comfort of a Flip Flop
Wouldn't it feel great if you could kick off your work shoes at the end of the day and swap them for a comfortable and supportive pair of flip-flops?
Think about taking a stroll to the beach or the pool with a pair of flip-flops that correctly provide support and shock absorbency for your foot and arch type.
Ensure that you choose the perfect fit because comfort and support are just as important outside work and sports activities when you are lounging or relaxing.
---
---