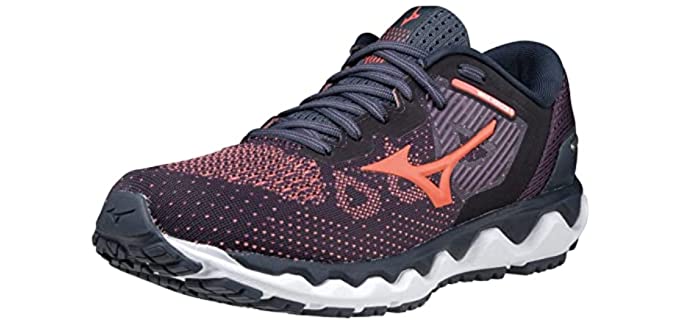 The expected release date for the Mizuno Wave Horizon 7 is on July 26, 2023.
The Mizuno Wave Horizon 7 will have the following main updates:

The New Mizuno Wave Horizon 7 will be all you ever want in a good running shoe.
It will offer much more responsive and balanced cushioning, along with just enough stability so as not to impede needed flexibility for movement.
The new model will be well cushioned, as well as supportive, especially in the more structural uppers.
The outsole will offer excellent durability, as well as very reliable traction.
It will be an outstanding shoe model for individuals who need more stability, especially for overpronation and lower arch types.
Previous Models:
The Mizuno Wave Horizon 6 release date was on May 28, 2022.
---
Latest Version of the Mizuno Wave Horizon Shoe
*
---
Video
---
Price
The MSRP (Manufacturer's Suggested Retail Price) for the Mizuno Wave Horizon 7 will be $170.
As you will see, the price range will be relatively the same, and quite affordable, with the new model.
Arch Support and Pronation Control
The Mizuno Wave Horizon 7 will offer exceptional stability and will be ideal for Overpronation.
It will be suitable for individuals who have a low to flat arch type.
The shoe will ideally be a stability-shoe with firmer cushioning and better structural support.
Terrain
The new Mizuno model will be a road-running only shoe.
I would not recommend it for trails or wet conditions.
Use
You will be able to use your new Mizuno Wave Horizon 7 for jogging and for walking.
It will also be suitable for long-distance running, but not for marathons.
Durability
The Mizuno Wave Horizon 7 will be even better quality than its predecessor.
It will have a durable and reliable outsole.
Fit and Sizing
The fit will be a medium fit in general with a roomy toe box.
There may also be wider width options available to you.
Weight
The Mizuno Wave Horizon 7 will be a heavy-weight shoe model.
Therefore for the men, it will be 329 grams, and for the ladies, 275 grams.
---
Elevation of the Mizuno Wave Horizon 7
Heel Height
There will be a heel height of 28 mm.
The heel height will provide good, sturdy stability.
Forefoot Height
The forefoot will be 18 mm.
The height will be ideal in relation to the heel.
Heel-to-Toe Drop
The heel-to-toe drop will be a solid 10 mm.
The heel-to-toe drop is perfect in a heavy-weight running shoe.
---
Components of the Mizuno Wave Horizon 7
Outsole
The Outsole will be improved for traction and abrasion resistance with a U4icX Strobel board for underfoot support and stability.
There will be a X10 durable carbon rubber outsole that offers excellent support and durability.
Midsole
There will be a more springy and energizing Enerzy midsole with supportive wave foam for stability.
The midsole will be more reliable and supportive than previous EVA technology.
Upper
The Uppers will provide a structural supportive fit with mesh and synthetic materials for breathability.
There will be a smooth and seamless moisture-wicking interior lining.
You can similarly look forward to some fresh new designs and color options.
---
Brooks® Wave Horizon vs. Wave Inspire
---
*
---
---
---