Pronation is the inward rolling of your feet when you walk and run; it forms part of the natural movement, which helps your lower legs deal with shock from impact.
Some people tend to pronate more, which is called overpronation.
Overpronation could affect how you walk or run and cause injuries or foot conditions in the long run.
This is why choosing the correct running shoes for your pronation type is important.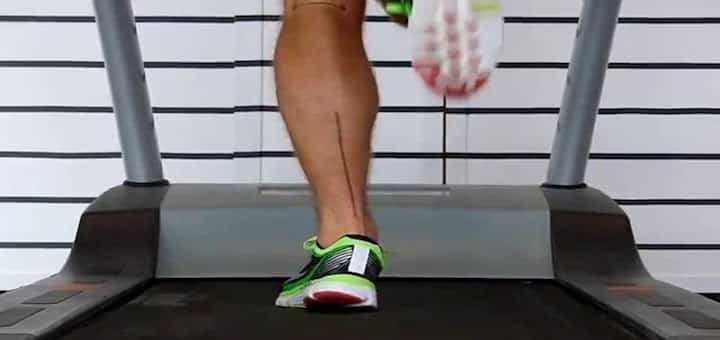 ---
---
The Cycle of Pronation
Pronation occurs at the joint that lies just below your ankle, called the subtalar joint.
When your foot lands on the ground during walking or running, it is called the initial contact or gait cycle; it is at this cycle or point where there is an inward rolling motion called pronation.
---
What type of Running Shoe is the Best for Over Pronation
When you overpronate, a shoe that provides maximum support, structured cushioning, and excellent stability is the best type of running shoe.
Stable walking and running shoes for overpronation distributes the impact of walking and running much more effectively and thus minimizes pronation.
Medial post support, arch support via a firmer midsole, or extra cushioned motion control are good characteristics of a running shoe for overpronation.
There are mainly two types of running shoes for Overpronation;

Motion Control – Motion control running shoes are designed more for severe overpronation.
Stability – Stability running shoes are ideal for light to moderate overpronation and are easier to find in a running shoe.
---
Features of a Running Shoe for Overpronation
Uppers – Lightweight and breathable uppers that are non-irritating to the skin.
Support – Stability and or motion control technology. A medial post support.
Cushioning – A cushioned insole or midsole. Good shock absorption.
Outsole – A durable, shock-absorbent, grippy outsole.
---
Reviews: Best Running Shoes for Overpronation
Here are some of the top-rated running shoes with fantastic characteristics aimed at correcting overpronation;
1
Overpronation Corrective Running Shoe
The Asics Gel Kayano is true to its heritage and provides unsurpassed performance in a more modern design. Perfect for mild to moderate overpronators with the plush and comfortable sock liner.
Seamless and breathable uppers for optimal support and stability without irritation.
A re-engineered heel clutching system for a secure and comfortable fit.
A ComforDry sock liner that provides plush cushioning and moisture-wicking capabilities for a cool and dry run.
The Gel cushioning system provides the best shock absorption and support and, along with the Impact Guidance System, helps enhance the foot's natural gait cycle.
A durable and long-lasting outsole offers good grip and traction.
---
2
Cushioned Running Shoe for Overpronation
The Mizuno Wave 23 is one of their latest technology running shoes in the Wave range.
The uppers on the Wave Rider consist of breathable mesh with synthetic overlays for structural stability.
The Neutral running shoe is good for underpronation and even slight Overpronation, yet it will work best for moderate Overpronation.
The Wave rider features new technology, a Dual compound midsole, that is much more responsive.
The shoe has ultra-soft cushioning and a snug, comfortable fit with moisture-wicking linings.
---
3
WIDE Running Shoes for OverPronators
The Brooks Adrenaline GTS provides balanced cushioning and stability for a smooth sailing run and extra support.
Very Wide-width shoes for even a giant foot.
Lightweight and comfortable uppers with a conformable saddle.
An adjustable eyelet for a secure and comfortable fit.
The BioMoGo DNA midsole offers superb cushioning that adapts to every step and stride.
A Progressive Diagonal Rollbar keeps your feet in their position and guides the body back to its natural motion.
The full-length segmented crash pad provides a smoother heel-to-toe transition and absorbs impact shock.
---
4
Severe Overpronation Running Shoes
This amazing shoe is made correctly to suit those who suffer from various problems associated with overpronation. It is very lightweight but very sturdy and long-lasting.
This shoe was built to handle severe overpronation.
It has many features, including high-quality rubber soles that effortlessly absorb shock.
The forefoot has specially designed flex grooves, and it is considered to be among the best wide toe box walking shoes.
It also has unique N2 low-to-the-ground cushioning.
It is also suitable for those looking for quality diabetic care shoes.
The medial post comes with a new technology called Stabilicore, which ensures maximum stability.
The antimicrobial footbed is well-cushioned for total comfort.
---
5
Trail Running Shoe for Overpronation
Enjoy soft and cushioned support in a lightweight, comfortable running shoe with the Asics GT 2000 Trail running shoe for adventurous outdoor runs.
Comfortable and breathable upper construction for the best fit.
The Fluidride technology delivers a combination of bounce back and cushioning that is lightweight and exceptionally durable.
A Dynamic Duomax support system enhances stability and support with less weight.
Rearfoot and Forefoot Gel cushioning to attenuate shock during impact and ensure lasting comfort.
The durable outsole provides excellent traction and long-lasting wear.
---
6
Best Running Shoes for Overpronation
This high-quality imported shoe is made from a combination of high-quality synthetic and nylon materials.
The rubber soles are of good quality, and it has an 8 mm heel-to-toe drop, which is very useful for those suffering from overpronation.
It also has other features like an arch lock and support frame for helping people suffering from overpronation.
It also has a midsole that is made from EVA Foam dual-density.
The outsole is also very durable and made from a unique compound known as XT-900.
So, in totality, it offers good value for money.
---
7
Running Shoes for Over-Pronation
It is an excellent option for flat feet and overpronators. The Nike Revolution provides good arch support in lightweight shoes.
The Nike Revolution has good arch support, and at the same time, they are lightweight.
You can wear these shoes for an everyday casual look and running on roads or treadmills.
The reflective silver on the uppers allows you to run or walk at night, ensuring better visibility.
Flyknit material and Flywire cables help greatly with support structured into the shoe without looking bulky.
---
8
Overpronation Athlethic Runners
The Brooks Addiction is the most famous shoe Brooks ever came up with for flat-footed and overpronators.
Runner's World recently gave this latest variant as the Greatest Update of the year.
The shoe uses its trademark PDRB triple-density medial post, which will be its primary motion control technology that became the best athletic shoe for overpronators, so it remains the top motion control shoe in the marketplace.
This shoe now offers irregular top overlays that support the arch nicely.
Brooks added a higher heel and a caterpillar heel pad to prevent further overpronation, which better corrects the Runner's and Walker's heel landings.
---
9
Over Pronator Running Shoes
---
Index Table: Running Shoes for Overpronation
---
To Conclude
Every runner that tends to overpronate should opt for a shoe that delivers maximum support and structured cushioning to provide added stability. A maximum support shoe is one of the most stable shoes you can find that helps greatly to reduce overpronation. Running shoes that provide support or cushioning will effectively help your feet distribute impact when you are running.
---
---