Overpronation is a condition when there is an excessive inward rolling of the feet after landing.
It is a situation where the feet continue to roll inward when it should be pushing off forward.
Over-Pronation usually occurs in people with flat feet or fallen arches, but it is not limited only to this type of foot arches.
This condition can lead to knee pain, ankle pain, and shin splints.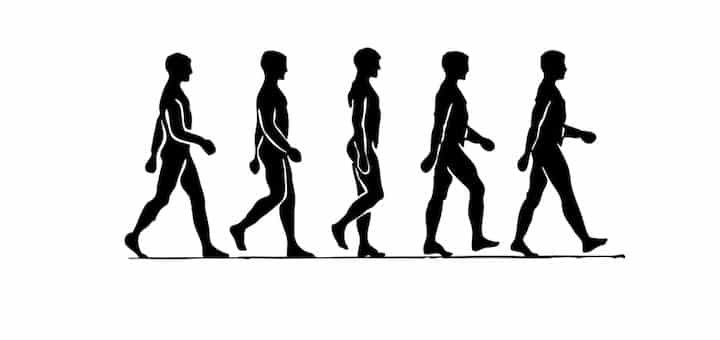 ---
How to Tell Whether You are an Ovepronator
One sure method to determine if you are an overpronator is to look at the bottom of your shoes.
If you see a pattern of wear that is on the inside of the shoe (the yellow color in the image below), then most probably you are an Overpronator and possibly have flat feet.
Hence, it is important for an over-pronator to look for suitable shoes to correct this condition so they can avoid injuries and excessive pressure on the inner side of the feet.
---
Wearing the correct footwear or using and Insole for Overpronation can greatly aid in correcting the condition as well as provide relief of pain caused by overpronation.
---
Reviews: Walking Shoes for Overpronation
The shoes we have chosen are all well-known brands with top ratings and reviews that are excellent options to help correct overpronation and eliminate pain.
---
1
Walking Shoe for Overpronator
The New Balance 928v3 provides excellent arch support and a firm heel for overpronation while also having a roomy toe box for a wider.
Incorporating antimicrobial properties, ensuring your feet health by eliminating undesired bacteria while preventing nasty smell.

The '928' has a spacious toe box intended to lessen joint inflammation and provide extra toes movement, which is a key factor in relieving bunion pain.

People who have wide feet would certainly like the "New Balance 928" because it produced in extra-wide sizes; A vital aspect in a correct posture.

Advisable for those who have diabetes. A combination of soft material and soft insoles. It provides a reduction in horizontal movement of the foot within the shoe and limits the motion of foot joints.

With a firm heel and arch support system and a non-binding structure, this shoe is advisable for those suffering from over-pronation.

Nearly all heavy users rate this kind of "New Balance" shoes pretty high on most parameters: comfort, layout, and strength.

There are a few possible causes of heel pain, such as for overweight and excessive exercise, in this case, your feet require the extra cushioning, provided by this shoe, to help inhibit the inflammation at the bottom of your feet.

A non-marking outsole, perfect for vulnerable floors, such as the gym, as well as yachts.

---
2
Walking Shoes for Over Pronation
As the name suggests, these shoes are very familiar with the consummate walker.

Soft and supple full-grain leather uppers for a more comfortable fit.

A MOGO midsole provides exceptional cushioning and shock absorbency.

The rearfoot and forefoot Hydroflow technology ensures additional cushioning and shock absorbency.

The triple-density PDRB post on the medial side ensures industry-leading stability.

Synthetic outsole delivers superb traction.

---
3
Flat Feet Overpronation Walking Shoes
Podiatrists Designed Shoe for use by Overpronators.

The removable orthotic footbed and Tri-Plantar Motion Control Technique ensures exceptional comfort and support.

It is extremely popular for those who suffer from pain due to flat feet, heel pain, calluses, the ball of foot pain, and bunions.

A classy look with mesh uppers and Shock-absorbing EVA midsole.

Human-made sole – specifically designed to keep you always on the move.

It comes with a built-in Orthoheel insole that is very useful for controlling foot gait.

---
4
Lightweight Overpronation Walking Shoe
The New Balance 847 is the perfect walking shoe for overpronation as it provides all the support functions and prevents excess rolling of your feet.
Here is why we recommend these walking shoes for overpronation:
Here are Reviews for the Men's Model and Here are Reviews for the Women's Model.
This shoe is manufactured from breathable and lightweight cotton.

Its elastane with a Lightning Dry moisture-wicking lining to reduce foot fatigue and keep your feet dry and fresh.

The ABZORB cushioning and Ortholite foam insert provide lightweight support and comfort.

A Rollbar stability system ensures that you do not pronate excessively.

A durable rubber outsole with Ndurance rubber compounds on all the high-wear areas of the outsole.

---
---
---