The best orthotic insoles for people that tend to overpronate are the ones that have the corrective arch support that limits the foot from rolling inward; they also need to be cushioned at the same time in order to absorb the shocks while walking or running.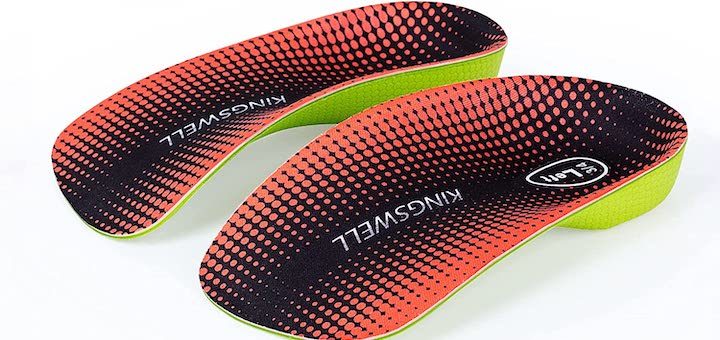 ---
What Happens When You Overpronate?
With overpronation, your foot lands on the outside of the heel and rolls inward excessively, which in turn transfers weight to the inner edge of your foot instead of the ball of your foot.
With the push-off in overpronators, the big toe and the second toe, do most of the work instead of the entire forefoot.
Overpronation occurs mostly in people who have a low arch or fallen arch, also called a flat foot.
The following foot conditions are associated with overpronation: Shin Splints, Plantar Fasciitis, Bunions, and Heel Spurs.
---
How To Protect Your Feet Against Injuries when You Overpronate?
Foot orthotics and wearing the correct shoes are your main aids for overpronation.
Specific overpronation insoles will reduce your risk of injury and lessen the stress on your feet and legs from the impact.
It is always advised to do some stretching exercises before running while using running shoes for overpronation, as it will help to reduce the impact of overpronation.
Strengthening your muscles and keeping a good form when running are also encouraged to reduce overpronation.
---
Features of a Good Insole for Overpronation
Size – A Full or 3/4 insole should do the trick but not less than that.
Support – Look for arch support for your specific arch type; most insoles indicate whether they offer low, high, or neutral arch support. For Overpronation, the arch type is usually low, so seek a low arch support insole.
Cushioning – A still insole with ample cushioning.
Cover – Smooth and moisture-wicking top cover.
Design – Contoured design or a deeper heel cup for stability.
---
Reviews: Best Insoles for Overpronation
1
Soul Insole Shoe Bubble Orthotics have been biomechanically designed to stop Over Pronation and guide the feet to proper alignment.
Made with a soft memory gel, these insoles train your foot to strengthen its natural arch without causing your foot to become reliant on support.
This patented design works with your shoes to provide the ideal amount of arch support and posting to stop over pronation.
Shoe Bubble orthotic insoles come in multiple sizes and thicknesses for men, women, and children, and also fits in all kinds of footwear including sandals, dress shoes, and athletic shoes
With their simple peel and stick adhesive backing, you can easily secure them in place yet they are also able to be washed and moved from shoe to shoe.
Customers say they feel like "walking on clouds" and since they are so small in size, they will not make your shoes too tight!
---
2
Quality Overpronation Insoles
3/4 Length insoles provides anatomical arch support.
Comfortable pressure for those with flat feet and overpronation.
Stiff EVA material provides for arch support.
Correct Over-pronation by using a structured heel cup to stabilize the foot in the right position.
---
3
Motion Control Overpronation Insoles
These insoles will provide you with maximum comfort and support, particularly for overpronation.
These insoles provide control and prevent excess pronation via a slightly higher rear foot wedge.
They provide motion control and stability by their EVA orthotic that is reinforced with a hardened plastic shell.
The heels of the insoles are cushioned for better shock absorption.
They can be trimmed in the forefoot for exact fit into the shoes.
---
4
Orthotic Insoles for Overpronation
The Powerstep Pinnacle Maxx offers exceptional flexible cushioning as well as firm support, perfect for controlling an overpronation.
Medical-grade foot stability is achieved with the firmer arch support these insoles offer.
Slightly Angled Exterior Heel Platform, Perfect for severe pronators.
The angled deep heel cradle platform offers greater motion control, which fixes pronation.
The double-layer EVA foam cushioning gives you enhanced support.
The top fabric has anti-microbial properties and helps to reduce heat and friction when you are performing strenuous activities.
---
5
Provide arch support and distribute the weight across the insole to minimize pressure in the foot.
Perfect insoles for overpronation.
---
6
Overpronation Low Arch Support Insoles
The walk Hero Overpronation Insole offers excellent cushioning and stability features along with all-day comfort and support.
Good arch support to properly align your feet and legs.
A Deeper heel cup for better control and stability.
It is made from premium and shock-absorbing EVA material.
There is a smooth and moisture-wicking top lining.
---
7
Arch Support Overpronation Insoles
The Wernies Athletic Insole is designed for use when running, walking, or performing sports and provides excellent Overpronation control.
Offers contoured Neutral and flat arch support designed for most athletic and work shoe types.
The deeper heel cup, reinforced arch, and anti-slip top layers ensure much better stability and pronation control.
It is made from fine quality medical grade EVA with Gel pads and a moisture-wicking top layer.
Cushions and absorbs shock, particularly in the heel area.
---
8
From Superfeet, we have the Carbon Range, a Low Volume, and Low Profile, more flexible insole with stabilizing features.
The uppers consist of warp knit polyester that is comfortable and keeps your feet dry.
A Low profile fit that is less bulky.
There is a Carbon Fiber Stabilizer cap reinforced with Evolyte for structure and support.
The heel cup also aids with stability and motion control.
Cushioned for comfort and flexible for easy movement.
---
9
A high volume comfortable insole to help with Overpronation.
There is a Heel Stabilizer cap for improved stability.
The deeper Heel cup ensures that you get the best support and heel protection.
The High profile shape supports the arch and offers optimal stability for Overpronation.
---
10
The New balance Overpronation Insole consists of TPU Nylon, Polyurethane, and Aqua Pororn materials.
There is a deep heel cup for stability and heel support.
The Separate Heel and Forefoot cushioning provide shock absorbency in the right areas.
The Arch is molded for optimal support, and there is a metatarsal pad.
---
11
The Insole features an Evolyte stabilizer cap for stability and motion control.
Durable construction and reliable support for many miles.
The Therapeutic foam cushioning absorbs shock and provides comfort.
There is also an Evolyte Carbon stabilizer cap that responds to compression and springs back into shape.
---
Index Table: Top Rated Insoles for Overpronators
---
---