The adidas Ultraboost 24 release date has been postponed to March 7, 2024.
The adidas Ultraboost 24 will have the following main updates: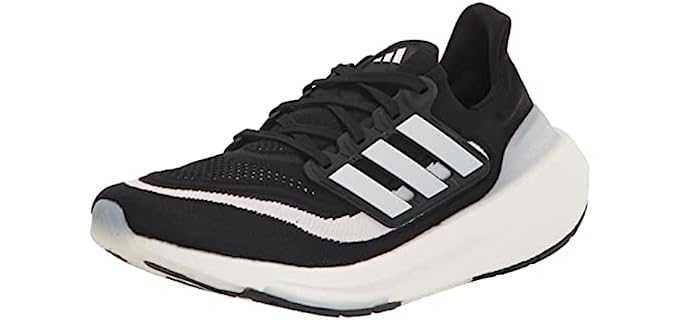 The new model will be an extremely comfortable daily running shoe that will be much more durable and reliable.
It will be extremely lightweight and will not drag you down.
There will by excellent grip in the outsole for wet and dry surfaces.
The new Ultraboost will fit true to size with dreamy and plush cushioning.
It can be used as a popular comfortable casual sneaker or as a full-on running shoe for everyday running.
Previous models of the Ultraboost:
The Adidas Ultraboost 23 release date was on February 6, 2023.
The Adidas Ultraboost 22 release date was on December 9, 2021.
---
Latest Version of the Adidas Ultraboost Shoe
*
---
Video
---
Price
The MSRP (Manufacturer's Suggested Retail Price) for the Adidas Ultraboost 24 will be $190.
You will find that there are quite a few new and improved features and that the Ultra Boots will be a worthwhile investment.
Arch Support and Pronation Control
The new model will be ideal for neutral pronation and a heel strike.
It will be perfect for normal and high arch types.
The cushioning will offer much more balanced support and comfort.
Terrain
The Ultraboost 24 will be ideal for road running.
Because of the improved traction outsole, you will be able to use them on wet and dry tarmac surfaces.
Use
The new model will be ideal for a variety of uses.
They will be gorgeous as casual shoes, such as with the predecessor.
On the other hand, they will be ideal for running, jogging, treadmill running, and long-distance running.
Durability
As I have mentioned, the new model will be much more durable.
The improved outsole will also last much longer.
Fit and Sizing
The Fit will be for heavy and wide options.
There will be wider widths available, and the fit will generally be quite accommodating.
Weight
For The Ladies, there will be a weight of 283 grams.
For the gents, they will weigh 332 grams.
---
Elevation of the Adidas Ultraboost 24
Heel Height
There will be a heel height of around 33.9 mm.
The heel height will be perfect for heavier individuals on their feet.
Forefoot Height
The forefoot height will be around 23.9.
This will also be perfect for better stability.
Heel-to-Toe Drop
There will be a 10mm heel-to-toe drop.
The heel-to-toe drop will be perfect as a running shoe.
---
Components of the Adidas Ultraboost 24
Outsole
The Outsole will be improved for traction and performance on wet and dry surfaces.
The outsole will be a durable rubber with Stretchweb Continental rubber.
It will offer natural flex and will be medium flexibility.
Midsole
There will be an improved boost midsole for cushioning and support.
The Boost midsole features energy capsules that provide durable and energizing cushioning.
Overall the midsole and insole cushioning will be designed for a heavyweight, thus will be quite durable and offer maximum shock absorbency.
Upper
The new and improved prime knit uppers will offer a breathable and more flexible fit.
The uppers will have a wider and roomier toe box frit, available wider widths.
You can also look forward to a few more color and design ranges in the Ultraboost 24.
---
adidas® Ultraboost vs. Solar Glide
---
*
---
---
---