Pronation is basically the inward rolling of your feet when you walk and run; it forms part of the natural movement which helps your lower legs deal with shock from impact. Some people tend to pronate either more which is called overpronation or less, which is called underpronation or supination than other people. Underpronation or overpronation could affect the way you walk or run and can cause injuries or foot conditions in the long run. This is why choosing the correct running shoes for your pronation type is such an important factor.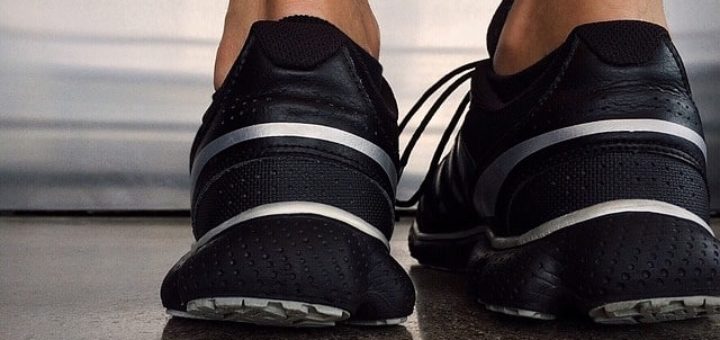 Table of Contents for the Best Running Shoes for Overpronation
The Cycle of Pronation
Pronation occurs at the joint that lies just below your ankle called the subtalar joint. When your foot lands on the ground during walking or running it is called the initial contact or gait cycle; it is at this cycle or point where there is an inward rolling motion called pronation.
What Happens When You Overpronate
With overpronation, your foot lands on the outside of the heel and rolls inward excessively which in turn transfers weight to the inner edge of your foot instead of the ball of your foot. With the push off in overpronators, the big toe and second toe do most of the work instead of the entire forefoot.
Overpronation occurs mostly in people who have a low arch or fallen arch also called a flat foot. Shin Splints, Plantar Fasciitis, Bunions and Heel Spurs are some foot conditions associated with overpronation.
How To Protect Your Feet Against Injuries when You Overpronate
It is always advised to do some stretching exercises before running; this will also help to reduce the impact of overpronation. Strengthening your muscles and keeping a good form when running are also encouraged to reduce overpronation. Foot orthotics and wearing the correct running shoes are your main aids for overpronation. Good running shoes will also help to reduce your risk of injury and lessen the stress on your feet and legs from the impact.
What type of Running Shoe is the Best for Over Pronation
When you over[ronate a shoe that provides maximum support, structured cushioning as well as excellent stability is the best type of running shoe.
A stability running shoe distributes the impact of running much more effectively and thus minimizes pronation. A medial post support, arch support via a firmer midsole or extra cushioned motion control are also good charactaristics to look for in a running shoe for overpronation.
Features of a Running Shoe for Overpronation
Lightweight and breathable uppers that are non-irritating to the skin.
Stability and or motion control technology.
A cushioned insole or midsole.
A medial post support.
Good shock absorption.
A durable, shock absorbent and grippy outsole.
Reviews on the Best Running Shoes for Overpronation
Here are some of the top rated running shoes with fantastic characteristics aimed and correcting overpronation;

1
Overpronation Corrective Running Shoe
The Asics Gel Kayano 22 is true to its heritage and provides unsurpassed performance in a more modern design. Perfect for mild to moderate overpronators with the plush and comfortable sock liner.

Seamless and breathable uppers for optimal support and stability without the irritation.

A reengineered heel clutching system for a secure and comfortable fit.

A ComforDry sock liner that provides plush cushioning as well as moisture wicking capabilities for a cool and dry run.

The Gel cushioning system provides the best in shock absorption and support and along with the Impact Guidance System helps to enhance the foot's natural gait cycle.

A durable and long lasting outsole offers good grip and traction.

---
2
Lightweight Running Shoe for Overpronation
For lightweight support and excellent stability in a running shoe for excessive overpronators, you cannot go wrong with the Mizuno Wave Paradox.

Dynamotion Fit uppers with 3D print execution for a snug fit that conforms support where needed.

A Smooth ride engineered midsole that has Double Fan Wave technology for the most stable ride from landing to toe-off.

The U4ic midsole delivers the most lightweight and resilient cushioning for maximum support.

A long lasting outsole is offering excellent traction.

The wider forefoot construction of the Mizuno Wave Paradox is suitable for foot conditions such as bunions and hammertoe and also allows for orthotics.

---
3
Running Shoe for Overpronation
The Brooks Adrenaline GTS 17 provides balanced cushioning and stability for a smooth sailing run and extra support.

Lightweight and comfortable uppers with a conformable saddle and adjustable eyelets for a secure and comfortable fit.

The BioMoGo DNA midsole offers superb cushioning that adapts to every step and stride.

A Progressive Diagonal Rollbar keeps your feet in their natural position and guides the body back to its natural motion.

The full-length segmented crash pad provides smoother heel to toe transitioning and absorbs shock on impact.

---
4
Stability Running Shoe for Overpronation
The New Balance M940V2 is an excellent stability running shoe that is built for the moderate to severe overpronator.

Soft and breathable fabric uppers for comfort and dryness.

The forefoot flex grooves and N2 low to the ground cushioning provide adequate support and cushioning for moderate to severe overpronators.

A T-Beam shank provides extra support and structure.

The cushioned antimicrobial Ortholite footbed is luxuriously comfortable and offers all day comfort and dryness without the odor.

A stabilicore medial post improves structural integrity and provides added support.

The durable rubber outsole provides excellent shock absorption and grip.

---
5
Trail Running Shoe for Overpronation
Enjoy soft and cushioned support in a lightweight and comfortable running shoe with the Asics GT 2000 Trail running shoe for those adventurous outdoor runs.

Comfortable and breathable upper construction for the best fit.

The Fluidride technology delivers a combination of bounce back and cushioning that is lightweight and exceptionally durable.

A Dynamic Duomax support system enhances stability and support with less weight.

Rearfoot and Forefoot Gel cushioning to attenuate shock during impact and ensure lasting comfort.

The durable outsole provides excellent traction and long-lasting wear.

---
To Conclude
Every runner that tends to overpronate should opt for a shoe that delivers maximum support and structured cushioning to provide added stability. A maximum support shoe is one of the most stable shoes that you can find that helps greatly to reduce overpronation. Running shoes that provide support or cushioning will effectively help your feet distribute impact when you are running.
---
---