Being overweight can take quite a toll on your feet, and the excess weight may cause some problems.
New Balance shoes for Overweight individuals offer excellent support, cushioning, and durability, which is unmatched.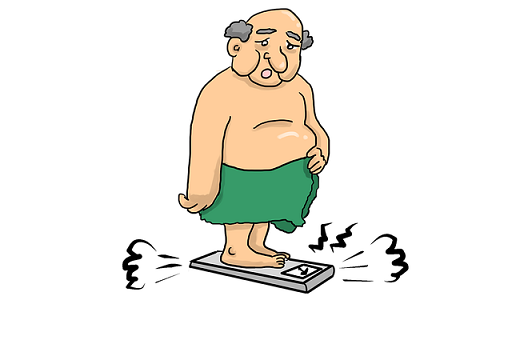 ---
How Being Overweight Affects Your Feet
Being overweight generally places excess pressure on your feet and joints in your lower limbs. It can make it more likely to experience arthritis, foot pain, and other foot conditions.
There are, however, a few key foot problems that are associated with obesity;
Type 2 Diabetes – Many times, individuals that are obese will develop type 2 diabetes; Diabetes, in turn, leads to Neuropathy which affects the nerves in your hands and feet. Neuropathy can lead to serious foot conditions and injuries because of a lack of sensation in your feet.
Foot Pain, in general, – Being overweight disturbs the way you walk and can contribute to general foot pain and discomfort because of excess strain on the muscle and tendons.
Posterial Tibial Tendinitis – Pain in the tendon that runs inside the ankle and foot, similar to Achilles Tendinitis.
Plantar Fasciitis – One of the main causes of heel pain is mostly seen in overweight individuals and those with a lower or flat arch.
Hidfoot Arthritis – This is arthritis and inflammation in the back of your foot.
---
What Should You Consider in Shoes When You Are Overweight
So what should you look for in a good shoe for being Overweight?
Comfortable Fit – Make sure your shoes fit comfortably, there are wider width options available, and they will offer a less confined fit.
Interior Volume – Make sure that your shoes have a roomy toe box and a fit that is wide enough so that your feet are not cramped inside the shoes.
Stability – Look for stability features, along with a more rigid outsole rather hand flexible to support your heels and ankles.
Cushioning and Shock Absorbency – You will need some extra cushioning to absorb shock and prevent impact on your feet and joints when you are overweight.
Moisture Wicking Lining – Being overweight, we generally get hot quickly and tend to sweat more, so always choose shoes that wick away moisture and ventilate properly.
---
Features of a Good New Balance Shoe for Overweight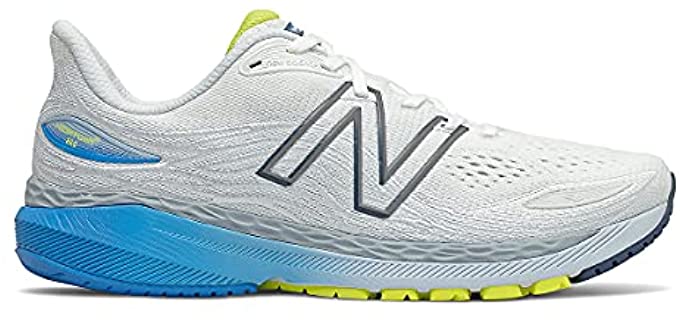 Uppers – New Balance shoes come in many width options, some even offer extra wide widths, for larger and wider feet. They have Mesh, engineered mess, Knit, textile, leather, synthetic leather, or leather and textile uppers, which greatly depends on the specific model. Most New Balance shoes do offer a roomy fit, while others offer a more flexible and accommodating fit.
Cushioning and Support – New Balance shoes do truly offer the best cushioning and support systems for overweight individuals. I particularly enjoy my pair of New Balance shoes, being quite heavy on my feet. They seem to be a bit more durable than most athletic shoes and offer much better impact protection cushioning, especially on the heels, which are mostly the area impacted if you are overweight. Cushioning systems such as the ENCApP, Ortholitem, and regular EVA is slightly firmer. While their ACTEVA midsole is more flexible, the TRUFUSE midsole is more responsive, and their Fresh Foam midsoles are extremely soft and plush. I particularly love their ABZORB midsole technology, which balances some stability and lightweight, durable cushioning, especially if you are heavy on your feet. If you need a bit of motion control for stability, they have models that feature Rollbar technology and other stability features. Then again, before I forget to mention it, each pair comes with an NB insole that is a lightly cushioned insole, which is removable, essentially just for comfort.
Outsole – New Balance shoes will have either a regular rubber or a blown rubber outsole. Then the tread will depend on whether it is a walking, training, or running shoe and whether it is for road use or outdoor trails.
Fit – Upper Dual-density collar foam offers support and comfort for ankles Ultra Heel design hugs the back of the foot for a snug, supportive fit
Other Features -As you will see, some of the models I have included are Medicare / HCPCS code = A5500 and may be eligible for Medicare reimbursement. They are generally ideal for Diabetic feet and similar conditions, which is not uncommon in overweight individuals.
Options – As far as options go, the models I have chosen all come in wide and some in extra wide width options, and most of them do offer a few color selections, from which you can choose. Wide XX and XXX wide widths
---
Reviews: The Best New Balance Shoes for Overweight
So, in conclusion, we have quite a few surprisingly noteworthy New Balance shoe choices that are truly perfect for anyone that is a bit overweight;
---
1
Walking Shoe for Overweight Persons
The New Balance WT10V4 is an Extremely lightweight running shoe with a wide fit.
Likewise, it is available in wider widths and accommodates wider and larger feet.
The uppers are breathable and comfortable and will flex with your movements.
An ACTEVA midsole for shock absorbency and an NB cushioned insole.
Furthermore, this lightweight running shoe is available in a few more color options.
---
2
Running Shoes for Overweight Individuals
My personal favorite is the New Balance 680V6 for Overweight individuals.
Even if it is wider, the regular medium width is ample in size. However, I recommend you size up half a size, as the toe curves up and takes up some toe space.
The uppers are extremely lightweight, breathable, and flexible, with many colors available.
There is my favorite ABZORB midsole and ACTEAV midsole that is energizing and lightweight,
The outsole is durable rubber, and it will offer a good grip and long-lasting traction.
---
3
In the same fashion, the Fresh Foam is also a well-cushioned shoe from New Balance.
The sole looks similar to a flatform sole, and it offers superb balance.
It has very soft and energizing cushioning that is more than enough if a heavyweight.
The uppers have a flexible and accommodating fit with synthetic and mesh construction.
More colors, as well as width options, are available to you.
---
4
Shoe for Overweight Individuals
If you need something much more stable, especially for serve overpronation, I will go with the 847V4.
The model features specific Rollbar technology, a TPU heel fit, and a TRUFUSE midsole with two combined foams to give you firmer support, motion control, and high impact protection.
The outsole is ideal for traction in outdoor environments, and the uppers are very durable synthetic leather.
However, only a few colors are available in this range and wider widths.
---
5
The 577V1 is a good walking shoe with a high 13mm heel-to-toe drop.
As you will see, it is a Medicare / HCPCS code = A5500, so that the shoe may be eligible for Medicare reimbursement as a diabetic shoe.
The shoe has leather uppers, ABZOZRB cushioning in the midsole, a PU midsole for stability, and a durable rubber outsole.
Taking all these features together is the ideal stability shoe for an overweight person with wider widths.
---
6
The New Balance 990V5 is a leather and textile shoe for overweight persons,
It has a slightly different ENCAP midsole, which combines lightweight foam with a more durable PU foam for support in durability.
The uppers consist of sued and mesh that breathable well and have some structure.
There is a durable rubber outsole, and the sole has a 12mm heel-to-toe drop.
Furthermore, it is available in more colors and wider widths.
---
Index Table: Top Rated New Balance Shoes for Overweight
---
---