Many people around the world suffer from different types of foot problems and injuries. Two of the most frequent problems are Heel Spurs and Plantar Fasciitis. Foot conditions can be managed, and injuries prevented just by wearing the appropriate footwear for your foot type and medical condition. Heel Spurs, as well as Plantar Fasciitis, can cause much pain and discomfort, luckily there are many shoes available with specialized features to accommodate these conditions.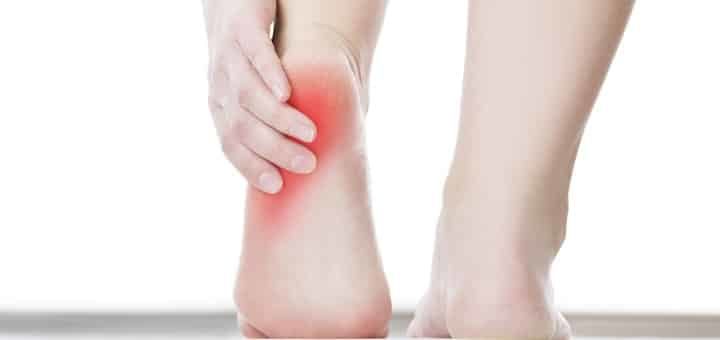 Contents Table for Walking Shoes for Heel Spurs
What is Plantar Fasciitis
The Plantar Fascia is a band of tissue or ligament which connects the toes with the heels. It also helps to support the arch of your feet. But due to standing for a long time or even for running and walking, often this tissue gets strained and may cause plantar fasciitis. It is very common within the people of middle ages, especially in soldiers or athletes. It can happen to one foot or even to both. In plantar fasciitis, you will have a swollen, inflamed and weak tissue. With continuous strain, it can even tear the ligaments.
Heel Spurs Explained
Along with plantar fasciitis, one thing you will notice a lot is heel spurs. It causes a lot of heel pain and can also cause inflammation. A heel spur is mainly a deposit or accumulation of calcium under the heel bone. It is an abnormal growth in the heel bone which can cause extreme pain in your heels. When this happens, a person is unable to walk properly, and thus he/she needs a particular kind of shoe for this.
What Exactly Causes Heel Spurs
Heel Spurs develop over a long period of time when calcium deposits build up on the underside of the heel bone. Heel Spurs are usually caused by strains on the foot muscles and ligaments, stretching of the Plantar Fascia as well as the repeated tearing of the membrane covering the heel bone.
Heel Spurs are very common amongst athletes who are involved in excessive running and jumping.
Here are a few other risk factors causing Heel Spurs;
Walking Gait abnormalities that places stress on the heel bone, ligaments and nerves near the heel repeatedly.
running or walking on hard floor surfaces.
Worn out or ill fitting shoes that lack proper arch support.
Excessive weight gain and obesity.
Plantar Fasciitis Risk factors include;
Increasing age which cuases the Plantar Fascia to lose flexibility and the protective fat pad to thin out.
Spedning many long hours on your feet on a daily basis.
frequent short bursts of activity.
Flat feet or high arches usually lead to Plantar Fasciitis.
As you can see, there are many causes for Heel Spurs and Heel Pain the leading cause being Plantar Fasciitis.
Features of Shoes Designed for Heel Pain
Cushioning
Proper cushioning is crucial for these kinds of shoes. It will help your feet to stay comfortable and receive no shock at all. It can hold the feet correctly and firmly while you are walking or running and also absorbs minimum shock so that it does not cause any pain in your heel or arch.
Arch Support
Plantar fasciitis mainly impacts the arch of the foot, and that is why full support is needed there. There are many shoes available in the market which provides cushioned midsoles to support the arch of the feet.
Removable Insoles
Some of the shoes come with removal insoles or customized insoles. With the help of this, you can adjust the sole according to your needs and preference. Also, it will help you customize it according to your feel problem, so you get maximum comfort.
Foot Stability
With the technologies like ROLLBAR, foot stability has increased, especially the rear part of the feet. The best thing about the foot stability feature is that you can walk without hurting your heels and arches much.
Top Shoes for Heel Spurs and Plantar Fasciitis Reviews
Here are a few excellent choices in shoes to manage and relieve the pain and symptoms of Plantar Fasciitis and Heel Spurs;

1
Heel Pain Relief Running Shoes
A comfortable and durable pair of running shoes the New Balance 1540V2 will provide you with pain relief and superior support.

This pair of shoes is made up of synthetic fabric and is made in the US.

It also consists of a humanmade sole ensuring better grip and less shock.

This is a running shoe which comes with breathable mesh in the upper portion and also with foam collar.

This can protect the feet correctly and hold them firmly to ensure better stability which is a crucial feature for Shoes for Heel Spurs and Plantar Fasciitis.

The latest ROLLBAR technology is present in these shoes to provide a better improvement in the stability of the rear portion of your feet.

We featured this pair as a great choice of shoes for standing all day long.

---
2
The Skechers Shape Ups are an excellent choice for heel spurs and plantar fasciitis sufferers.
This shoe is made up of high-quality leather and synthetic material to ensure the best durability as well as comfort.

The shoes are made up of rubber for better walking and running experience. You can feel comfortable throughout the day wearing this.

The memory foam insole helps you to get the best comfort as it can adjust according to the exact shape of your feet. Even it can adjust according to the temperature of the feet.

The cushioned midsole is always a support to the arch of the feet if you have plantar fasciitis.

---
3
Slip On Shoes for Heel Spurs
The Vionic Eddy and Vionic Addison are comfortable and stylish casual slip-on shoes that will provide all day comfort and support.

Made from soft and supple leather with a leather midsole.

A supportive and shock absorbing Biomechanical orthotic footbed.

The durable rubber outsole aids in shock absorbency and provides excellent grip.

A comfortable and casual shoe that can be worn every day to reduce pain and inflammation caused by Heel Spurs and Plantar Fasciitis.

---
4
Cushioned Heel Spur and Plantar Fasciitis Shoes
The award-winning Asics Gel Cumulus 17 with improved midsole geometry and a sleek, seamless construction design will provide a smooth ride and comfortable fit particularly for under pronators to mild overpronators who may suffer from Plantar Fasciitis.

This pair of shoes is made up of imported synthetic material, and the sole is made up of rubber.

It comes in a traditional design but full of technologies supported for running. The details of the shoes are also stylish with high gloss and reflective details.

It also consists of FluidRide Bounce Back Cushioning for better absorption of shocks while running.

It also comes with full-length GEL cushioning that will help you to a get better hold of your feet.

This shoe is also equipped with high abrasion outsole which is meant for a better running experience.

---
5
Heel Spur Pain Relieving Walking Shoe
The Asics Gel-Tech Neo 4 is a lightweight and comfortable walking shoe that will relieve the pain caused by Heel Spurs and Plantar Fasciitis.

Comfortable and breathable mesh and synthetic uppers.

The durable rubber outsole provides excellent grip and shock absorbency.

A removable, comfortable insole that ensures support and allows you the use of your own orthotic devices.

A lightweight and comfortable walking shoe that will relieve the pain associated with heel spurs and plantar fasciitis.

---
6
Therapeutic Slide Sandal for Heel Spurs
The OOFos OOahh is a therapeutic Heel Spurs, and Plantar Fasciitis relief slide sandal featuring textured a footbed and split upper.

This sandal will make it feel like you are walking on springs or clouds with perfect arch support to start immediate healing.

These sandals are not fashionable, but they will give you great relief when walking with them at home.

Made from a patented breakthrough oofoam – they hold firmly to your foot to ensure unbelievable impact absorption, arch support, and natural motion.

---
In Conclusion
These are the top shoes for heel spurs and plantar fasciitis. So, if you are looking for some great and high-quality shoes, then you must consider one of the above-mentioned shoes.
---
---