The expected release date for the Salomon X Ultra 5 is July 19, 2023.
The Salomon X Ultra 5 will have the following features & updates: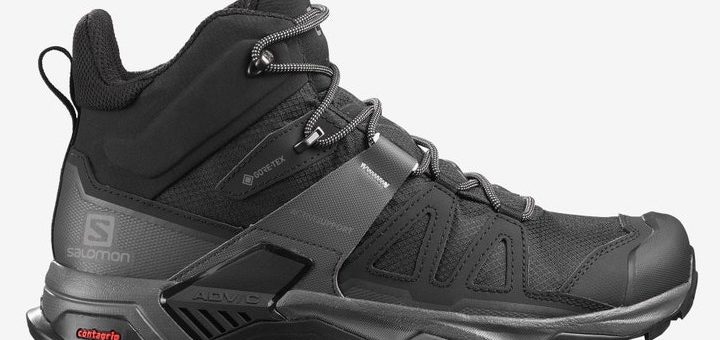 The New Salomon X Ultra 5 will boast a few more small improvements with lighter weight, more breathable mesh uppers, and more durable, stitched overlays covering less of the upper area for more freedom of movement.
The design will keep its quick lace-up system for fast and easy lacing.
You can still look forward to an EVA cushioning midsole with softer cushioning technology and more flexibility this time around.
The ContaGrip outsole will be improved with a control heel design, flexible forefoot, and a lug tread for optimal slip resistance.
Previous model of the X Ultra:
The Salomon X Ultra 4 release date was on April 20, 2021.
---
Latest Version of the Salomon X Ultra
*
---
Video
---
Price
The recommended price according to manufacturers for the new Salomon X Ultra 5 should be about $120.
There will be a slight increase because of more advanced features.
The Price may likewise vary according to where you purchase from, so always look out for specials and deals.
Arch Support and Pronation Control
The new models will provide neutral arch support ideal for a more stable and normal arch type.
It will also be designed for neutral pronators.
Terrain
trail

The terrain recommended for the new X Ultra 5 will be mostly outdoor trails.
I would, however, not recommend it for road running and hard surfaces.
Use
Day hike

This will be the ideal day hiking trail shoe for endurance hikes on more technical trails.
It should also be suitable for light jogging on trails and less hazardous trails.
Durability
The New X Ultra 5 from Salomon will be durable and long-lasting if used in the correct settings.
It will be designed for wet and dry trails and to withstand outdoor elements and weather conditions.
Fit and Sizing
The Salomon X Ultra 5 will comfortably fit any foot type with its adjustable Quickfit lace-up system.
There will be standard sizes available, and the fit will be a medium to wide design.
Weight
The weight in the men's edition will be around 365 grams.
Whereas for the ladies, you can expect a lighter weight of 318 grams.
Both these models will be medium to heavyweight for proper support.
---
Elevation of the Salomon X Ultra 5
Heel Height
The heel height is expected at around 19mm.
There will be quite a high heel-to-toe drop.
Forefoot Height
The forefoot height should be expected at around 8mm.
This is quite a low drop in general.
Heel-to-Toe Drop
The new designs will have a high heel-to-toe drop design.
A 10mm heel-to-toe drop could be expected.
---
Components of the Salomon X Ultra 5
Outsole
You can expect the same Contragrip outsole with more flexibility in the forefoot and a firmer heel for the new model.
The tread of the new sole will be more lug for improved grip on most outdoor surfaces.
The aggressive lugs will be shaped like caltrops and spiky for additional grip.
Midsole
The Midsole will remain the injection Molde EVA with softer technology and more flexibility,
The midsole will bear a considerable amount of weight and is said to be more durable.
Overall the midsole design will provide more optimal stability with high rebound and shock absorbency,
There will also be more supportive heel borders and Ortholite foam for underfoot cushioning.
Upper
The Upper will be a more breathable open-cell mesh with synthetic and textile materails that will be used.
The new X Ultra 5 models will be very lightweight and breathable, with additional overlays for support and structure.
The toe box of the shoe will be more durable and rubberized for protection.
There will still be a trusted quick lace system for a secure and adjustable comfort fit.
Some new color models and fresh designs may also be expected.
---
Salomon® X Ultra vs. Quest
---
*
---
---
---