Before getting to know more about the various shoes that could be useful for under pronation, we will try and have some basic idea as to what under pronation is all about. This problem is also referred to as supination.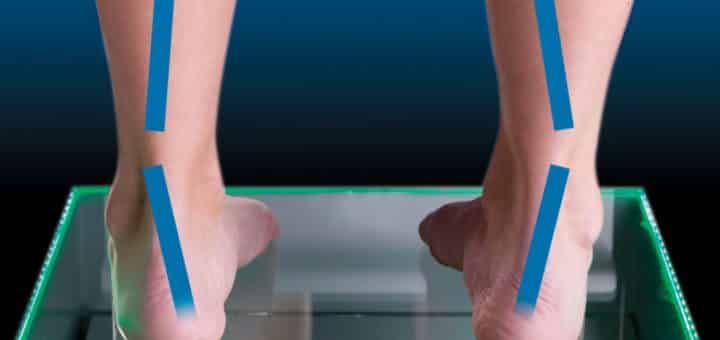 Summary Table – Shoes for Underpronation
Definition of Underpronation
Underpronation (or Supination) is when the outer lateral side of the heel hits the ground at an increased angle, preventing the foot from rolling sufficiently inwards upon impact.
This results in the feet, taking on more pressure, especially when a person is walking or running. This could lead to inflammation and resultant muscle injuries.
How To Tell if you are an Underpronator
The easiest way to tell if you have under pronation is to look at the soles of an old pair of walking or running shoes. If the soles are worn on the outer lateral side of the heel like in the picture below you are an under pronator.
NO reason to panic, about 15 percents of walkers or runners across the world suffer from under pronation.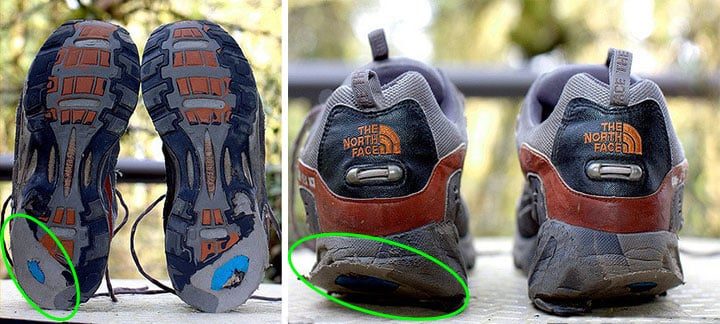 If your soles are worn out on the front inner side, you might be an overpronator, for more information on over-pronation check out our post on the Best Shoes for Overpronation
How to Take Care of Underpronation
There are many medicines and other ways by which the problem can be handled. However, for many going in for the right shoes and footwear is considered to be the best way forward. In this article, we will have a look at the various options available on the market.

Reviews on the Best Underpronation Shoes
We will specifically look at some notable shoe models suitable for treating the various symptoms and problems associated with under-pronation.

1
Moderate to Severe Underpronator Shoe
The New 2017 ASICS GEL-Nimbus 19 make use of FluidFit technology, which are stretch reinforcements and multi-directional stretch mesh combined to create a perfect fit.

This shoe uses GEL-Cushioning technology that reduces the shock during impact, allowing for a smooth transition throughout your stride.

Forefoot and Rearfoot and GEL-Cushioning framework providing better support for under-pronated foot structure.

Excellent shock absorbent and cushioning making this shoe a very comfortable one.

Impact Guidance System (I.G.S) allowing the foot to perform in a more natural manner resulting in a healthier foot motion.

This shoe also features as one of the best shoes for Achilles Tendonitis.

---
2
Slingback Best Underpronation Supination Sandal
The original cork midsole and contoured footbed were specially designed to provide support and stability for supination.

Made by hand from pure leather.

The soles are made from rubber, providing better traction and better shock absorbent.

Designed to support the specific requirements of both, feminine and masculine, supination feet structure.

Heel measurement is 0.75 inch, which is a great plus for those suffering from under-pronation of various degrees.

Platform height: 0.5 inches.

Featuring a prominent arch support, deep heel cup, and wide toe box.

---
3
Lightweight walking and running shoes with a superb arch support.

Very comfortable thanks to a lightweight blown rubber outsole and an REVlite midsole.

Ideal for high performance running.

Designed to support under-pronation.

Minimal friction with the foot, no blister or sore spot, due to its no-sew overlays.

Bootie like construction, resulting in plenty of ankle support.

Considered to be a very flexible and well-ventilated shoe.

---
4
Brooks for many years has been known to come out with different kinds of shoes for those suffering from particular conditions such as a high arch or under pronation. In keeping with this tradition, this particular model has quite a few features that are worth mentioning.

It is perfectly suited for those suffering from mild to moderate under pronation.

Chosen by Runner's World Magazine for the Editor's Choice Award for Fall 2016.

It comes with specially cushioned soles which help absorb shock to such users with special needs.

It also has a new element upper for protection from the elements of nature.

It is extremely lightweight and has a breathable mesh fabric which aids in the prevention of bad odor.

The overlays are of good quality made from durable and synthetic materials.

The insole is made from unique S-257 material and is known for flexibility and cushioning.

It also has unique crash pads protecting the heel and midfoot areas.

---
5
This is a highly popular shoe for those suffering from under pronation. Coming from the house of ASICS there is no doubt that it can help those who suffer from special foot conditions which point towards supination.

It is a totally imported shoe that is fully synthetic and made specially keeping in mind the needs of those suffering from under pronation.

It is also well known for its famous rubber sole that is designed for better grip and support for those suffering from various degrees of supination.

It is one of the few shoes that comes with the unique discrete heel unit which is based on computer-aided and designed Impact Guidance System.

It also has the much talked about and highly useful Propulsion Trusstic Technology.

The FluidRole Midsole is also an addition which helps with better grip for those suffering from supination.

---
6
Best Underpronation Running Shoes
The Saucony Guide 8 has a unique deep forefoot groove specially designed to support normal to mild under pronation.

This shoe is manmade from high-quality synthetic materials.

Made from reflective overlays making it highly visible in poor light conditions.

Shock absorbent achieved via a HydraMAX collar lining.

This version is an upgrade of its predecessor Saucony Ride 7.

This shoe is featured as one of the best running shoes for high arches.

---
7
Walking Shoes for Underpronators
The New Asics Gel Cumulus 18 is specially made to support and stabilize your foot to protect your foot from under pronation.

It is designed to provide support to keep your feet from rolling to the outside.

It provides enough room for your toes, as it has wide width sizes.

Available in different sizes, up to size 15.

The mid-sole area comes with protective gel cushioning and impact guidance system to help you maintain your natural gait.

The Asics Gel Cumulus also features as one of the best Shoes for Shin Splints.

---
8
Best Dress Shoes for Supination
The Dunham Blair by New Balance and the Sanita Cabrio are stunning dress shoes that have all the required features to help correct Supination and provide exceptional comfort.

Comfortable and durable uppers.

An arch supportive comfortable padded insole.

A lightweight fit for easy movement and to prevent foot fatigue.

The durable rubber outsole ensures excellent traction and shock absorption.

---
9
Best Dress Shoes for Supination
The Brooks Glycerin 14 is built for neutral to mild overpronators and provides lightweight cushioning.

The full-length Super DNA midsole ensures cushioned comfort and maximum energy return.

The adjustable saddle construction provides a more comfortable and snug fit.

The forefoot has soft blown rubber for cushioning and grip.

The 3D print overlays give structural support and reduce weight.

---
10
Best Running Shoes for Supination
The Saucony ProGrid Triumph 7 is a comfortable and supportive running shoe that will aid in correcting Supination.

Breathable mesh and synthetic uppers.

A durable high traction rubber outsole.

The full-length ProGrid cushioning technology ensures maximum comfort and support.

A lightweight SSL EVA midsole.

---
In Conclusion
Protect your feet and correct overpronation or supination by wearing one of these exceptional choices of shoes. You will walk in comfort and style knowing that you have the best on your feet.
---
Please rate this article:
---
---