Currently, New Balance Shoes for Plantar Fasciitis, are among the best shoes on the market, that can help you heal this painful condition in your heel.
One of the most common types of feet or heel pain is the Plantar Fasciitis.
The Plantar fascia is a flat band of tissue that connects the toes and heel bone.
Often while running or even walking or standing for a long time, this tissue gets strained and gets weak, irritated and swollen. It hurts your heel and foot more when you walk or stand. It can be caused due to many reasons.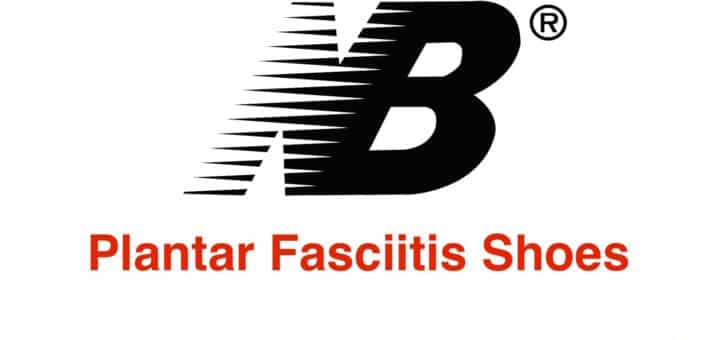 ---
What is Plantar Fasciitis
Plantar Fasciitis is one of the most common causes of heel pain. Plantar Fasciitis occurs when the ligament that connects your heel bone to your toes, called the Plantar Fascia, becomes strained, weak, irritated and swollen. Your heel or the bottom your foot will hurt when you walk particularly after being inactive for a while.
Plantar Fasciitis is more common in middle-aged people and also occurs in people who are actively on their feet, such as retail store workers, athletes, and soldiers.
Plantar Fasciitis can arise in both feet or one foot only.
Symptoms of Plantar Fasciitis
When you experience pain and stiffness in your heel or foot particularly when you first get up in the morning after taking your first few steps, you may have Plantar Fasciitis. Your foot may hurt more as the day passes and it may hurt the most when you try to climb stairs or if you stand for a long time.
Any foot pain that occurs at night is usually a different issue such as arthritis or a problem with your nervous system.
Treating and Managing Plantar Fasciitis
You can reduce the pain and inflammation in the Plantar Fascia with home treatments although this will not address the underlying damage caused to the ligament.
The best treatment to prevent and reduce the symptoms of Plantar Fasciitis is to stay off your feet for a few minutes during the day at regular intervals and cutting back on strenuous activities for a while.
Icing your feet will also help to reduce the pain and swelling.
Exercising
Stretching exercises can strengthen the muscles in your feet and prevent Plantar Fasciitis or contribute to addressing the condition if it is already there. Physical therapy is one of the most important treatments of Plantar Fasciitis and will also help to prevent this condition. Regularly stretching your Plantar Fascia and Achilles tendons will strengthen your leg muscles and stabilize you when you walk which lessens the workload on your Plantar Fascia.
Medication
Non-steroidal anti-inflammatory drugs such as Ibuprofen and Naproxen will also help to relieve the pain and inflammation.
When home treatments fail to work, and your condition becomes worse, it is advised to consult a doctor.
Orthotics
Braces and supports such as night splints and special orthotic or arch supports may help to alleviate the painful symptoms of Plantar Fasciitis.
The most important aspect to remember in addressing and managing as well as preventing Plantar Fasciitis is to wear the correct footwear for your foot type that provides ample support, particularly during activity.
---
Complications Associated with Plantar Fasciitis
If you do not manage Plantar Fasciitis appropriately, you may suffer from chronic and intense heel pain that may change the way you walk and run as well as cause an injury.
You may injure your legs, knees, hips, and back should you not take care of this condition.
Things like steroid injections and other treatments can weaken your Plantar Fascia and cause potential rupture of this ligament; surgeries carry the risk of bleeding and infection. Your Plantar Fascia can also become detached causing changes in your foot as well as nerve damage.
Most Common Causes Of Plantar Fasciitis
Some of the common causes of this Plantar Fasciitis are:
Flat feet that put a pressure or strain on the tissue.
Excessive pronation during walking.
Obesity and overweight is another reason of this pain.
Wearing the wrong shoes that do not fit you.
Worn out Shoes.
New Balance Technologies for Plantar Fasciitis
Motion Control
The New Balance shoes come with the great motion control technology. With the help of this technology, the ones who have severe pronation problem can get a lot of relief. This type of shoe has the Rollbar technology as well combined. If your sneakers have gone through severe wear, then a motion control technology will be the best for you. New Balance has introduced this Rollbar feature in the shoes for the Plantar Fasciitis.
Rollbar
This Rollbar technology is integrated into the back of the midsole.
By this technology, the stability of the rear foot has got maximized.
Rollbar is quite light in weight, which is made of graphite material to prevent the movement of the back foot.
It also helps to prevent from rolling the feet inward.
---
Reviews: Plantar Fasciitis Shoes by New Balance
These are the New Balance shoes for Plantar Fasciitis reviewed below, depending on your activity, whether it is running, walking, Cross Training, or just for every day and work;

1
Best New Balance Walking Shoes for Plantar Fasciitis
This great looking New Balance orthopedic shoe is available in four colors: Black, Brown, White, and Grey.

This shoe is offered with free shipping and free return shipping.

This motion control shoe from New Balance is designed for controlling your gait so that you won't feel too much pain associated with Plantar Fasciitis.

The New Balance MW928 aims to provide day-long comfort.

The outsole is made of rubber and the upper with leather.

Available in an extremely wide range of sizes and widths, they are one of the Best Shoes for Flat Feet.

---
2
Running and Walking Shoe for Plantar Fasciitis
The New Balance 990 is a lightweight and supportive running shoe with a classic style and cushioning to reduce the pain from Plantar Fasciitis.

Leather and fabric uppers for lightweight breathability and a padded tongue and collar for a comfortable fit.

The blown rubber forefoot provides lightweight cushioning and shock absorption.

A comfortable and cushioned insole keeps your feet well cushioned and supported.

Reflective trimmings allows you to walk or run at night with better visibility.

The durable rubber outsole ensures excellent traction.

This shoe is available in different colors to choose from.

---
3
Health Walking Shoe for Plantar Fasciitis
A healthy and impact absorbing walking shoe the New Balance 840 has a comfortable and casual design for everyday wear.

A comfortable and cushioned shoe with a Ndurance AT tread outsole to give you excellent grip on uneven and slippery surfaces.

Synthetic upper construction that is durable and breathable for the most comfortable fit.

A higher instep design for a more comfortable fit and better support.

The breathable perforations and mesh tongue and collar improve breathability to keep your feet dry, comfortable and well ventilated.

An impact absorbing ABZORB midsole offers luxurious cushioned comfort and support.

The heel is narrower for improved stability and heel protection while the forefoot is wider allowing more room for movement and splaying.

This shoe is finished off with a rubber Ndurance high traction outsole that will last longer and not let you down.

The New Balance 840 is available in neutral Black and White.

---
4
Cross-Training Shoe for Plantar Fasciitis
This is one of the best shoes for cross training if you have Plantar Fasciitis.

This pair of shoes is made up of leather and mesh which is of high quality and imported.

The sole of this shoe is made up of full rubber.

For better stability and training, this pair of shoes comes with Rollbar technology to assist over-pronation.

The midsole of this pair of shoes is made up of EVA foam which is great for the best comfort while training.

It also comes with N-ERGY and C-CAP which helps in shock absorbing technologies for the best comfort of the feet.

---
5
Optimum Control Running Shoe
A lightweight and comfortable running shoe that ensure the best running experience.

Breathable and lightweight construction for better performance

A durable rubber outsole that provides excellent shock absorption

The midsole is an Acteva Lite midsole for better shock absorption and to get the best and most comfortable experience.

---
6
Running Shoe for Overweight Runners with Plantar Fasciitis
One of the Major Causes of Plantar Fasciitis is being Overweight – This shoe is designed as the Best Shoe for Overweight People.

The New Balance 1540v2 has symmetrical ROLLBAR technology for the ultimate in both lateral and medial rear foot stability.

It's lightweight upper constructed with mesh for breathability and a synthetic complement for stability and structure.

This is a very high-quality shoe made from the best quality leather, and it is also very comfortable and breathable.

These shoes are known for their ground-gripping blown rubber outsole for added traction.

Dual-density collar foam adds a great feel, while traditional lacing closure allows a precise fit.

A wider sole providing a more stable base and motion control which is ideal for Plantar Fasciitis.

---
7
Hiking Boots for Plantar Fasciitis
The New Balance 1400V1 Country is a Hiking shoe for the outdoor adventurer that also provides relief from the painful symptoms of Plantar Fasciitis.

Manufactured from lightweight and breathable materials with a durable rubber outsole.

The breathable and completely waterproof Gore-Tex membrane which helps your feet to remain fresh and breathe easily.

The superb cushioning helps to absorb shock so that you do not get strain on your heel and arches while walking.

A perfect walking shoe for the outdoors.

---
8
Walking Shoes for Plantar Fasciitis
A durable and comfortable walking shoe that protects and keeps your feet well supported.

This pair of New Balance shoes for Plantar Fasciitis is made up of both high quality and sturdy synthetic and leather material.

The sole is generally made up of rubber to give the best and most comfortable walking experience.

C-Cap midsole enables the shoe to absorb shock on impact providing comfortable support.

The walking strike path makes the walking experience much more comfortable for the individuals who have Plantar Fasciitis.

---
9
The New Balance 847V2 is a comfortable and well cushioned walking shoe with Rollbar technology for the best in motion control.

Durable synthetic construction for long-lasting comfort.

This walking shoe has ABZORB foam midsole to absorb all the shock and keep your feet safe from all types of strain.

It also comes with Rollbar support which provides excellent support and comfort to those who have Plantar Fasciitis.

Orthopedic inserts provide additional comfort and support.

---
10
Trail Running and Walking Shoe for Plantar Fasciitis
If you enjoy the outdoors and walks or runs on uneven and outdoor surfaces, then the New Balance Trail Runners are the perfect trail running shoe for you.

Comfortable and lightweight textile uppers that are breathable and keep your feet dry and cool.

The injection-molded EVA REVlite midsole provides exceptional comfort and support as well as reducing strain from the impact on the feet.

An EVA footbed provides luxurious and supportive comfort and cushioning.

The AT Tread endurance outsole is non-marking and sustainable while ensuring you're the best grip on slippery and uneven floor surfaces.

The New Balance Trail Runner is available in three different designs in shades of neutral gray.

---
So, these are the original New Balance shoes for Plantar Fasciitis that you can use for almost all of your activities. Whether you are going for training, walking or running, these shoes will help you a lot to keep your feet comfortable. Make sure you pick the right shoe for the right purpose. You should remember that the right shoe for one activity may not be the right shoe for other activity.
Managing Plantar Fasciitis
Managing and taking care of Plantar Fasciitis will not only reduce the pain and inflammation but will also prevent further damage and injuries that may result from the debilitating effects of this condition. Wearing appropriate shoes especially during activity, which provide ample cushioning and support for your foot type will reduce the symptoms of Plantar Fasciitis and help to correct this condition. Taking good care of your feet and doing adequate stretching exercises before activities as well as breaks in between will keep your feet healthy and injury free.
New Balance and Plantar Fasciitis
The selected range of New Balance shoe will provide you with ample protection and support to prevent Plantar Fasciitis as well as manage the condition should you already have it.
The best thing about New Balance shoes is that they help you to get the most of the comfort. You will feel the difference by wearing these comfortable shoes and also at the same time it will not stress your feet and arches.
With the New Balance shoes for Plantar Fasciitis, you can stay relaxed while you are going through high-intensity training, walking, hiking or running, knowingly that these shoes will not strain your feet. This can be highly beneficial for the one who suffers from Plantar Fasciitis or Heel Spurs and at the same time wants to continue adventurous sports and exercise.
---
Index Table: New Balance Shoes for Plantar Fasciitis
---
---