If you are someone who enjoys walking or running outdoors whether, on a gravel road or wet terrain, you will most certainly benefit from a good pair of trail walking shoes. Hiking, Adventure walking or just jogging outside a pair of trail walkers is the answer for you.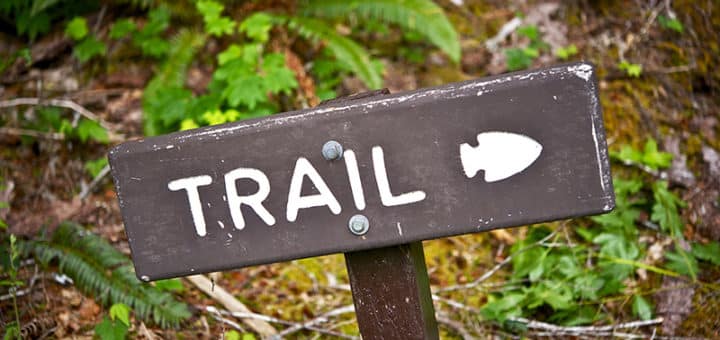 Comparison Table for Trail Walking Shoes
The Difference between a Trail Walking Shoe and a Hiking shoe
A Hiking shoe is a heavy shoe with a thick sole that provides ample protection against punctures and also has a higher ankle to ensure ankle stability and protection. The Trail running or walking shoe is much more lightweight and has a less thick sole, therefore, they do not provide as much protection as a hiking boot, and they also do not provide ankle support or stability.
Durability
Where a Hiking shoe only needs to be replaced every 1000 miles, a trail walking shoe will need to be replaced every 500 miles. A trail walking shoe is not as tough or meant for heavy duty off trails walking, whereas a hiking shoe can be used for more harsh conditions.
Comfort
A Hiking boot tends to be heavy and offers a snug fit with less room for movement, while your trail walking shoe is more lightweight and flexible offering your feet much more freedom as well as better ventilation.
Climate
A hiking boot can become quite warm and is less breathable than a trail walking shoe meaning your feet may sweat. A trail walking shoe is more suitable for warmer weather, whereas a hiking shoe does better in cooler climates.
Waterproofing
Most Hiking boots are completely waterproof although some may get wet when fully submerged in water because of the water seeping and, and they take very long to dry. A Trail walking shoe is not waterproo, but they will dry very fast when wet because of their lightweight and breathable construction.
Breaking In
Where a Hiking Shoe or boot may take some time to be broken in because of its construction, the lightweight and flexible Trail walking shoe needs almost no break in time.

Trail walking shoes are not meant for heavy duty walking in harsh or freezing conditions; they are more suitable to less tough terrain and warmer weather.
Anatomy of a Good Hike / Trail Shoe
Choosing the right equipment, gear and accessories are critical, and this applies in particular to the kind of hiking shoes that you choose.
The choice of a pair of 'hiking shoes for men' is primarily determined by the type of hike you undertakes and the amount of load you expects to carry.
The availability of new age material means that you don't have to wear heavy hiking shoes anymore.
When it comes to trail walking shoes for men: these shoes normally have a specially designed midsole that enhances the cushioning, and also, the sole is more flexible to increase the sensitivity.
It would be better to choose trail/hiking shoes that are waterproof since you may encounter many places with water or mud.
They must also be lightweight and breathable as well. Above all, the shoes you choose must offer excellent shock absorption and perfect grip.

Top Hiking and Trail Walking Shoes for Men Reviews
Here is a look at some of the best hiking and trail walking shoes for men you might want to consider:

1
This is a very modern and sporty looking pair of shoes and comes in four very attractive colors that go very well with a mountainous terrain.

Made entirely from leather with a Vibram sole this shoe comes with a Lycra neoprene stretch collar that makes wearing and taking off the shoes a breeze.

The elastic cord and lock lacing system make it quite safe in a tricky situation with no margins left for error.

It also uses breathable mesh lining wicks to keep the feet dry, and M Select FRESH ensures there is no odor.

Hikers love these shoes as they find them as light as loafers, and this makes the task of climbing a lot less tiring.

This is a shoe from a well-known brand, and it is quite comfortable to wear.

It has an elegant design, and there is a fabric lining on the inside, for more comfort.

The mesh upper is breathable, to ensure that the feet stay cool all day long, this makes it as one of the best travel shoes.

The construction ensures that the shoe will not be sweaty or too hot.

It is waterproof enough to allow you to walk freely on the terrains.

---
2
This shoe has been designed along with the E-Energy, which ensures that you enjoy walking, without having any fatigue on your feet.

It has been cushioned to ensure that the user feels comfortable when walking in them.

It has also been made from top notch leather, and it also delivers a great motion control.

It is very light-weight and allows you to enjoy them on the trails.

It has a rubber sole, which is flexible and light and also, there is the RollBar technology that makes the shoes more stable.

This is a shoe that is known for its fantastic design, with the gray/brown theme.

It is one of the trail walking shoes for men you would want to buy.

It has been designed with elegance and comfort, and it is considered as one of the best waterproof walking shoes, so there is freedom out in the field.

It has the suede leather material, the lining is moisture wicking, and the outsole has an excellent grip.

---
3
This shoe has been designed to offer flexibility, comfort, and quality to the wearer.

They are incredibly light some of the most comfortable shoes you'll ever have.

They have a synthetic sole and the material used genuine leather that enhances its durability.

You can use this shoe in several terrains on the trails since it has an incredible grip to keep the contact with the ground.

It is also lightweight and absorbs shock entirely so that the user will enjoy the comfort and elegance of the shoe.

It will also take the perfect shape of the foot. The tongue and collar have been padded which assures the wearers of total comfort and flexibility.

---
---
4
Country Trail Hiking Shoes
Here's a short list of the features that makes this shoe such a great one for trail hiking:

Many Width sizes to choose from: medium and up to extra-extra-wide (4E); in all sizes.

Supportive stability web in the midfoot.

"ABZORB" shock-absorbing is cushioning technology, provide exceptional cushioning and durability.

C-CAP compression molded EVA midsole for flexible cushioning.

Padded tongue and collar; all contribute to stability and a sense of security when walking.

This shoe is one of our choices of the most comfortable walking shoes.

---
5
A great looking trail walking and hiking shoes that come in several attractive colors that gel with a rugged environment.

Leather and mesh, combined with a Vibram sole and a bellow tongue to keep the debris out while climbing makes it an ideal shoe to wear on a hike.

The air cushion heels provide it stability and also protect from shocks.

This shoe also comes in different wide width selection, follow the link to read more about the importance of choosing a wide width shoes.

A very popular shoe indeed and people don't just wear it just for a hike.

This is a highly rated pair of shoe that is suitable for trail walking.

It is designed with comfort, flexibility, and elegance.

What's more about these shoes is that they are super light, weighing only 2.2 pounds.

Hikers will enjoy its stability and comfort. It is made with high-quality material that makes it durable and able to withstand the rugged terrains.

The shoe has a GEL cushioning, along with an upper that fits comfortably, ensuring that you feel comfortable all along.

---
6
The ASICS GEL-Venture 5 is a great cheap choice trail running and walking shoe.

It provides the great fit and everyday comfort.

It comes with wide width sizes and up to size 15.

It provides stability and support to the wearer, and it is one of the best sellers of Asics.

Price range on this shoe is a great bargain.

Most trail runners users rate these shoes quite high on all parameters: comfort, design, grip and durability.

Trail-specific outsole with reversed traction lugs, with Rearfoot GEL Cushioning and a rugged outsole ideal for a variety of terrains.

---
7
Multifunctional Hiking Boots
The Salomon Hiking Boots are dated back since 1947 in the heart of the French Alps and the birthplace of modern alpinism, this company has a tradition and knowledge of manufacturing the best trail hiking shoes in the market.

The X Ultra boot is fashionable in look, yet, made from durable materials.

It has injected EVA foam midsole and CONTRAGRIP traction outsole.

It is water-resistant using a fabric technology called GORE-TEX waterproof lining.

It is well reported that this boot is going a half size smaller – so please take this into account.

Made out of durable materials, these hiking boots will last you for a long time.

They are very comfortable for walking & hiking, plus they have a roomy toe box.

---
8
These distinctly casual looking shoes are made with canvas and come with a manmade sole.

Available in nearly a dozen colors its shaft measures about 5.5" from the arch with respectively the heel and platform measuring 1" and 0.5."

Quite stylish and good looking this coming together of a combat boot with high top sneaker makes it possible to put it to use in daily life as well; apart from hiking.

---
9
Long Distance Hiking Shoes
A really great looking hiking shoe that comes in existing Dark Earth and Chilli Pepper colors.

This leather creation comes with a Vibram sole and is quite light at only 2 lb and 4oz.

Most people find this a most comfortable pair of hiking shoes.

This shoe has a wider toe box to accommodate natural foot expansion that happens during long trail walking.

---
---
10
These trail and hiking shoes come in a leather and breathable mesh combination that look nice and stylish.

They had a non-marking rubber sole and molded EVA midsole.

A construction bellows tongue and an abrasion resistant toe cap make it ideal for going up and down an undulating terrain.

It's quite popular with serious hikers and apparently holds its own very well in conditions of ice and snow.

---
11
So Comfortable and light weight that you can wear all day.

It is made from leather materials and breathable mesh lining treated with M-Select-FRESH to enhance the inner air circulation.

The durable Vibram sole offers the best of grip and comfort on uneven terrain.

Provides the best absorption system for drying out sweat and a Uni-Fly system.

Its inner lining is treated for odor control.

It is low-cut, so you can even run with it very comfortably.

---
12
The Altra Lone Peak in my personal choice for trail running, walking and hiking.

This shoe was designed to tackle the rockiest, rugged mountains and the most challenging terrain.

Dual-layer EVA midsole with A-Bound top layer fully cushioned combined with Zero Drop outsole.

TrailClaw outsole combines unique uphill and downhill lug traction for every trail condition.

This shoe has anatomical FootShape toe box.

These are the new improvements to the excellent, previous version of this shoe:

Redesigned Upper

Improved Lacing System

Lighter Weight

Improved upper durability

Slightly firmer midsole

---
Summary for The Top Hiking/Trail Walking Shoes
These were some of the top hiking and trail walking shoes for men worth buying. Not only will you enjoy walking with them on the trails, but you can walk with them for as long as you like, thanks to their comfort. They come with advanced technology to enhance their durability as well as their stability.
---
Please rate this article:
---
---