If you are one of those who experience a tearing pain in your shin as you try to sprint or walk fast, then it is quite likely that you could be suffering from Shin Splints.
We review here the best shoes for Shin Splints, as your shoes are the immediate suspects in causing this pain.
There could be many reasons for this, an overuse of muscles, or some form of injury like stress fractures. Wearing the appropriate shoes can prevent Shin Splints as well as reduce the symptoms and prevent further damage.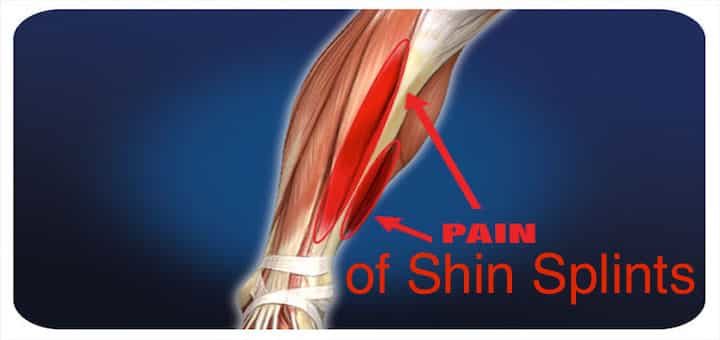 Comparison Table for Shoes for Shin Splints
Causes of Shin Splints
Shin Splints and the pain you feel is the result of excessive amounts of force placed on the shin bone and tissues that attach the shin bones to the muscles. This force causes muscles to become swollen which in turn increases pressure against the bones that lead to pain and inflammation.
A stress reaction to a bone fracture is also one of the leading causes of Shin Splints. Stress fractures are tiny cracks in the leg bones that can be repaired with rest, but with constant activity, a complete fracture can develop.
Some additional causes of Shin Splints are;
Anatomical abnormalities of the foot or leg.
Muscle weakness and lack of flexibility particularly in the thighs or buttocks.
Performing training activities using the wrong techniques that may cause an injury.
Extreme force exerted on the shins by running downhill, on a slanted or uneven surface, or wearing inappropriate shoes and participating in sports with fast stops and starts.
You are more likely to develop Shin Splints when your leg muscles and tendons are tired and overworked. People with flat feet or rigid arches have an increased risk of developing Shin Splints.
Athletes, Military recruits, and Dancers all fall under the category of those who are more likely to suffer from Shin Splints because of excessive tension to the muscles and injury risks.
Suggested Treatments for Shin Splints
Amongst the various treatments that are suggested, resting the feet is often considered to be the most effective. A few days rest would be an excellent idea, but the problem could again recur.
There are other treatments suggested, and they include icing the shin area. It has to be done every 20 to 30 minutes for three to four days until the pain subsides.
Another method can be the use of NSAIDS and OTC pain killers are also recommended, but they should be used sparingly and with caution and discretion.
Using special types of shoes could also be considered as a solution to this problem. These could be in the form of shoe inserts or even going in for specially enabled shoes The latter is a better option.
Reviews on the Best Shoes for Shin Splints
Over the next few lines, we will have a look at a few such shoes which according to experts and customers are considered to be the best walking shoes to prevent Shin Splints;

1
Walking Shoes for Shin Splints
Shin Splints are most common (but not limited) to people with flat feet, and therefore shoes that are used for flat feet can do the job quite well. This particular model from Vionic is highly recommended for Shin Splints. Here is a look at the various features associated with this shoe:

It is made from high quality imported leather.

The sole is human-made and soft; makes is suitable for use by those suffering from Shin Splints.

It has a leather upper which makes is very delicate and supple.

It comes with the well-known Vionic Orthoheel supportive technology, which takes pressure off shins.

It has been designed by podiatrists and comes with a biomechanical orthotic insole.

It also has a rubber outsole and EVA midsole.

Taking the above factors into account there is no doubt that these are good shoes for Shin Splints.

---
2
Slip On Walking Shoes for Shin Splints
According to many users, this fully leather shoe could be the right choice for those suffering from Shin Splints. This is because it has been uniquely designed and takes into account the individual needs of men and women suffering from this condition. Here are a few features and specifications which are worth noting:

It is made from high-quality rubber sole which has been designed to absorb shock while walking long distances or even when sprinting.

It also has a two-layered rubber sole which makes the shoe very comfortable and cozy.

It also comes with a removable cushioned insole.

The insole has been specially designed for absorbing shocks for those suffering from Shin Splints.

It also has a molded EVA midsole which also absorbs shocks very well.

The rubber soles also have been designed for absorbing shocks from the users.
---
3
Fitness Shoes for Shin Splints
These shoes have been specially designed to take pressure off the shins and are an excellent choice for Shin Splints pain.
These shoes have some unique features and are very useful for remedying certain painful symptoms associated with Shin Splints. Here are a few of them:

It is made from leather and synthetic, therefore, offers the best possible comfort to the users.

The unique rocker bottom rubber soles distribute the weight evenly and across the whole foot gait.

It also comes with cushioned soft fabric lining midsole for absorbing shocks.

These factors are taken into account this is certainly a shoe that helps people with Shin Splints.

---
4
Best Dress Shoes for Shin Splints
It is considered by many to be one of the best shoe brands that make Shin Splints pain almost disappear. Here are a few reasons why many customers think this way:

Entirely made from leather, this shoe has human-made soles too.

It is sewn by hand and therefore is very flexible even for wide feet.

It comes with fully lined work to provide extra comfort.

It has a unique removable air insole. The purpose of the insole is to provide additional cushioning and for absorption of odor and moisture

It also has an extended heel which offers total support throughout the day.

It also has an outsole that is very light in weight and made from polyurethane. It is suitable for better traction and shock absorption.

---
5
Shin Splints Casual Shoes
It is another great shoe which could easily classify as the best shoes for Shin Splints. It has human-made soles and is entirely made from high-quality leather. There are other features too, that are suitable for those suffering from Shin Splints.

The heel is extremely well designed as an ideal for all those suffering from Shin Splints.

It comes with a padded tongue. It also has a collar with linings made from leather.

It comes with a removal contoured EVA insole having linings made from quality fabrics.

They go a long way in providing an additional layer of support to the feet. Hence, they are very suitable for feet, which suffer from Shin Splints.

Finally, it also has a mesh lining that is soft and moisture wicking.

The shoe is very supple and flexible and; therefore, it can also easily accommodate wide feet without the need to go in for a bigger size.

Taking the above factors into account, one can safely say that it is a good shoe for Shin Splints.

---
6
Best Running Shoes for Shin Splints
The New Asics Gel Cumulus 18 is specially made to support and stabilize your foot and ease the pain from your Shin Splints.

It is designed to provide support to keep your feet from rolling to the outside.

It provides enough room for your toes, as it has wide width sizes.

Available in different sizes, up to size 15.

The mid-sole area comes with protective gel cushioning and impact guidance system to help you maintain your natural gait and distribute the step impact across the entire skeletal bones and muscles.

The Asics Gel Cumulus also features as one of the best walking shoes for overweight men as well as best shoes for overweight women.

---
7
Running Shoes for Flat Feet and Shin Splints
The Asics GT-2000 has the latest in shoe technology: Gel cushioning, ComforDry sock liner, and a Trusstic Guidance system.

Breathable mesh and synthetic uppers with a heel clutching system for the perfect fit.

A ComforDry sock liner absorbs moisture keeping your feet dry and fresh all day.

The rearfoot and forefoot Gel cushioning absorbs shock and provides cushioned support with less impact on the shins.

A Fluidride midsole and Guidance Trusstic system for improved movement and better weight distribution during the gait cycle.

Durable rubber outsole for an exceptional traction.

---
8
Running Shoe for Shin Splints
The Asics Gel Kayano 22 for men and women is an excellent choice for running shoe if you have Shin Splints as it provides sufficient support and shock absorption.

Lightweight and breathable synthetic uppers with mesh inserts.

A removable comfort insole for added support.

The rearfoot and forefoot gel cushioning provides excellent shock absorption and cushioning.

A textured outsole ensures exceptional grip capabilities.

---
9
Shin Splint Walking and Running Shoe
The Nike Lunarglide 7 is the latest model of the Lunarglide range and offers some exceptional features that will aid in relieving Shin Splint pain.

Breathable mesh uppers with Flyknit material and Flywire cables for lightweight support and structure.

The plush Lunarlon foam provides a cushioned and comfortable experience.

The newly upgraded technology will deliver a stellar feel when walking or running.

A long lasting and shock absorbing thick rubber sole.

---
Best Insoles for Shin Splints Reviews
10
The Shock Doctor Low-profile insole provides excellent pain relief from Shin Splints as well as protects the feet and legs against shock.

The adaptive arch technology adapts to any foot shape for a perfect fit.

A heel and midfoot shock dome absorbs shock on impact and relaxes the foot.

A lightweight support cap will cradle your feet creating better balance.

The full-foot foam provides shock absorbent cushioned support and comfort.

---
11
Shin Splints Designed Insoles
Recomended by world class athletes and professional trainers worldwide.

U.S. patented Insole for "Performance Enhancing Shoe Components".

These insoles feature a "Recoil Process" that returns 80% of the energy by compressing and then springing back to original shape

---
Prevention is Better than Cure
Make sure to give your body enough time to relax after exercise and wear the appropriate footwear for the exercise routine. Shock absorption is key to prevent stress fractures and Shin Splints so make sure that your shoes are well cushioned and have a thick sole.
The above-listed shoes are all excellent choices not only to prevent Shin Splints but to relieve pain caused by Shin Splints and aid in the healing process.
---
---