Many people today suffer from a condition called Morton's Neuroma. It is a condition where the nerve tissue at the ball of foot era starts to thicken and can cause much pain and discomfort and become more severe if not treated properly. In this article, we take a look at the best Morton's Neuroma Shoes and other appropriate footwear gear, along with orthotic devices can significantly improve your health and reduce the pain and symptoms of Morton's Neuroma.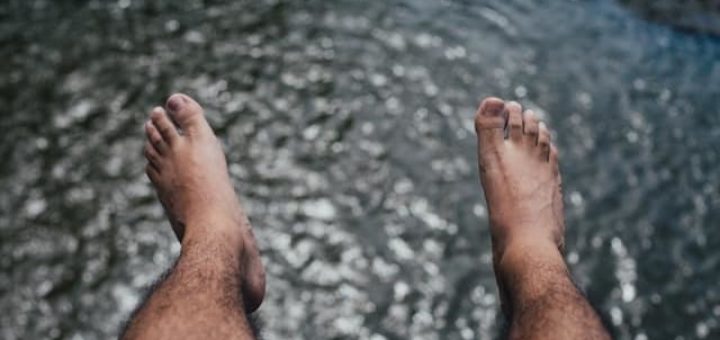 Comparison Table for Morton's Neuroma Shoes
What is Morton's Neuroma
A neuroma occurs when nerve tissue starts to thicken, this can develop in various parts of the body, the most common of which is in the foot and called Morton's Neuroma. Morton's Neuroma develops between the third and fourth toes as a rule but is also seen to occur in other locations of the foot.
Understanding Neuropathy, Neuromas and Morton's Neuroma
What is a Neuroma
A neuroma is a condition where the nerve tissue in various parts of the body becomes thickened. The most common type of Neuroma is called Morton's Neuroma which is basically when the there is thickening at the base of the third and fourth toes of the foot. This type of Neuroma is also often called intermetatarsal neuroma because of the location of the neuroma which is in the ball of the foot between the metatarsal bones.A neuroma can also occur in many other areas of the foot.
How Does a neuroma Develop
The thickening of a nerve which is the neuroma can be caused as a result of compression and irritation of that nerve. Compression causes the nerve to swell, and this swelling from constant irritation or compression eventually ends up as permanent nerve damage and thickening.
The Symptoms of Morton's Neuroma
If you do in fact have Morton's Neuroma you will have one or more of these symptoms in the area where the nerve damage is present;
Tingling, Burning or numbness in the area.
Pain in the area of the Neuroma.
A feeling that there is something on the ball of your foot.
When you are wearing a shoe it feels like there is something inside the shoe like a rock.
Pain and swelling.
A feeling that there is something inside the ball of your foot almost as if your sock is bunched up in your shoe.
The progression of the Morton's Neuroma will Often result in these Symptoms;
Symptoms develop gradually and are usually only present when you wear narrow-toed shoes or performing certain activities.
Symptoms will disappear temporarily when you massage the foot and avoid aggravating shoes and activities.
Over time symptoms may become more severe and persistent for several days or weeks.
The neuroma will enlarge, and the symptoms become more intense resulting in the temporary changes in the nerve becoming permanent.
The Causes of a Neuroma
Anything that irritates or compresses a nerve can lead to neuroma developing. Shoes with a narrow toe box or shoes that have high heels that forces the toe into the toe box can cause compression leading to Morton's Neuroma.
People who suffer from foot conditions such as hammertoes, Bunions, flexible feet, as well as flat feet, are at a much greater risk of developing a Neuroma.
Activities that involve repetitive movements causing constant irritation to the ball of the foot can also cause the development fo Morton's Neuroma. This along with any sports or another type of injury and trauma in a certain can cause a Neuroma.
Obesity is also one of the leading causes of Morton;s neuroma as the extra weight on the bones of your forefoot puts much more strain and irritation on the nerves.
Muscle weakness and overly tight plantar fascia can contribute to the development of Morton's Neuroma and toes that jut upwards forming calluses under the ball of the foot may also end up in Morton's neuroma.
What is Neuropathy
Neuropathy is a nerve condition causing numbness and pain or tingling and further resulting in paralysis of extremities. Conditions such as diabetes, HIV, cancer and Alcoholism can cause Neuropathy, certain medications and vitamin deficiencies along with trauma are also causes of Neuropathy. Morton's Neuroma can develop in people who suffer from Neuropathy due to their inability to feel pain or discomfort from constant irritation or ill-fitting shoes. Morton's neuroma is also known as Interdigital Neuropathy, a form of Neuropathy affecting the Interdigital nerves of the foot and the ball of the foot that affects sensation.
The Effects of Morton's Neuroma on the Feet
Morton's neuroma or Interdigital neuropathy causes pain in the webs spaces of the third and fourth toes when you walk or stand. A benign Morton's neuroma is caused when there is an irritation to the nerves running between the five small bones in the forefoot that connect to the middle area of the toes.
Tingling, numbness, and pain are the major symptoms you will feel with Morton's neuroma.
How Will Wearing Appropriate Footwear Help with Morton's Neuroma
Wearing shoes that fit properly and have a wider and deeper toe box will alleviate the pain and discomfort associated with Morton's neuroma as well as prevent further aggravation of the condition. Wearing a low or no heeled shoe is an advantage as it prevented the toes from being pushed forward and compressed inside the toe box.
The main aim in selecting shoes for Morton's neuroma is to avoid shoes that are tight in the toe area completely, and that has a heel.
The Best Shoe Types for Morton's Neuroma
A shoe with a wide toe box and low or flat heel works the best, always avoid high heels and narrow or pointy toes. Shoes with proper arch support are a necessity particularly if you are very active or take part in sports. A properly fitting pair of shoes that are the right size and have adjustable fitting closures are also important if you have Morton's Neuroma. Customized orthotics that offer good support and cushioning can be used to bring some relief and protect your feet against further damage.

Characteristics of a Good Shoe for Morton's Neuroma
A wide Toe Box.
Flexible uppers and an Adjustable fit.
Low or no heels with no heel to toe drop.
Good Arch support such as a cushioned or contoured Insole.
The Top Choices of Morton's Neuroma Shoes
Here are some reviews on the best available shoes for Morton's Neuroma;

1
Morton's Neuroma Walking Shoe
The New Balance 847V2 is a walking shoe that will provide the much-required relief from the symptoms of Morton's neuroma as well as prevent further aggravation. It is a Comfortable shoe with durable synthetic uppers and a wider toe box. This walking shoe features ABZORB foam cushioning that has fantastic shock absorption capabilities.
The Rollbar Toolbar support ensures proper movement and reduces stress on the main points of the foot. A tough and durable walking shoe for everyday wear with a sturdy Ndurance outsole for excellent grip and traction.
This shoe is available in 6 gray, white and black tones.

---
2
Slip Resistant Tennis Shoe for Morton's Neuroma
The Z-Coil Liberty is a tennis shoe that is not only perfect for those suffering from Morton's Neuroma but also provides relief from conditions such as Bunions, Heel Spurs, diabetes, and arthritis. This is a shoe that will eliminate pain and increase performance.
The Z-Coil Liberty has stretchable and breathable mesh and measure uppers that are quick drying and offer you a more comfortable fit. The Z-Coil spring is an orthotic foot stabilizer that provides ample cushioning and shock absorption specially designed to relieve severe foot, leg and back pain.
This Rocker Bottom sole shoe aids with forwarding motion and provides stability and support, the durable outsole provides excellent traction and keeps you stable on your feet.

---
3
Morton's Neuroma Accommodation Running Shoe
A comfortable and supportive running shoe the Asics Gel Cumulus has some exceptional features making it one of the best choices for Morton's Neuroma sufferers. It has a synthetic upper with a seamless construction and roomy toe box for superior comfort.
The Impact Guidance System from Asics enhances the foot's natural gait from the heel strike up to the toe off.
The Asics Gel Cumulus features its great rearfoot and forefoot GEL cushioning system that attenuates shock and allows for movement on multiple planes as your foot goes through the gait cycle.
FluidRide technology provides lightweight cushioning and bounces back with every step that you take, the durable rubber outsole provides excellent grip and will last you very long.
And finally, it is available in three different color options.

---
4
Morton's Neuroma Dress Shoe
For a comfortable and stylish dress shoe that will give you relief from the painful symptoms of Morton's Neuroma, you cannot go wrong with Vionic. It has a premium leather uppers with smooth leather linings for a more comfortable fit. Using shock reducing and supportive cushioning for all-day comfort, this shoe is available in different width sizes for a better fit. It has a sturdy and durable synthetic outsole
This shoe fits for elegant and stylish professional environments and formal occasions.

---
5
Sandals for Morton's Neuroma
The Mephisto Shark fit is a comfortable and robust sandal for those warm sunny day adventurers. A supportive and comfortable fit with adjustable straps in a fresh and sporty style.
Crafted from the finest quality leather with adjustable straps for a customized and comfortable fit.
The padded footbed with air technology provides excellent cushioning and shock absorption.
A neoprene lining wraps your foot keeping you dry and comfortable all day.
The supportive midsole of the Mephisto Shark provides long-lasting support and stability.
A durable and grippy outsole to keep you firmly on your feet.
Available in three different colors.

---
6
Insoles for Morton's Neuroma
The New Balance IPR3030 Insoles are the perfect addition to compliment any shoe for the complete relief and protection for Morton's Neuroma.The new balance insole features a Plastazote top cover that molds to your feet for a personalized fit and a durable synthetic sole.
This insole provides maximum shock absorbency at the heel and forefoot with the ABZOrb cushioning technology.
The anatomical arch support and heel cradle provide combined support and comfort.
The new Balance insole is uniquely designed to provide relief and prevent pain and discomfort caused by plantar fasciitis, Morton's Neuroma, and Metatarsalgia as well as benefiting people with diabetes.
This insole will fit most athletic, casual, hiking shoes and boots that have a removable insert.
Available in different color options for every preference.

---
7
Comfortable Morton's Neuroma Shoes
The Klogs Edge and Como Clog is lightweight, cushioned and shock absorbent shoe with a perfect design to accommodate people who suffer from Morton's neuroma.
Polyurethane upper that has a wide fit and is easy to clean.
A non-marking slip and oil resistant polyurethane outsole that also aids in absorbing shock.
The removable Komfort footbed ensures luxurious soft and cushioned comfort with excellent arch support.
A latex free antimicrobial and odor resistant lining covers the cushioned and lightweight footbed to keep your feet dry and germ-free.
An easy to put on and take off slip on closure design in a lightweight and comfortable shoe for everyday wear.

---
8
Classic Style Waterproof shoe for Morton's Neuroma
A durable and stylish oxford shoe the Dunham Windsor provides great comfort and arch support for an improved fit.
An oxford-style lace up sneaker manufactured from seam-sealed waterproof leather available in extended sizes and widths.
The Fiberglass stability shank in the midsole provides excellent arch support and stability.
An injection-molded EVA foam midsole ensures cushioned comfort and support.
The Tru-Trak multi-directional outsole delivers excellent traction and will prevent slips and falls.
The Dunham Windsor is available in Black, Brown and polished brown color variations.
Take note that the Dunham Brighton is not waterproof only the Windsor.

---
9
Met Shoe Insoles for Morton's Neuroma Symptoms
The Powerstep Pinnacle Plus Met shoe orthotic insoles provide full support with a built-in metatarsal pad that helps to alleviate pain associated with conditions such as Morton's Neuroma, Plantar Fasciitis, pronation, and Heel or Arch pain.
The perfect blend of foot control, flexibility and cushioning in a full sized orthotic insole.
Metatarsal padding for metatarsal support and cushioned comfort.
Built in arch support and heel cradle for excellent stability and motion control which is fantastic for overpronation.
The plush cushioning absorbs shock and provides comfortable pain relief from many foot conditions. An EVA foam base and fabric sole for durable comfort that can be removed and used in different shoes with no trimming required.

---
New Shoes for Morton's Neuroma
So throw away those old and uncomfortable shoes, because knowing when to find good shoes for Morton's Neuroma also means knowing when to retire old shoes. Do not hang on to shoes with worn out treads and heels as they can exacerbate your conditions. The use of appropriate footwear can treat early or moderate Morton's neuroma pain efficiently and even better when used in conjunction with other conservative measures of treatment.
---
Please rate this article:
---
---